This gift is so important to me that I want to take it with me always.
What can God do in your life with one Bible verse a day?
Subscribe to Aleteia's new service and bring Scripture into your morning:
Just one verse each day.
Click to bring God's word to your inbox
At a previous job, my coworkers and I went through a phase where we quizzed each other on our times tables.
It wasn't because we needed them to do our jobs. It was because when one of us shouted "8 times 7!" into that sleepy part of the afternoon, it was remarkably comical how slow the rest of us were to remember the answer.
It's no surprise: With not only calculators but nearly any information we could ever need accessible from the phones in our pockets, memorization seems unnecessary, if not downright archaic. And perhaps we don't need it in most circumstances anymore.
Our prayer lives, however, can still benefit from rote learning — and memorizing Scripture in particular presents a unique opportunity for spiritual growth.
It facilitates deeper meditation.
Last year, I decided to memorize Psalm 139. At 24 verses, it was the most ambitious task of its kind I'd attempted since the days of reciting poetry in front of my elementary school classmates. I imagined it would take me a week, perhaps two, of reading it during my daily prayer time to finish the task.
I was wrong. Maybe I could have memorized it in a week (especially if fueled by the threat of reciting it for my peers), but I didn't want to. Spending a few days just on one or two verses allowed me to reflect on their meaning as I tucked them away in my memory. By the time I was able to recite it in its entirety a couple months later, I had also deeply internalized its message: that God knows me, loves me and is never far from me.
It can help us through different seasons of life.
I remember transitioning out of college and realizing that for the first time, my life would not be marked by semesters and graduations. What I didn't anticipate was that my life would be marked by seasons anyway, though their beginnings and ends were not always as neat and predictable as my class schedule. There was the season of anticipation that was my now-husband and my engagement; the season of busyness and exhaustion that was working multiple jobs; the season of spiritual dryness when I wasn't sure why I couldn't feel God's presence in prayer.
Scripture is the perfect accompaniment to these different phases of our lives. The book of Psalms alone seems to contain the whole of the human experience. Committing to memory a passage that speaks to what we're experiencing can give us strength to handle whatever it is we face. Familiarity is comforting.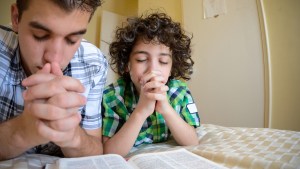 Read more:
3 Ways to incorporate Scripture into your kids' lives
It gives us another way to pray spontaneously.
St. Paul's command to "pray without ceasing" can take many forms in our daily lives, from saying the Rosary on our commute to asking for St. Michael's intercession in a moment of temptation.
Having memorized Scripture verses in our toolbox, so to speak, adds to the ways we can pray spontaneously, whether it's making a mantra of a short verse like "He must increase; I must decrease" (John 3:30) or praying a psalm of contrition. Even if a particular verse we've learned doesn't sound like a prayer, our internal recitation of it is itself a statement of belief: belief in the power and authority of Scripture as well as belief in the meaning of the words themselves.
It's God himself speaking to us.
Why, when and how God speaks to us is as broad a topic as souls are numerous, but one thing is certain: contact with Scripture is contact with His wisdom. And every verse we hold in our memories is one that the Holy Spirit can surface to the front of our minds in times of need.
Through the inspired words of the human authors of Scripture, we hear "everything and only those things" that God wanted to communicate (Dei Verbum 11).  So by memorizing certain phrases and passages we keep the inspired word on our lips and in our hearts, and thereby God's wisdom shapes us.
We know that the texts of the Bible "impart the word of God Himself" (Dei Verbum, 21). Reflecting on a particular verse we've remembered is the beginning of a dialogue, it's hearing him address us; it's prayer.
Read more:
Pope Francis: "Consult your Bible as often as your cellphone"
It's an act of gratitude.
Sending thank-you notes is a polite way to acknowledge a gift, but it is only a one-time expression of gratitude. When we use and enjoy the gifts we are given — instead of leaving them to collect dust in our closets — we continue to honor the people who gave them to us. When a friend and I met up for dinner a few weeks ago, she was wearing a necklace I'd given her for her birthday. I smiled and commented on it, appreciative that she'd put it on that day to show me how much she liked it.
The catechism notes that in Scripture, "the Church constantly finds her nourishment and her strength, for she welcomes it not as a human word, 'but as what it really is, the word of God'" (CCC 104). What a gift; and yet, have we let it get dusty?  
Listening to the readings in Mass (or spending time with the daily readings at home), meditating on the Gospels and praying the psalms are several ways to give thanks for Sacred Scripture.
Memorizing it says, This gift is so important to me that I want to take it with me always — whether or not we have a Bible app on our phones.
~
Enjoy our series A Year in the Word, with two Scripture passages to memorize each week for a year.