Even the most reluctant, time-strapped parents can make baby food from scratch. Organization and planning are the key!
What can God do in your life with one Bible verse a day?
Subscribe to Aleteia's new service and bring Scripture into your morning:
Just one verse each day.
Click to bring God's word to your inbox
We want the best for our babies in everything, including what they eat. But with our busy schedules, preparing nutritious meals every day is not always possible. With a few simple tricks, you can make meals in advance and expand your baby's palate … without spending hours in the kitchen!
Knowing what to feed your baby can be a challenge. Young parents, very meticulous with their first child (and sometimes less so thereafter), often struggle to prepare balanced meals. The varied information on what, how, and when to feed your baby can be overwhelming.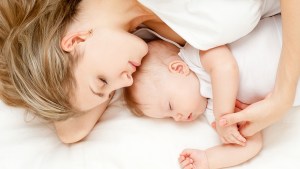 Read more:
10 Popular breastfeeding myths … debunked
While it may seem complicated, feeding your baby is actually quite simple. From a young age, a child should be introduced to the pleasure of a meal. "Babies are curious and have very developed taste buds," says Christine Zalejski, author of a French recipe book for baby food.
Follow her tips to prepare delicious meals for your baby without too much fuss!
How can I get organized to avoid being overwhelmed?
Christine Zalejski: Planning is key, even if it might seem tedious and useless. In 10 minutes, you can plan a week or two of meals on a piece of paper, a notepad, or iPad, depending on your preference. This is a real time-saver! With the menu in mind, you can do your errands more efficiently. You could also take two or three hours on the weekend, while your baby naps, to cook all at once and save yourself some dishes.
Planning meals also allows you to keep track of what your baby is eating and the various flavors he or she has tried. You can also make sure your baby is eating the proper amounts of each food and try new things.
How do I prepare a meal for my baby in a few minutes?
CZ: Your pantry should always be well stocked with various flours and cereals (barley, black-eyed pea, spelt, or tapioca) to mix into a vegetable broth or even water, if you are pressed for time.
You can also use vegetables that are diced and frozen. Chop vegetables yourself, using raw or cooked produce, or buy them pre-chopped at the grocery store.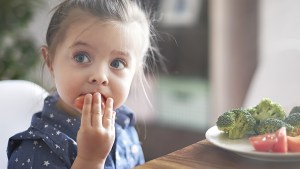 Read more:
3 Ways to help kids eat healthy foods
As 7 to 8 months old, babies can eat raw fruit. A ripe banana or pear, mashed up, is a great source of vitamins.
You can also freeze half portions of vegetable purée (peas, carrots, zucchini, etc.) in ice cube trays to mix flavors and add to the starches cooked for the rest of the family (without salt).
For animal protein, try eggs.
What are the foundations of a balanced diet?
CZ: Up to age 3, a baby should follow a particular diet with measured protein, little or no salt, and minimal sugar. Though we don't tend to think of this, it's also necessary to vary the fats. When it comes to fats, there are two frequent errors: always offering the same fat (butter, olive oil), or never using fats at all.
Your baby needs omega 3 fats, found in rapeseed oil, flaxseed oil, or camelina oil. Mix your baby's purée with a tablespoon of rapeseed oil every day during the week, and use olive oil, butter, or crème fraiche on weekends.
What kitchen gadgets can simplify meal prep?
CZ: You could certainly invest in a blender made especially for preparing baby food. These come with two large stainless steel bowls, to mix and cook at the same time. There are also many blenders for adults that can be used for babies. Steaming is the ideal method of cooking, to preserve the flavor and vitamins in your baby's food.
If you don't have a blender, you can also prepare your baby's food in a double boiler (½ cup vegetables and ¼ cup water). Once the vegetables are cooked, use an immersion blender to make a purée. It's okay if there are a few chunks — this creates a varied texture!
How should I feed my baby on vacation?
CZ: Commercial baby food in small jars can be useful while traveling. This gives your baby a chance to try different flavors that you don't usually serve at home.
You can also cook meatless dishes and feed them to your baby at room temperature. Prepare your baby for the change by serving a few meals at room temperature before you travel. Don't serve food cold (right out of the fridge), as this takes away all the flavor and can disturb digestion. You can also offer your baby raw fruit and vegetables.
Read more:
Food Fights: A Pediatrician's Attempt to Get Her Kids to Eat Well
Bring flour or meal to mix with vegetable broth or warm milk in a thermos. You could also put your baby's food in a bottle. This is a perfect solution for traveling parents.
Don't forget that you're on vacation — a chance for you to relax and to be more flexible with your baby's meals. This is also a great opportunity for your baby to taste new flavors on mom and dad's plates!
How can I quickly boost the flavor of bland baby food?
CZ: Herbs and spices are a great addition to baby food. Just a pinch or two can really boost the flavor of your baby's meal. This is a way to introduce your baby to new flavors and avoid boredom.
Sweet spices like cinnamon are delicious in an apple purée. You might also use cacao, turmeric, paprika, etc.  Herbs also have great qualities. Parsley, for example, is very rich in iron; chives tickle a baby's taste buds with their mild garlic flavor; thyme is antiseptic, helpful if your baby has a cold; mint is a bit sweet. If your herbs come directly from the garden, be sure to wash them well. For convenience, keep a large bouquet of herbs in the freezer and pull from it when you want to season your baby's food.
Learn more about Christine Zalejski and her book, Recettes pour bébé, spécial parents débordés, at www.cubesetpetitspois.fr.
This article was originally published in the French Edition of Aleteia.