The bitter taste means you have to ease into it. A nutritionist explains how.
I'm always comparing the way our great-grandparents ate to our modern culinary habits. One of my favorite old-fashioned ingredients from back in the day is apple cider vinegar — you may hear it referred to as ACV today. ACV, which comes from the juice of apples of course, is making a comeback in a big way! It's a fermented food, which automatically makes it a big YES to add to your diet. Fermented foods help reduce bad bacteria and restore the gut with good bacteria. Fermented foods also help aid in digestion and weight loss.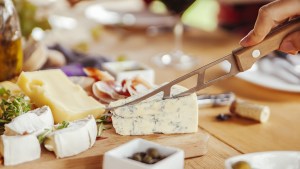 Read more:
Should you eat more cheese? Experts and health advisers disagree
ACV is said to help reduce disease, detoxify, heal heartburn, regulate the body's pH, improve diabetes, lower blood pressure, cure sore throats and more. I believe these claims, even though they aren't all backed by research. We know this fine food contains acetic acid, potassium, magnesium, probiotics and enzymes, so I'm in.
I am so sold on this very inexpensive (even cheaper if you make it yourself), strange, yet amazing super food. I take at least one tablespoon a day — two tablespoons if I'm feeling really ambitious.
The one major drawback, though — the taste. While ACV starts from good old apple juice, the fermentation process makes it very sour and bitter. It's definitely a taste you need to ease into, so listen up and I'll tell you how:
Dilute, dilute, dilute
Add at least 6 ounces of water to ACV at the very least. If you absolutely hate it, squeeze a lemon slice or add in some lemon essential oil. You could also try drinking it warm with lemon, which helps it taste similar to tea. ACV is very acidic outside of the body, but once ingested, it turns alkaline, which is why it helps regulate pH.
Drink it before meals
This will help you see the benefits quickly, since it binds with the nutrients in your food to help you achieve best results. ACV beginners may want to wait until your second big meal of the day to drink it before the meal. Drinking it on an empty stomach can sometimes cause queasiness. If you experience queasiness or nausea, feel free to start with less than a tablespoon or even drink after your meal.
Drink daily
Unfortunately, you can only reap the benefits of ACV if you commit to drink it daily. It's not for the faint of heart. Be sure someone takes your picture the first time you try it and tag me with it @caraclarknutrition on your social media because I love ACV faces! I often have to plug my nose and chug it and I'm no amateur, so don't be discouraged by the taste because health is life!