Easy, delicious and beautiful recipes for a gathering among friends or family, with or without fireworks.
When I was a kid, living in California, I looked forward to the 4th of July all year. It was the holiday in my mother's family and we spent the day swimming in my grandmother's pool and playing ping pong, but most of all, we feasted. My grandfather would grill hot dogs and hamburgers, my aunt would bring her seven-layer bean dip, my uncle would make his barbecued ribs. I would sink my teeth into thick slices of watermelon, and attempt to consume dripping afternoon popsicles. But when everything else had been eaten, just before the fireworks, we would pull out the themed desserts: the red, white, and blue goodies. My aunt eventually opened a restaurant; her patriotic pies, cupcakes and other confections were the stuff of legend.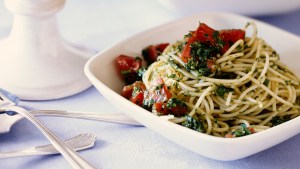 Read more:
8 Easy and delicious summer pasta dishes
These days, my 4th of July celebrations aren't nearly as large or elaborate, but I still like to capture a little of the magic of those celebrations by making a special dessert to share with loved ones. These easy, delicious and beautiful recipes are just the thing to serve for a gathering among friends or family, with or without fireworks.
Brown sugar-strawberry shortcakes
Virginia Willis, a chef and James Beard Award winning food writer, shared a recipe with For Her from her book Lighten Up, Y'all.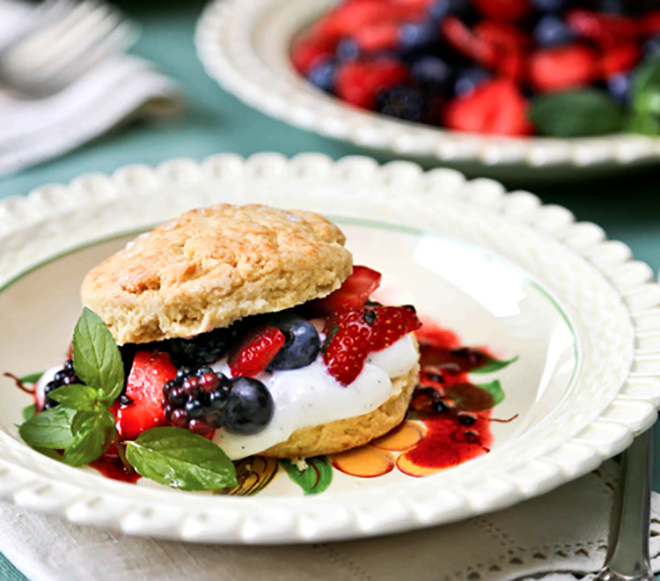 "Besides fresh, ripe, succulent strawberries, the key to a great strawberry shortcake lies in the quality of the cake. Forget those stale anemic hockey puck–shaped cakes sold in the produce department of your grocery store. Southern shortcakes are made with sweet biscuits, so say yes to these golden brown clouds!" says Virginia. "As a delicately tangy alternative to whipped cream, I sandwich the strawberries with a sweet vanilla cream made with Greek yogurt. Raw, or turbinado, sugar is made from the initial pressing of sugar cane. It's slightly coarse and contains more of the natural molasses. Demerara sugar is similar in that it is light brown in color, but has even larger sugar crystals with a more pronounced molasses aroma and flavor. Both sugars shimmer like a jewel crust on top of these tender shortcakes."
Makes: 8
Preparation time: 15 minutes
Cooking time: 12 minutes
Difficulty: medium

Ingredients:
1¼ cup of unbleached all-purpose flour
1¼ cup of whole wheat pastry flour
⅓ cup of firmly packed light brown sugar
2 tsp of baking powder
½ tsp of baking soda
¼ tsp of fine sea salt
2 tbsp of unsalted butter, cut into bits
3 tbsp of canola oil
1 cup of low-fat buttermilk
½ tsp of pure vanilla extract
1 tbsp of water (optional)
2 tbsp of raw, turbinado, or demerara sugar (optional)
4 cups of sliced strawberries
For the vanilla cream (makes about ½ cup)
½ cup plain 2% Greek yogurt
3 tbsp confectioners' sugar
½ teaspoon pure vanillaextract
Method:
1. Preheat the oven to 425°F. Line a baking sheet with parchment paper or a silicone mat.
2. In the bowl of a food processor fitted with the metal blade, pulse the flours, brown sugar, baking powder, baking soda, and salt. Add the butter and oil and pulse until the mixture resembles meal. Add the buttermilk and vanilla. Process until the dough pulls together. (It will be very soft.)
3. Using a rubber spatula, transfer the dough to a floured board. Knead several times so the dough comes together. Pat evenly into an 8-in. circle about ½-in. thick. Cut out rounds of dough with a 2¾ or 3-in. round cutter dipped in flour; press the cutter straight down without twisting so the shortcakes will rise evenly when baked. Place the shortcakes on the prepared baking sheet. Gather the dough together and repeat with remaining dough. Brush the shortcakes with water and sprinkle with raw sugar.
4. Transfer to the oven and bake until golden brown, about 12 minutes. Remove to a rack to cool slightly. Toss the strawberries with the remaining tbsp of raw sugar in a medium bowl. To serve, split the shortcakes horizontally. Spoon the strawberries and juice onto the bottoms, top with the cream mixture, and replace the shortcake tops. Serve immediately.
For the vanilla cream
1. Combine the yogurt, confectioners' sugar, and vanilla extract in a small bowl and stir.
Reprinted with permission from Lighten Up, Y'all by Virginia Willis © 2015. Published by Ten Speed Press, a division of Penguin Random House, Inc. For more information, please visit virginiawillis.com.
Il diplomatico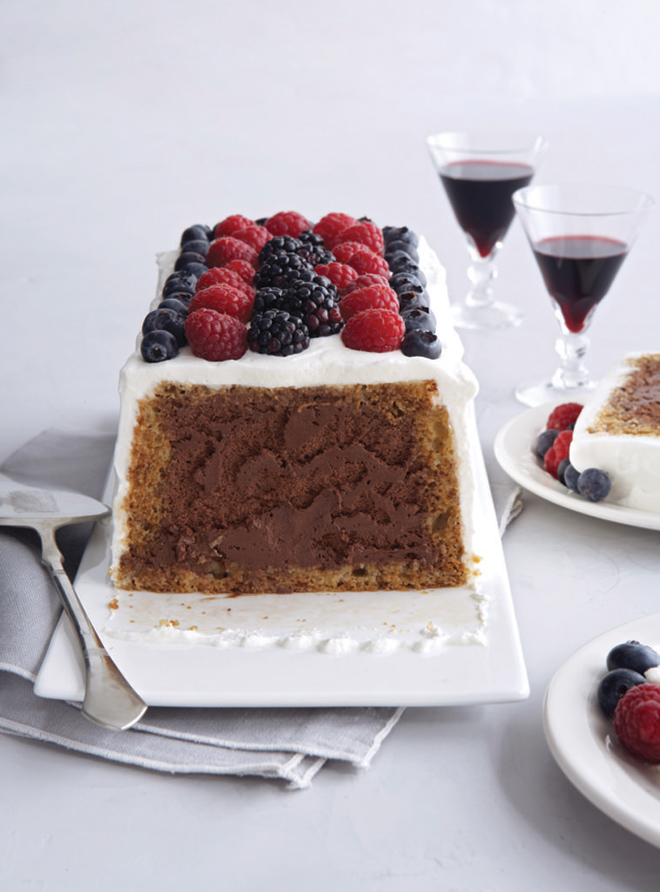 Chef Giuliano Hazan, award-winning cookbook author, and culinary instructor throughout the U.S. and at his cooking school in Italy, shared a favorite family recipe for a rich and creamy chocolate mousse cake. Since there is no baking required, it's perfect for hot July days. Topped with whipped cream, strawberries, and blueberries, it also makes for a wonderful red, white, and blue dessert!
Note: Since the eggs are not cooked through, Chef Giuliano recommends using pasteurized eggs such as Davidson's Safest Choice.
Serves: 6-8
Preparation time: 30 minutes

Cooling time: overnight
Difficulty: medium
Ingredients:
3 tbsp of sugar
½ cup of Italian coffee, hot
½ cup of water
2 tbsp of rum
8 oz of semisweet chocolate
1 (12 oz) store-bought pound cake
6 pasteurized eggs
¾ tsp of cream of tartar
1 cup of heavy cream
1 cup of assorted fresh berries (strawberries, blackberries, blueberries, raspberries)
Method:
1. In a small bowl, mix 1 tbsp of the sugar into the coffee and stir to dissolve. Add the water and rum and set aside to cool.
2. Place a saucepan filled halfway with water over medium heat. Cut the chocolate into small pieces and put in a small metal bowl that will fit over the saucepan. Place the bowl over the saucepan. Once the chocolate has melted, reduce the heat to the lowest setting.
3. Cut the pound cake into ¼-in. thick slices. Line the bottom and sides of a 1-½ quart loaf pan with the slices. Using a pastry brush, generously dab the pound cake with some of the rum and coffee mixture. The cake should be soaked through but not so drenched that the liquid oozes out.
4. Separate the eggs, placing the yolks in one mixing bowl and the whites in another. Be very careful not to get any of the yolk in the bowl with the whites. Add the remaining 2 tbsp of sugar to the yolks and whip at high speed until the yolks turn pale and form ribbons. Add the melted chocolate and mix well. Add the cream of tartar to the egg whites and whip on high speed until they form stiff peaks. If using the same whisk that was used for beating the yolks, make sure to clean it thoroughly beforehand. Carefully fold the whites into the chocolate mixture. To make folding easier, you can mix in a spoonful of egg whites first to soften the mixture.
5. Pour the mixture into the lined loaf pan. Cover with a layer of the remaining sliced pound cake and use the pastry brush to soak it with the rum and coffee mixture. Cover with plastic and refrigerate overnight or up to 2 days.
6. When ready to serve, whip the cream until it forms stiff peaks. Unmold the cake onto a flat plate, tapping it gently to loosen it. Frost it with the whipped cream and decorate with the berries. Serve chilled.
Cherry shortbread cake squares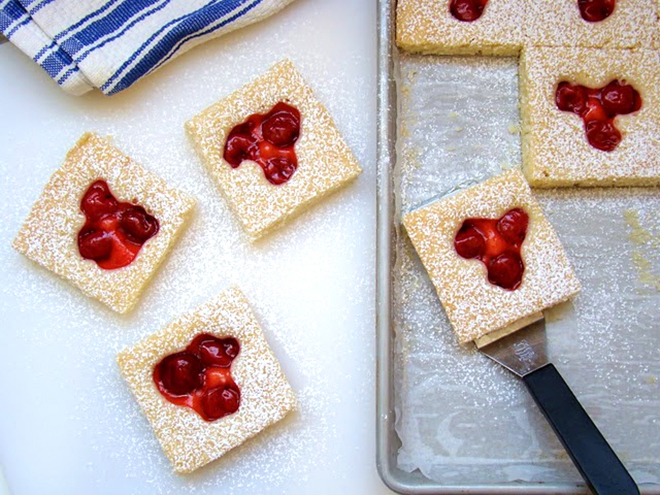 Shauna Sever, blogger at The Next Door Baker, and cookbook author, shared these treats, sure to delight guests for the 4th (and beyond).
"I love adding a good dose of lemon extract (or zest) to the batter—the lemon lift goes so fabulously with the cherries," says Shauna. "If you're making them ahead, dust them with powdered sugar just before serving. These are even better the next day."
Makes: 2 dozen 3″ squares
Preparation time: 20 minutes

Cooking time: 30 minutes

Difficulty: easy
Ingredients:
1 cup (2 sticks) of unsalted butter, at room temperature
1 ½ cup of sugar
½ tsp of lemon extract
1 tsp of pure vanilla extract
½ tsp of salt
4 eggs
2 cups of all-purpose flour
1 (21 oz) can of cherry pie filling
confectioners' sugar, for dusting
Method:
1. Position a rack to the center of the oven and preheat it to 350°F. Grease and flour a half-sheet pan (about 12×17-in.) with a 1-in. rim, or spray it with cooking spray, line it with parchment paper, and lightly spray the parchment, too.
2. In the bowl of an electric mixer, beat together the butter and sugar until very light and fluffy, about 2 minutes. Beat in the lemon extract, vanilla and salt. Beat in the eggs one at a time. Scrape down the bowl. On the lowest speed, stir in the flour. To avoid overbeating, stop mixing when there's a few streaks of flour left, and finish stirring the batter by hand.
3. Scrape the batter onto the sheet pan and smooth it into an even layer. Score the batter into 24 squares with a toothpick (don't worry about perfectly even squares as the lines will disappear during baking; it's just to make placing the cherries easier). Place 3 cherries in the center of every square.
4. Bake until a toothpick comes out clean, about 30 minutes. Cool completely in the pan on a wire rack. Just before serving, cut into 24 squares and dust with powdered sugar. Store any leftovers in an airtight container with layers of waxed paper or parchment for up to 3 days.
Red, white and blueberry popsicles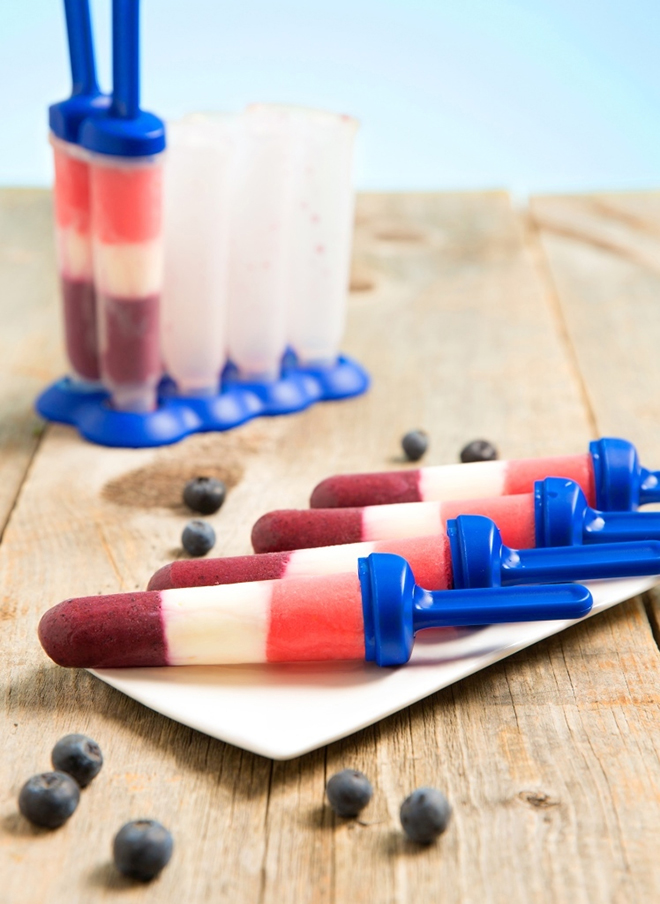 Courtesy of the U.S. Highbush Blueberry Council
Makes: 4 ice pops
Preparation time: 15 minutes

Cooling time: 4–5 hours

Difficulty: easy

Ingredients:
1 cup of diced watermelon
1 scant cup of vanilla yogurt
1 cup of frozen blueberries, thawed
Method:
1. In a blender, add the blueberries and 5 tbsp of yogurt; puree until smooth.
2. Divide blueberry mixture among the ice pop molds, filling them about a third of the way.
3. Freeze for 1 to 2 hours. Add a layer of 2 tbsp of yogurt on top of the frozen blueberry layer to each ice pop mold.
4. Freeze 1 hour until almost completely frozen. In the meantime, in a blender, puree watermelon and 1 tbsp of yogurt.
5. When the yogurt layer is almost completely frozen, add the watermelon mixture to form the top layer of the ice pops.
6. Push in the pop handles. Freeze for another 1 to 2 hours.