That time when love takes your stony heart away and gives you something new ...
What can God do in your life with one Bible verse a day?
Subscribe to Aleteia's new service and bring Scripture into your morning:
Just one verse each day.
Click to bring God's word to your inbox
I am cold, wet and alone in the backcountry of Isle Royale National Park, having just spent a July afternoon hiking across bogland crowded with aspen and clouds of mosquitoes. Now the evening forest, viewed from under the half moon of my rain jacket hood, dissolves into the stony beach of Rainbow Cove.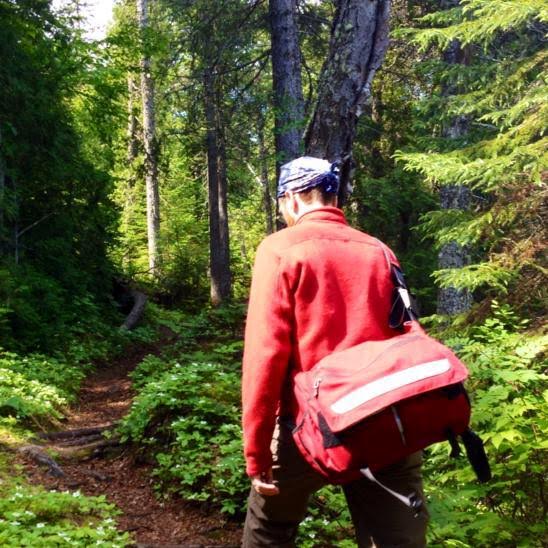 I drop my pack and sit close to the shoreline, away from the biting insects, as the sun sets behind Lake Superior. Thousands of polished red stones frame the cove. Isle Royale, anchored in the northwest corner of Lake Superior, is one of the most remote and wild of America's national parks. And today it might be the chilliest: a Canadian cold front is sailing past the island, taking its time, dropping nighttime temperatures into the low 40s. "It's summer on the mainland," the park ranger had told me. "But it feels like October here." No kidding, I now think as waves wash and hiss over the stones.
Yet more uncomfortable than the unseasonable weather is how much I am missing my girlfriend Sarah. For the first time on a long distance hike a newfound loneliness has soaked into my heart. The only distraction strong enough to quash it is a series of letters, one for each day of the journey, written by Sarah. The rest of the time my mind lists the contents of my pack in a looping reel: water filter, stove, tent, compass. What am I missing? I wonder. I pull out today's letter and reread it.
Good morning my Love, It's Sunday! God's day! I was trying to look up 'prayers for adventure' on the google to write in today's letter…but there's not a good prayer for me to borrow. Here's what I will pray for you on this day: I pray for your eyes to be reopened to God's beautiful creation, For your soul to be strengthened as God walks with you on this journey, And most of all — that you are grounded in the truth that you are exactly where you are meant to be.
My boot kicks a stone, its edges rounded by the lake into the shape of a heart. Last autumn my heart felt like that stone, shaped and battered by waves of hard experience, until I first met Sarah.
I had a deep fear of falling in love again, and did my best to avoid that risk–until I agreed to a date with her.
"Where do you go to Mass?" she asked halfway into the conversation.
I rotated my glass on the coaster. "Well, I was going…"
She tilted her head, raised an eyebrow.
You're beautiful, I thought.
"Why don't you try coming with me?" she asked.
I awoke the following morning both excited and scared. I wanted to see Sarah again, needed to see her. Yet throughout that day a scene from the Gospels kept surfacing in my mind. I saw myself in a crowded, locked room. The air was palpable with the scent of unwashed bodies and fear. A man beside me was kneading his swarthy beard. His fingers were calloused from a lifetime of fishing the sea. Outside, a knock at the door. He looked at me. "Touch that bolt and I'll smash your hand," he said.
Then gentle laughter erupted from the shadows, and a man who hadn't been in the room before stepped into the light. He had a hole through each hand and foot. "Peace be with you." He turned to each person, smiling. A long pause. "Don't be afraid."
I knew, even then, that seeing Sarah again would inspire something fundamental to shift within me. I knew she would draw me closer to the core teachings of my faith and deepen my understanding of Jesus Christ.
I refold the letter. SoI can hike into the forest and spend days alone, I think. A lighthouse on the distant horizon begins to blink. I imagine Sarah standing in the waves. But to what end? I pick up the heart stone.
The miles ahead will be laced with curdles of mud, barren ridges and silence. The final line of today's letter comes to mind: "And most of all, that you are grounded in the truth that you are exactly where you are meant to be." The miles will also include the triplet whistle of the white-throated sparrow and the placid expanse of Siskiwit Bay. A new thought warms the air: I want to share days like this with Sarah.
I turn the stone in my hand and picture the breeze brushing a strand of Sarah's hair across her face. This relationship is blurring my edges, shifting my sense of self for the first time to encompass another person. Another thought rises, grounded in an ancient certainty: I want to share every day with her.
In St. Paul, Minnesota later that summer, in yellow morning sunshine, I ask Sarah to marry me. The ring is set with an Isle Royale Greenstone gem. To my great delight, she says yes.