Change the way you think, and you'll change the way you feel and be able to live in the present moment.
If we're so attentive to detail and so selective when we choose which clothes we're going to wear, why aren't we just as careful when we choose what we think about? It's true: thoughts just come to mind. Nevertheless, we all have the power to choose which thoughts to keep and which to reject, to follow the ones that make us better, and leave behind those that make us worse.
We do this using two marvelous gifts: intelligence and will, which are like muscles that we have to exercise every day. Since what attracts the intelligence is truth and what attracts the will is goodness, we all have within us a certain capacity to choose what is good for us, and reject what is not.
Why is it so important to be selective when we choose which thoughts to dwell on? Because thoughts generate emotions and feelings: they make us feel "something" nice or nasty, positive or negative. For most of us, our mood has its roots in, or depends upon, a thought. Just one thought — useful or useless —is enough to lead to a whole chain reaction of thoughts, like pulling one thread in a sock, or like a tsunami. One small thought can be the beginning of an emotional hurricane.
Each of us has the power to choose what to believe and what to think. If we wake up tired, and then think only about how we didn't sleep well, how we feel tired, and how the people at work will be irritating today, etc., the day will become gray, no matter how bright and pleasant it may actually be. However, if we wake up thinking about how grateful we are for certain aspects of our lives, and for a new opportunity to do things better than we did yesterday, then regardless of how cloudy it may be outside, we will be smiling throughout the day.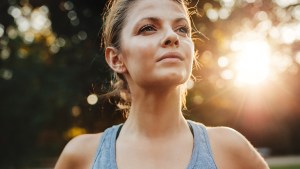 Read more:
Positive self-affirmations don't work, so try these confidence boosters instead
Another clear example is when we break off a romantic relationship. If we want to get over that person as fast as possible, we need to stop encouraging the memories — thoughts — that come to us about that person, because we give those thoughts power every time we allow them to come back and stay in our minds. Memories are like a plant. If we water them (or in this case, dedicate time to them), they will continue to flourish and grow. It will be harder and harder to stop missing that person if we continuously call him or her to mind and feed those memories.
Thoughts create emotions, and then those emotions take up residence in our body. Just remember the last time you felt extremely anxious. Did you feel the tension in your shoulders and neck? How was your abdomen? I can almost guarantee that you felt swollen and bloated.
Let's go a little bit deeper. Some people can come down with certain illnesses by the sheer power of thought: they are known as hypochondriacs. Hypochondria is an anxiety disorder in which people imagine, based on some small discomfort or pain, that they have a grave illness. That's how powerful our thoughts are!
Choosing to think well is a virtue. Good thoughts are good operative habits. Even the Bible says so: "Whatever is true, whatever is honorable, whatever is just, whatever is pure, whatever is lovely, whatever is gracious, if there is any excellence and if there is anything worthy of praise, think about these things" (Phil. 4:8). Thinking a certain way, whether positively or negatively, becomes a habit.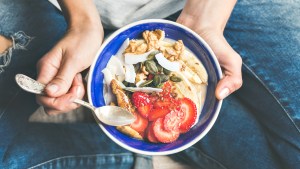 Read more:
6 Nutrients that help you stay in a good mood
Sadly, there are people who have thought habits that drain them of energy, and they are so used to it that they think it's normal. If you are used to having more negative thoughts than positive ones, take control over them, because you are your own master and you control what's in your head. Be choosy.
Of course, sometimes we have to think about problems in order to solve them, or we are faced with sad or upsetting news. This is part of life and we can't always control what comes our way. But we can approach those issues in a different way: yes, acknowledge the bad feelings — don't deny them — but also engage a positive, problem-solving mindset. Guide your feelings indirectly by controlling your thoughts. Steer the ship with that small rudder — your thoughts — and you will make it to sunnier shores.
This article was originally published in the Spanish Edition of Aleteia.