The Grammy-winning artist included a farewell letter in the program at her final concert last week.
Last week, one of the most soulful singers in pop music surprised fans with a unique little piece of herself. Included in the program at the final concert for her Hello tour was a handwritten note from Adele herself. The note, which fans received at Adele's show at London's Wembley Stadium, was a heartfelt thank you letter, but also included some potentially surprising news about the future of the singer's live performances.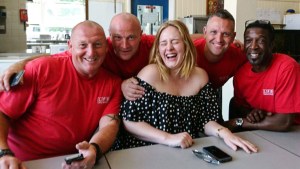 Read more:
Adele surprises Grenfell Tower firefighters with goodies (PHOTOS)
The sincere and sweet letter speaks about how much Adele enjoys being at home with her husband and son, and how she's a "real homebody" who gets "so much joy from the small things." While the draw of fame, fortune and notoriety is strong for many of us, it seems that while Adele has tasted the spotlight, her desire to be home and present with her family has won out over the applause and glory of performing for sold-out stadiums. She says that she "wanted [her] final shows to be in London" because she doesn't know that she'll ever tour again and she wanted her last concerts to be at home.
[Update: On the advice of her physician, Adele canceled her final two performances at London's Wembley Stadium on July 1 and 2. She and her fans were devastated; fans vowed to show up anyway and "sing for her, since she can't sing for us."]
This is not the first time Adele has announced a haitus from touring. Last year, she said she was quitting the touring life until her son was at least 10 years old. But as any mother who's trying to juggle career and family knows, it's sometimes hard to resist the pull and challenge to "have it all."
Adele, who's been vocal in the past about how much she misses her husband, Simon Konecki and son Angelo while traveling, says that touring just "doesn't quite suit her." After being on tour for 15 months and playing a total of 123 shows, it's certainly understandable that the Grammy-winning (or should we say Grammy-sweeping) mother could use a break!
For an artist as prolific and accomplished as Adele (who's won a jaw-dropping total of 15 Grammy awards across her career) to forego the stage and spotlight in such a way, in favor of preserving some semblance of a "normal" life is a testament to the importance of cultivating a healthy family and home life. It's rare and unusual that someone as successful as Adele makes a public declaration that she is choosing to give her time and energy to the "little things." In doing so, she shows us all just how important those little things really are.
While we may not be able to buy tickets to a live Adele show anytime soon, the singer's fans need not be disheartened: She has promised to continue writing and releasing music — and thank goodness for that because we always need new material to belt out shamelessly in the shower!
Here's a shot of Adele's thoughtful and earnest letter, pictured on Instagram.