"Contented man, limited and bound by circumstances, makes those very limits the cure of his restlessness."
What can God do in your life with one Bible verse a day?
Subscribe to Aleteia's new service and bring Scripture into your morning:
Just one verse each day.
Click to bring God's word to your inbox
I have been so bored lately. I spend a lot of time just following a toddler around, trying to keep him from smashing his head on anything.This is the life I chose, and I love it. I wouldn't trade it for anything. But still, oh my gosh, it can get boring.
For a few weeks I was hounding my husband, insisting that we needed to move. I needed a new house, a change of scenery, then I'd be happy! Or maybe I'd be happy when the weather changed, or if I rearranged all my furniture, or cut my hair?
I was shocked, shocked, when none of that helped.
So what are you supposed to do about monotony? How can you fight it? Well, Fulton Sheen's "Way to Happiness" gave me a good kick in the pants. He writes, "One of the greatest mistakes is to think that contentment comes from something outside us rather than from a quality of soul … Contented man, limited and bound by circumstances, makes those very limits the cure of his restlessness."
I thought to myself, "So…it looks like I'm the problem, not the details of my life. Ugh, I hate it when this happens."
Okay, then, if changing my life isn't the answer, how do I go about changing myself into a contented person? It's not like I can flip a switch and magically get contented with my life's monotonous pace right now, you know?
My spiritual director reminded me of something important, that I can start this change by trying not to be so afraid of boredom. Modern North Americans make this strange assumption, he said, that sameness, monotony, is a bad thing, and you have to fight it or you can't be happy. I doubt that any of, say America's early settlers, felt that because their life came with huge doses of monotony, that happiness was out of reach. What about the medieval peasants, who ate the same food, worked the same fields, and never left their little villages–were they de facto unfulfilled? Somehow I don't think God made human happiness so hard to attain that you have to be rich and energetic to get it.
So maybe challenging that assumption is a good start. Monotony doesn't spoil your chances of happiness. What's next?
Sheen says that the key to contentment is found within our limiting circumstances, not by escaping those circumstances. It reminds me of a quote on a doctor's office wall: "The time to be happy is now." Happiness, and contentment, and peace, don't exist in the future or past. They can only be felt in the present moment, so maybe I shouldn't be finishing sentences that begin "I'll be happy when…" That's definitely the wrong direction.
The upshot of all my normal "first-world problems" boredom, at least, is that it's forcing me to take seriously a part of my faith that I spend a lot of energy trying to avoid. Jean-Pierre de Caussade calls it "the sacrament of the present moment." The idea is that the present moment is a sacrament because it's where we encounter Christ. Even when we're tired or bored or cranky. The future doesn't exist, and we have no power over the past, so whatever the present has brought, that's where Christ is going to be, too.
Because the present moment is our place of encounter with Christ, it's holy. If Christ is there, then I suppose the potential for contentment must be there too. I don't find it at all easy to remember this, much less put it into practice, but it has helped me a little with my frustration. Time spent bored does not have to be time wasted. It's an opportunity, as much as anything else is, to meet God, and even when the moment presents itself through doing the laundry or mowing the lawn, it can still be a moment of real grace. I should remember to be grateful for that, at least.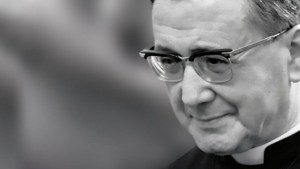 Read more:
Can't get it together? These five quotes from today's saint will get you in gear