Brooklyn auxiliary says a missionary without joy is handicapped ... but joy is contagious
What can God do in your life with one Bible verse a day?
Subscribe to Aleteia's new service and bring Scripture into your morning:
Just one verse each day.
Click to bring God's word to your inbox
Bishop James Massa is an auxiliary bishop of the Diocese of Brooklyn. A native of New Jersey, he was ordained a priest in 1986, and a bishop in 2015.
Before his episcopal ordination, Bishop Massa held various teaching and chaplaincy positions at schools around the country, including St. John's University (New York City), Kansas Newman College/Newman University, and St. Joseph Seminary (Huntington, NY).  He also served the Holy See for a time under Pope Benedict XVI.
While attending the Convocation of Catholic Leaders in Orlando, Bishop Massa took time to speak with Aleteia about his hopes for the convocation's success.
Fr. Aquinas: As a bishop attending the Convocation of Catholic Leaders, what do you hope that the convocation achieves?
Bishop Massa: These last couple of days have been amazing. Being here, you get a snapshot of the Church in the United States. Everybody's here! We've got around 170 bishops, several hundred priests, also deacons, members of consecrated life, leaders in apostolic movements, parish leaders, diocesan leaders . . .  At least empirically, the convocation has achieved what the bishops hoped it would.
So far, the convocation has been a mix of celebration and contemplation. The participants really are being reflective. If you walk past a table in the dining hall, you overhear serious conversations about the challenges facing the Church in the U.S., whether it's reaching out to young adults or tackling the immigration question. The conversation is serious, but a pervasive hopefulness remains.
Fr. Aquinas: One of the convocation's principal goals is to raise awareness among participants of missionary discipleship. How do you define this concept?
Bishop Massa: The life of a disciple includes two things: being with Jesus and being sent by Jesus. Being with Jesus includes being in communion with him, being in communion with the Church, being nourished by the Eucharist, and being formed in the Word of God. So, communion with Jesus and with those whom he draws to himself is essential to discipleship.
But there is no communion without mission. That's why we're hearing repeatedly this weekend: "Out to the margins! Out to the peripheries!" By its nature, discipleship drives us to go out, often far from home, to bring the gospel to others.
But mission isn't only about going out. There is also a coming back. This is a point I want to tease out here in Orlando. There is a coming back from the periphery that enriches the communion of the Church. On coming back, the missionary disciple himself is formed and re-formed through his relationships with other believers, through participation in the Church's sacramental life, and through immersion in the Word of God.
Fr. Aquinas: You are an auxiliary bishop of a major urban diocese. What does missionary discipleship look like in Queens and Brooklyn?
Bishop Massa: The Brooklyn diocese has a very interesting history. We were the port that received generations of immigrants to America. They came to Ellis Island, and many of them made their way from New York Harbor right into Brooklyn and Queens. From the mid 1800s all the way to Vatican II, the diocese possessed very large immigrant parishes.
Since then, things have changed. Now, we have a changing demographic. New immigrants are coming from countries that are not traditionally Christian or Catholic—from the Middle East, from Asia, and elsewhere. This gives us plenty of opportunity for evangelization and interreligious bridge building.
Another opportunity for evangelization, which is also a challenge, is the large number of young people moving into Brooklyn and Queens. These are the hipsters, who have settled principally in Williamsburg, Park Slope, and Astoria. These areas are teaming with young people. By and large, these young people make up that segment of the population often referred to as the "nones," the religiously unaffiliated. Many of them are former Catholics. We are trying to reach out to them, particularly through campus ministries and other creative parish programs. But, it's a real challenge.
Fr. Aquinas: Regarding outreach to young adults, what do you find that works? Is it appeals to the head, appeals to the heart, or some combination of both?
Bishop Massa: The expression "faith is caught and not taught" comes to mind. It is ordinarily through a series of relationships that a young person finds himself or herself in church—attending some kind of celebration—and he or she discovers there an already present community of young people. And it's attractive, because unlike other communities in their life—such as their work community—this community places no burdensome demands on them.
Let me say more about that. The lives of young people are so uncertain. So many of them living in Williamsburg and similar parts of New York City are struggling to make ends meet. They might live in the city for no more than two years, and then move somewhere else. Or, they move to another neighborhood where the rents aren't as high or where work is more stable. As a result, many of them are not ready to sink roots anywhere. But they're looking for a community, companionship, acceptance. And they're very open to any spiritual wisdom that might help them orient their lives and make decisions about their future.
Insofar as Catholicism is a religion of the heart, it has a lot to offer, especially in Brooklyn and Queens: beautiful music, beautiful art, and absolutely splendid churches. I wish we could export some of our churches to regions of the country where the Catholic population is growing! Many of our churches host only small Sunday congregations now, but architecturally they are real treasures.
But, to answer your question, evangelization is a matter of both the head and the heart. And when reaching out to young people, evangelization includes creating a home where they feel accepted.
Fr. Aquinas: What is the one thing that you hope the convocation's participants take home with them?
Bishop Massa: I hope that participants go home convinced of something we've heard a lot about in homilies and plenary meetings here—the need to be transformed by the joy of the gospel. Joy is a response to the call of Jesus. If we're not able to project that joy, then we're handicapped in our roles as missionary disciples. But if we have that joy, then the gospel becomes immensely attractive to all people, regardless of their ethnicity, age, sex, or background. The joy of the gospel is contagious.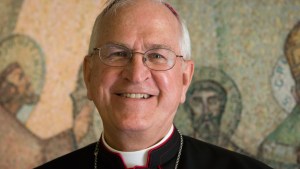 Read more:
Archbishop Kurtz has an 8-word definition of "missionary disciple"