How to keep yourself and your baby healthy for nine magical months and beyond.
Need an idea for Lenten almsgiving?
Help us spread faith on the internet. Would you consider donating just $10, so we can continue creating free, uplifting content?
Make a Lenten donation here
Congratulations! The results are in, and that little stick has a perfect double line indicating that you're pregnant. So for the good of you and your little bundle, it's time to adjust what you're eating (yes, tempting as it might be, we shouldn't really sit and scarf down our favorite comfort foods for nine months). The good news? If you already have a pretty healthy and balanced diet, you don't need to change much.
Your overall aim is to supply your body and the baby with all the essential proteins, carbohydrates, fats, vitamins, and minerals throughout your pregnancy and beyond. Pregnancy is actually a great opportunity to review your eating habits, and can often trigger a healthier and more balanced diet, something you'll want to pass on to your new baby.
During my pregnancy, how many calories do I need to consume each day?
A popular saying is that we need to eat for two while pregnant … but this is not exactly true. In fact, all you need to do is increase your daily calorie intake a little, keeping a close eye on what you normally eat. Usually a healthy diet involves consuming around 2,000 calories each day. While pregnant, you should add an extra 150 to 250 calories, 500 being the maximum. Although the World Health Organization recommends pregnant woman have a total of 2,500 calories a day, there's no hard and fast rule. As with all diets, our initial weight and daily activity need to be taken into account. What's important is that your weight gain should be gradual. A little point to consider: there will be days when you are hungrier than others and this is totally normal; it corresponds with your baby's growth spurts.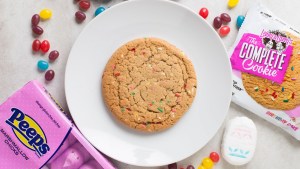 Read more:
The 1 additive to nix from your child's diet immediately
Doctors often say that you shouldn't put on more than 2.5 pounds per month. In fact, for a normal healthy woman a total weight gain throughout a pregnancy is between 25 and 35 pounds. In the first five months you're looking to add on around half a pound per week. Beyond five months this goes up to one pound a week, and that's when your blossoming belly really starts to show! If you find yourself gaining too much weight, or if it piles on all of a sudden, do check with your obstetrician to rule out any issues.
Foods to avoid during your pregnancy
Sadly there are some foods that need to be avoided throughout your pregnancy. But don't panic — chocolate is not one of them!
Always eat meat and fish that have been fully cooked, which will reduce the risk of being contaminated with toxoplasmosis. This infectious disease comes from a parasite that is also transmitted by cats and can lead to serious congenital risks, or even a miscarriage. Shellfish and seafood should also be avoided as they are responsible for passing on listeria, as are cheeses made with unpasteurized milk (such as brie, Camembert, goat's cheese, Gorgonzola, Roquefort, and some Mexican soft cheeses including queso blanco and queso fresco), and some delicatessen meats (rillettes, pâtés…). An infection could lead to a miscarriage, a premature delivery, or a serious neonatal infection.
Make sure you wash any vegetables, aromatic plants, salads, and herbs thoroughly before eating. Other foods that need to be avoided are liver and products derived from liver (due to an elevated dose of vitamin A), soy (which contains estrogen), or soy-based products. Experiments on animals have shown that soy has undesirable effects on their babies. Although no conclusive studies have shown the same effects in humans, we prefer to err on the side of caution. Also avoid products enriched with phytosterols and fish rich in mercury (swordfish, marlin, siki, and shark). This list is by no means exhaustive and we recommend you consult a medical professional for further details.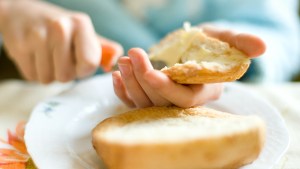 Read more:
Eat your butter, it's good for you!
Also, ideally speaking, you should clean your refrigerator every two weeks to avoid transferring bacteria from one food source to another. Obviously, this might be a big ask if you're feeling exhausted or nauseous, so maybe daddy-to-be or a willing friend could step in! And naturally, tobacco, alcohol, and non-prescribed drugs are strictly forbidden during any pregnancy. (Make sure your doctor knows about any prescription drugs you are already taking, and even any over-the-counter medications or supplements you use.)
Nutritional needs during pregnancy
So now you know what not to eat, but what foods will benefit both your body and your baby? B vitamins are key: vitamins B12 and B9 play an essential role in cellular division and building fetal tissues. The folic acids contained in vitamin B9 (principally found in green leafy vegetables) enable the development of the embryo's nervous system.
Vitamin B6 helps with the synthesis of the cells' ADN and RNA. Vitamins B1, B2, and PP (niacin) help to produce energy. Vitamins A, C, E are crucial for the healthy functioning of cells. And vitamin D is paramount in forming the baby's skeleton. It's important to take into account that the way you store and cook your food will play a huge part in the number of nutrients and vitamins that you gain from your ingredients. Food that has been a little too long in the refrigerator will lose some of its vitamins, whereas the same food in a frozen or conserved format will keep all its vitamins. Vitamins are also lost in the cooking process, by overcooking, or cooking in boiled water. Steaming your vegetables is the best option.
What foods should you eat?
At every meal (morning, midday, evening), you should eat fruit, vegetables, carbohydrates (pasta, rice, potatoes, legumes, semolina, wheat…), and dairy products. Smaller amounts of meat, fish, and eggs (not raw!) should be consumed somewhat less often. Restrict the consumption of processed foods.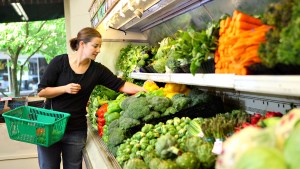 Read more:
5 Foods that can increase your fertility
In a wholesome diet, the vitamins and nutrients needed for the healthy development of your baby are present in foods that are absorbed throughout the day. Your doctor will likely prescribe a prenatal vitamin to take around meals, but it's unnecessary and perhaps dangerous to supplement your meals with other multi-vitamins. Certain vitamins taken in excess can have detrimental effects on the health of your baby. For example, an overdose of vitamin A could lead to fetal malformations.
If you feel you might be lacking in certain nutrients, consult with your medical professional, who can help prescribe any necessary supplements. But if your diet is rich and varied, there is no risk of any nutritional deficiencies. And in any case, if your food is lacking any nutrients, your baby will just take them from your own reserves.
Other essential nutrients that you must consume are calcium, found in dairy products, iron (present in meat and fish), and iodine (found in eggs and fish) for the development of your baby's brain.
What should you drink while pregnant?
When it comes to drinks, water is the best liquid for you to absorb while pregnant. It's not quite as exciting as your favorite latte or glass of sangria, but it is effective. It not only keeps you hydrated, it helps your kidneys function correctly, and gives your fetus enough amniotic fluid to swim in! Ideally, you should drink water with added calcium and magnesium. If you do drink tap water it is best to filter it first. Not only will it have a better taste, it will rid your drink of any nasty pollutants, like lead, that could be dangerous for your baby.
If you're not a big fan of water, you can replace it with herbal teas, or even vegetable broths, but also cold refreshing drinks, such as freshly squeezed juices, or milk. Avoid sugary drinks and sodas as much as possible. If you don't like the taste of milk, or if you have problems digesting it, replace it with pasteurized cheeses and yogurts. Coffees and teas should be consumed in moderation, as studies have shown a correlation between the absorption of coffee and the risks of miscarriages in the first trimester. The tannins found in tea can inhibit the absorption of iron in your body.
On a final note: If you do find yourself craving more untypical foods, don't be alarmed — we're pretty sure that's why pickles were invented! It is often the case that your body is telling you what you need to eat. Just try and keep more unhealthy cravings — yes, doughnuts, that's you — to a limit. Remember, while there is a list of foods we can't or shouldn't eat, in just a few months' time you'll be gazing at your baby and you'll know it was all worthwhile.
This article was originally published in the French Edition of Aleteia.