He also designed churches and cities and preached to Native Americans in their own language.
What can God do in your life with one Bible verse a day?
Subscribe to Aleteia's new service and bring Scripture into your morning:
Just one verse each day.
Click to bring God's word to your inbox
Born to a wealthy Italian family in 1806, Samuel Mazzuchelli had a bright future ahead of him. He was destined to become a great politician and his father was looking forward to his son's career. Mazzuchelli, on the other hand, had other ideas.
He wanted to become a missionary and join the Dominican Order. His father was not happy, but eventually gave Mazzuchelli his permission. With joy Mazzuchelli renounced his inheritance and joined the Dominican Order at age 17. He was first sent to Rome, but quickly desired to travel to the New World.
The Diocese of Cincinnati recruited Mazzuchelli, who left Europe before he was ordained a priest. Upon arrival at his assignment they had to petition Rome for a dispensation to ordain Mazzuchelli at the young age of 23.
Despite his inexperience, Mazzuchelli was given a vast territory to cover. He started his mission in the Green Bay area of Wisconsin, but eventually moved his base of operations to southwestern Wisconsin, eastern Iowa, and northwestern Illinois.
While living near Green Bay, Mazzuchelli would often hear confessions for 14 hours a day. His presence was welcomed by many, as the Jesuits who had brought the Christian religion were no longer there.
He baptized many Native Americans and insisted that they be given a proper education. Besides preaching in their local language, he also taught them music, geometry and various other subjects. Mazzuchelli lamented the treatment of the Native Americans by the US government and wanted them to be educated to a greater degree.
He warned in his memoirs that if the Native Americans weren't given opportunities of education the "population of Europe shall have filled the entire continent, and then the poor Indian will have left in the land hardly a trace of his existence."
Mazzuchelli had great success with Native Americans, but his ministry did not stop there. The young missionary was also a great architect who would go on to design 24 churches and civic buildings throughout his territory. It is even believed that he influenced the design of the Iowa State House in Iowa City.
The city of Shullsburg, Wisconsin, received some extra help from Father Mazzuchelli. According to their website, "Father Mazzuchelli also named the streets in the Northeast section of Shullsburg after the virtues of life to live by: Peace, Truth, Goodness, Charity, Happy, Friendship, Faith, Pious, Justice, Wisdom, Virtue, Mercy and Judgement. In 1958, the City Council added 'Hope.'"
He further went on to found a community of Dominican Sisters as well as a frontier school for girls that grew into a Dominican university. According to the Wisconsin Historical Society, before his death he "taught science courses at Benton from 1854 to 1864 [and] was one of the first teachers in the state to utilize laboratory methods and visual aids."
An architect, city-planner, scientist, teacher and linguist; above all things Father Mazzuchelli was a pastor of souls who was known for his kindness and gentleness. He did all that he could to lead his flock toward heaven.
In 1993 Father Mazzuchelli was given the title of "venerable" and recently his cause for canonization has reached another milestone. In 2006 Bishop Morlino was notified "that a man in the Diocese of Madison … believed himself to have been miraculously cured of lung cancer after visiting the mementos of Father Samuel preserved at the Sinsinawa Mound and praying for his intercession."
This alleged miracle is currently under investigation in Rome and it is hopeful that it will pave the way for Mazzuchelli's beatification.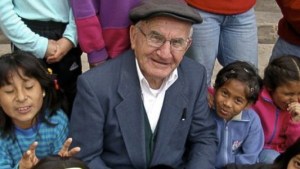 Read more:
Meet Father Joe, a Wisconsin priest on the road to canonization