One caring community has rallied to create a summertime garden program for children who rely on school for regular healthy meals.
What can God do in your life with one Bible verse a day?
Subscribe to Aleteia's new service and bring Scripture into your morning:
Just one verse each day.
Click to bring God's word to your inbox
It's a fact every parent knows: young children need proper nutrition to be able grow healthy bodies, focus at school, and thrive at life in general. But 15.3 million American kids suffer from "food insecurity," which is simply the latest way of saying that they don't have enough food on a regular, predictable basis. In short: these are kids who consistently don't know when or where their next meal is coming from.
Keep in mind that "food-insecure" doesn't necessarily mean homeless (though it can). Hungry kids aren't just in commercials on your TV, or at shelters and soup kitchens. Many have homes and schools to go to, but still aren't able to get adequate nutrition in any given day.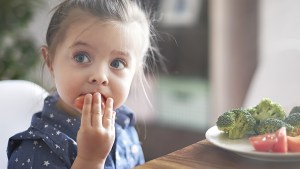 Read more:
3 Ways to help kids eat healthy foods
To help support these kids, many school programs throughout the United States provide healthy meals at subsidized and reduced cost for their students, and over 30 million kids participate in the federally funded national school lunch program. That's a lot of children who rely heavily on the program to get the sustenance they need for a healthy body, let alone for the energy to sit through math class. But what happens to these kids when school shuts down for the summer and they're no longer mandated to attend? No longer given a lunch?
The USDA's Summer Feeding Program, available through the Oelwein Schools, ensures that any child under the age of 18 has access to a free breakfast and free lunch during the summer months. And that's a great start. But it still leaves some kids with no dinner, and little resources for how to make or find their next meal.
To supplement that program, the district has built a relationship with the Northeast Iowa Food Bank, which comes to the community every two weeks from 5 to 7 p.m. "During that time, families can pick up food. We give them coupons to the farmer's market as well," says Barb Schmitz, a school counselor in the district, in a phone interview.
"During our popular summer programs, available to all students, we take the children on a class trip to the farmer's market, and give each child a dollar coupon," says Schmitz. "Then we ask them to pool their coupons to buy a healthy choice. It's wonderful to see them negotiate with each other. It is a more realistic situation than just telling them that they should pick a kiwi over a chocolate bar."
Other summer programs the community provides include cooking lessons, trips to the library, taste tests, and her personal favorite—hands-on gardening lessons.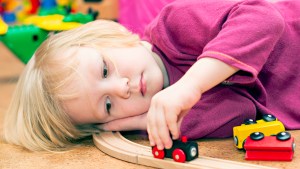 Read more:
Let your kids be bored; the future of our world depends on it
Children measuring the growth of vegetables in Oelwein school's garden. Oelwein Community Schools | Facebook
"We grow vegetables in our school garden—Iowa lettuce, kale, garlic, onions, sugar snap peas, squash, beans, sweet potatoes, carrots—and during the summer program, the children continue to take on the responsibility of planting, tending and taking care of it.
"They get such a thrill out of pulling the carrots they planted out of the ground, washing them off, and eating them, even if they are one inch long."
The garden also operates as an outdoor classroom, with raised beds, and a bench that kids can sit on and read.
"For one of our projects, the kids collected larger rocks, and painted them, and we lined the garden with those rocks," says Schmitz. "The kids take pride in pointing out the beautiful rocks that they decorated."
It's a nurturing garden for kids in more ways than one, and it wouldn't exist without a woman named Molly Schintler. Schintler is a FoodCorps-trained service member who was instrumental in developing the garden during her two years in the Oelwein district, where she taught nutrition education. The nonprofit FoodCorps, which is part of the AmeriCorps Service Network, selects, trains and places service providers at schools to be "healthy marketers." Luckily for the kids in need, that role doesn't end when summer starts.
"Service members give children ongoing opportunities to learn about, connect with, and try healthy foods, and we try to make it fun, engaging and educational," says Schintler.
Getting kids to try these healthier foods (over cheap and more easily accessible junk food) is another story.
"One little girl, Marcy, cried because she didn't want to try new foods. So I told her I'd bring her apples and she could start with that," said Schintler.
"'I don't want it,' she yelled.
"But after she held the fruit in her hands and attended my class on nutrition, one day she gingerly bit into the apple, and to her surprise loved it."
Two years later, the now 7-year-old has already tried sweet potatoes, pineapple, sugar snap peas, and fruit and veggie smoothies. Expanding a child's palette like this is an essential step toward a life of eating better and making healthier choices.
But building the outdoor nature classroom had other educational benefits, too. "We worked with the second-grade teacher team to integrate math into the gardening curriculum, by having the children measure rocks, carrots, plants and other materials, which they really enjoyed," says Schintler. So whether they are planting, measuring, or tasting the produce, every child finds a way to connect with the garden.
The effect and impact the programs throughout the year have on the children is profound.
"Many of our kids have never had the opportunity to spend time in a garden or work in one," says Schmitz. "For example, we have a behavior disorder classroom that planted garlic and onions. This was a totally new experience for them and they got a lot of satisfaction out of it. They would stop me when they saw me and ask, 'Did you see the onions we are growing?' It gave them a sense of agency and purpose."
The mission of educating children about food, and helping them through the summer is also a spiritual one, Schmitz believes.
"You have to change the way they look at life, in the sense that everyone is responsible for their own health and healthy choices. Through our year round school programs, we give them the tools to get there." It's amazing how a community garden, a cooking lesson, or simply an extra apple given to a junk-food prone child, can change little bodies, hearts and minds, all for the better.
10 organizations that make it their business to fend off hunger
These organizations across the U.S. offer a helping hand to food insecure kids and families year round. If you know a food insecure family, or simply want to help, you can reach out for more information and volunteer opportunities.
San Francisco
Copia: Via a smartphone app (where people post their information for a driver to pick up donated food), Copia works with six cities across the San Francisco Bay Area. A cool feature of the app: anyone looking for food can post a request.
San Rafeal, California
ExtraFood: Volunteers pick up donated food and excess fresh food from organizations, and deliver directly to the recipient in less than 30 minutes.
Norwalk, Connecticut
Community Plates: Community Plates encourages restaurants and markets to donate fresh food—that otherwise would have been thrown away—to food-insecure families nationwide.
Florida
Feeding South Florida: This food bank serving southeast Florida provides kids with fresh meals for breakfast, snack or lunch during the summer. In their backpack program, kids get a pack full of food of six meals for a week.
Carmel, Indiana
Food Rescue: Food Rescue connects more than 200 agencies with more than 200 restaurants and 350 schools.
Chicago
Zero Percent: Their website and app work to link neighborhood charities with restaurants and stores who have surplus food in order to feed the community.
Boston
Greater Boston Food Bank: This food bank is committed to providing at least one nutrient-rich, high-quality meal a day to every hungry person in eastern Massachusetts. They also provide food pantries in schools that remain open throughout the summer.
Detroit
Forgotten Harvest: This city organization collects surplus prepared and perishable food from 800 grocery stores, fruit and vegetable markets, restaurants, and other vendors, and distributes it to 280 local emergency food providers.
New York
City Harvest: Founded more than thirty years ago, this was the world's first food rescue organization. In 2016, they will collect 55 million pounds of extra food from restaurants, grocers, bakeries, manufacturers, and farms and deliver it to 500 community food programs.
Pittsburgh
412 Food Rescue: 412 collects fresh, healthy, edible food that is "un-sellable" and distributes it to community organizations serving people with food insecurity.