Let's bring a little serenity back to our nonstop lives.
What can God do in your life with one Bible verse a day?
Subscribe to Aleteia's new service and bring Scripture into your morning:
Just one verse each day.
Click to bring God's word to your inbox
As life seems to get busier and more demanding by the day, we can often feel there's not enough time to catch our breath. Stress, anxiety, and tiredness take over our lives, and can even affect our spiritual health. So we looked to a certified lifecoach, Marion Guiset from Vancouver, to give us some tips on regaining control of our time and our serenity.
Where does this permanent feeling of racing against time come from?
Marion Guiset: It manifests itself by an inner sense of urgency that generates frustration, stress, anxiety, and tension. This feeling builds up due to a restricting thought or belief (an inner saboteur) that stops us from just being in the moment and enjoying it. We can't sit back and breathe, welcoming what's happening to us and feeling at peace.
Here are a few examples of restricting beliefs:
"I must be efficient, perfect, and always on top of my game."
This need for perfection can conceal the fear to displease. For example, at work we might not want to disappoint our manager with a less than perfect project proposal. At home, before friends come over, we might run around like headless chickens to present an immaculate home – an unrealistic feat for most, even harder with a house full of kids!


Read more:
8 Tunes to help you cheer up, ease your stress, and relax


"I run around to avoid being confronted with my own emotions."
Keeping active often stops us from being in touch with emotions that are perhaps painful and difficult to manage, like a bereavement, a conflict, or a difficult decision that we haven't had time to digest. Silence can scare many people as it forces us to come face to face with ourselves. Looking to outside sources for stimulation is a strategy that allows us to avoid facing what's going on emotionally inside.
"I must have a great life and live it to the full!"
This approach can quickly lead to a schedule filled to the brim with activities. Here again, it's a question of finding the right balance.
How can we avoid this constant feeling of not having enough time?
Take time for yourself to prioritize yourself and find yourself again. This might seem strange, but my invitation to you is to finally get control of time … by taking it! The benefits? By taking care of yourself and allowing yourself time to breathe (even five minutes a day) you will gain peace of mind. You will also be able to take a step back and evaluate your priorities (those that are real and those that are created through "fear"). This simple process will make you more efficient.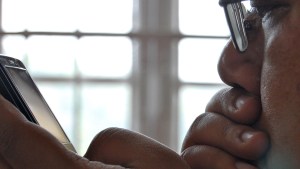 Read more:
Being a "constant checker" in times of social media stress
What are your top tips to lead a less stressed life?
The morning
I suggest regaining control of time with a routine as soon as you wake up. Many athletes and celebrities rely on a routine to feel calmer throughout their day. It means taking a little time for yourself in the morning (from 10 minutes to an hour) to get refocused. This can be as easy as a thoughtful prayer, a run, some stretching, or a peaceful morning coffee on the porch before the kids wake up. By adopting this approach you start the day in the frame of mind you want to be in.
Throughout the day
Take care of yourself by having little breaks throughout the day (yes, just 5 minutes will do it) to go over your priorities and your real motivations. For example, you can take time to take in some deep breaths, close your eyes and visualize a serene landscape, or listen to some relaxing music … The goal is to regain your inner calm and refocus, ready to continue attacking the day.
The end of the day
To calm down those incessant feelings of "never enough," I suggest writing down your three daily gratitudes accompanied with the reasons why. It really doesn't need to be complicated. It could be something simple like: "My morning run. It gave me a real burst of energy, I feel alive, I'm taking care of my body," or "My colleague's help at work. I felt supported, I learned something new, and I got the job done on time." The aim is to appreciate the little and the big gifts we receive each day.
To be less stressed by time also means saying "no" more regularly. So what should you be saying "no" to so that you get to say "yes" to you and your well-being? This is when you need to return to your priorities, and to classify tasks in terms of their importance and their urgency. What priorities are you able to delegate? Remember, your kids can help out on household chores from an early age! The aim is to capitalize on your time and your energy.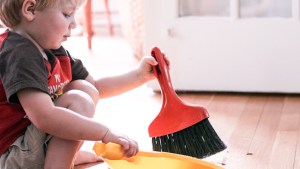 Read more:
Your toddler can clean baseboards — here's an age-appropriate chore chart
Choose a state of mind that helps you appreciate what you're doing rather than what you're having to cope with. Take an everyday task that can be a bit tedious: "What if I did housework with a more joyful, curious, and serene spirit … how would that feel? What could I do differently and how would that benefit me?" Put on some great music, listen to an interesting podcast, throw open the windows and breathe in some fresh air. The minute we see some positives, the task at hand doesn't seem so mundane.
To find out more about Marion Guiset, a lifecoach living in Vancouver, visit her website: www.marionguiset.com
This article was originally published in the French Edition of Aleteia.