When the heat waves roll around, certain manners seem to fly out the window...
Summer is in full swing. With temperatures soaring up into the 100-degree range, people are either reveling at the idea of lying on the grass and topping up tans, or are sweltering, dripping, and desperate to book a one-way ticket to the North Pole. I am definitely the latter — in fact, I am winter's number one fan.
As a city-dweller, always wedged between buildings or people on crowded streets, the heat is insufferable. I spend most of July and August looking at weather reports, hoping for a mention of incoming rain storms (ah, that cool thunder that breaks the heat). Otherwise, I spend my mornings looking through my closet for the coolest, most breathable attire I can find that doesn't show off too much skin, in the hopes that I can still be remotely elegant — sadly, this search has been going on for the last few decades and I'm still looking for the solution!
So short of leaving the house in just my underwear, I've taken to spending most of the day in my slightly chilled home, only venturing out at about 4 p.m. once the intense heat has died down. I generally head straight to the pool, often dragging my two youngest sons of 8 and 10 behind me — fair-skinned, they cope with the heat as badly as I do. We glue ourselves to the puddles of shade in our path and walk through the most beautiful tree-filled park to reach the pool on the other side. It's our little ritual.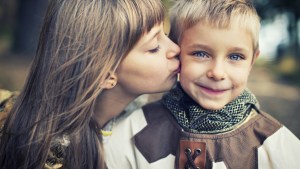 Read more:
Why I'm teaching my young son good old-fashioned chivalry
But after a couple of afternoons meandering through the park's pathways, I started to notice that summer fun has melted into summer bad manners. It was actually my youngest son who picked up on this first. One stifling day on our usual stroll he started giggling, nudging his brother and setting him off too. I looked around and got a glimpse of what they were laughing at; it was my summer no-no numero uno…
Underwear sunbathing
I know what you're thinking, but I'm not a prude. I champion the female form and believe it really is a thing of beauty. But remember how I said earlier that I wouldn't leave the house in my underwear? Well, in the summer, it seems that some people do just that. In my opinion, there is a time and a place for brief-like attire, and a city-center park is not it. Some people might argue that there is very little difference between a bra and a bikini top. In some ways they're right, depending on the design. But bikini tops are generally made of sturdier materials and have a "ready for the sea" active feel about them. Bras, however, have a more intimate feel about them: a sort of a "ready to strip off and take a shower, go to bed, or have a medical exam" vibe. They're just not the same.
That said, I'm not sure that even bikinis are appropriate in city living situations. It's an odd thing to see honed, bikini-clad bodies that are lying there, interspersed with lunching business people, across the grass in an urban center. Perhaps it's because I've never had the courage to wear one on the beach (even when I was 18 and had a great body that I just didn't appreciate); I'm just a one-piece kind of woman. Or perhaps I'm just jealous. Sure, that's possible I guess. But mostly, I attribute it to the simple fact that I would never walk through a shopping mall in just a bikini or bra, so why would I do so in a busy park with no swimming water, surrounded by complete strangers? Why not find a local pool instead?
I understand wanting a tan, but there are beaches for that. And the mom in me can't help but worry—not just about my young sons staring—but about the young women I see lying there, obliviously reading the perfect summer novel. There's nobody to stop others snapping cell phone photos and sharing your underwear-clad body for the whole world to see on the internet.
"Seeing" leads to my second big summer no-no …
Read more:
The mercy of modesty (a lesson learned on a nude beach)
24/7 shades

One of the things I do love about the summer is meeting up with friends in the afternoon, sitting in a café outside and feeling a slight fresh breeze—OK, I'm dreaming about the breeze, it's more the odd gust of dusty wind as a truck drives by. But there's something starting to bug me about those pleasant afternoons: some of my friends won't take off their shades to make real eye contact with me. For me, sunglasses are a barrier to good communication. When I'm having a lively conversation with my gal tribe, I want to see how people respond to what I'm saying. I don't want to guess because I'm staring at sunglasses made of the same material as Darth Vader's helmet. Wearing shades blocks out that little twinkle of laughter, or that look of commiserating horror, and the conversation just doesn't feel complete.
I appreciate why people wear sunglasses; I have a fair number myself. Eyes need protection on sunny days. But when I meet up with a friend I take off my glasses to greet them (how a gentleman might have tipped his cap in the old days). I want them to see the pleasure I have in meeting up with them. Sure, I'll put them back on if need be, but it is not that 24/7 eye barrier that some people adopt, even indoors. Unless you have a nasty eye infection, are world famous, have whacked your eye on the corner of the cupboard, or have an eight-year-old son with a poor baseball aim, I think the glasses can come off a few times a day.
Accessories continue to be bothersome during the summer, leading to my third no-no …
Read more:
I Never Knew a Bikini Could Hide So Much
Flip flops as formal wear
Feet are sometimes a tricky part of the body to contend with, I know. When they're swelling up in the heat and don't quite squeeze into your lovely nude Louboutin heels (which is always a nice choice with your floral summer wear-everywhere dress), it's only natural to switch to something more comfortable. That summer go-to, the fabulous flip-flop, solves so many problems. They're flat—hallelujah—they're open to the breeze, they are so comfortable (once you get by that initial irritation of having that rubber divider between your toes), and they're cheap. What's not to love?
But note that the words office-friendly and church-appropriate were not on my list of praises. I cringe a little when I hear the familiar snapping sound of the 'flip' and the 'flop' following people around all summer long, echoing in the hallways of office buildings or as they pass by pews. There are certain situations that require a little bit more effort than your weekend beach attire. Imagine being called into the big conference room for a last minute meeting with the CEO, and your feet are in a pair of beat-up flops. You're not going to make the impression you might have hoped.
So, sure, go for comfortable flats or a sandal with some ventilation, just not the thong-kind. There are so many pretty, comfortable, slightly dressier sandals out there to choose from (I recommend these DIY sandals you can customize for yourself).
Fashion aside, I have one more, very important, summer no-no …
Blasting boomboxes
Taste in music is so varied and personal, my own wonderful choice of tunes is regularly mocked by my teenagers—they will learn. I play my music at a reasonably low level and doubt my neighbors would notice if I'd been listening to Simon & Garfunkle on a loop for two hours trying to hit all those tricky notes in Bridge Over Troubled Water. In return I never hear my neighbor's favorite artists booming from their home. But I'm lucky. Friends of mine were recently complaining to me about their lack of sleep, due to what can only be called summer noise pollution. These summer months not only bring heat, meaning more open windows, but longer daylight hours to sit with our families, or entertain guests in our yards.
Read more:
Kindness: It won't kill you and you just might change the world
The streets become a cacophony of varied musical sounds (and sometimes heated arguments) lasting well into the balmy night. So if you do live in a city try and think of your neighbors before you up the decibels of ABBA's Dancing Queen and fling open your windows for the world to enjoy.
And for those with a yard, and better still a pool, although I entirely understand why that midnight swim is an absolute must, remember that noise carries, especially when a tired parent has just managed to get that fussy baby off to sleep. Even without infants, anyone who has suffered from having a noisy neighbor knows how stressful it can be. So if you are having an outdoor party, short of providing all your neighbors (and their kids) with ear-plugs, I always appreciate a little forewarning: a little note in the letter box is always appreciated—or better still, an invitation to join in the appropriately-noisy revelry.