Join the celebrations in France today by re-watching this incredible story of freedom and forgiveness.
Need an idea for Lenten almsgiving?
Help us spread faith on the internet. Would you consider donating just $10, so we can continue creating free, uplifting content?
Make a Lenten donation here
France celebrates Bastille Day today. It's kind of a big deal—roughly equivalent to Independence Day for us Yanks—and if you're lucky enough to be reading this in Paris, you already know the holiday's highlights: military parade down the Champs-Élysées, followed by a fireworks display around the Eiffel Tower.
If you're hankering to celebrate France's National Day but you're stuck here in the States, the options are a little slimmer. What can you do to show your solidarity with your French compatriots? Snack on some French fries and wash them down with a nice Bordeaux? Ogle the wares at the nearest Louis Vuitton store? Watch Napoleon Dynamite? Napoleon was French, right?
Might I suggest diving into a different sort of fictional story?  Les Misérables. It's not only quintessentially French, but as powerful a tale as I've seen about the power of forgiveness and faith.
You've got plenty of choices in how to read/watch/listen to the story. I'm partial to the 2012 Oscar-winning musical starring Hugh Jackman, Russell Crowe and Anne Hathaway. (You can rent and stream it on Amazon or iTunes for $3.99.) But if you have a Hulu membership, you can stream a 1998 adaptation starring Liam Neeson, Geoffrey Rush and Uma Thurman for free. It's been the subject of more than 50 films and an insanely successful stage musical—all based on French writer Victor Hugo's book, first published in 1862.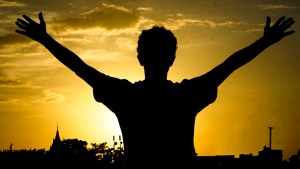 Read more:
What is freedom, anyway? And how are we living it?
It's still one of the most popular works of fiction in the world today. But I had no idea, until I saw Les Mis myself, how unapologetically and explicitly Christian it was. And even though it doesn't technically take place during the French Revolution (most of it happens more than 40 years after the Bastille was stormed), it's still a fitting way to celebrate Bastille Day. After all, in a way, revolutionary upheaval was still going on.
The country had been in an almost constant state of war and turmoil since the Bastille was overrun on July 14, 1789. The guillotine exterminated the lives of nearly 17,000 people during the Reign of Terror: That Revolution gave way to Napoleon and, eventually, a return to the same monarchy that had been so bloodily overthrown. (Les Mis depicts one of Paris's periodic uprisings, the June Rebellion of 1832). Chaos and revolution was an ever-present threat and, when you read or watch Les Mis, perhaps a welcome one. Poverty and suffering were everywhere, and the authorities were seemingly unable or unwilling to help. No wonder Hugo named his book "The Miserable Ones."
Hugo's hero, Jean Valjean, is about as miserable as they come. Imprisoned for 19 years for stealing, essentially, a hunk of bread, Valjean finds no freedom even when he's released. Marked as a former convict, the guy can't even find a place to stay. He's an angry, bitter man. And even when a kindly bishop, Myriel, takes him in, Valjean's rage remains. Soon he steals away in the night—stealing Myriel's silver while he's at it.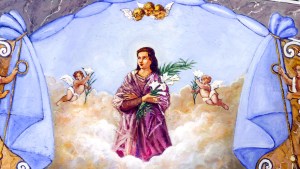 Read more:
The spiritual testament of a murderer and failed rapist
The police catch Valjean quickly, along with all the pilfered hardware. Valjean lamely says that he was given the silver—clearly a lie—but when the police take the man and the silver back to Myriel, the bishop says it's absolutely true: He did give the silver to Valjean. And then Myriel gives him two silver candlesticks as well, the most valuable items in the house. In the musical and 2012 movie, he sings,
"You forgot I gave these also
Would you leave the best behind?"
It's a moment of generosity and sacrifice and forgiveness—the sort of grand gesture that God showed us when He gave us His son. And Myriel's not done: He tells Valjean that, by giving him his silver, "God has raised you out of darkness/I have bought your soul for God."
I'd never read or seen Les Misérables before I reviewed the 2012 film, and the line nearly took my breath away. "Wait," I thought to myself, "this is a secular film, isn't it?" And so it is, I suppose, technically. But Valjean's journey is an inherently spiritual one, flooded with moments of sacrifice and redemption. The story is about faith, according to Hugo himself. Near the end of the book, he writes:
"The book which the reader has before him at this moment is … a progress from evil to good, from injustice to justice, from falsehood to truth, from night to day, from appetite to conscience, from corruption to life; from bestiality to duty, from hell to heaven, from nothingness to God. The starting point: matter, destination: the soul."
Bastille Day is, like our American Independence Day, a celebration of freedom—national freedom, freedom from an ancient monarchy and freedom to create a new, better nation.
As France's history itself proclaims, that journey toward freedom was a surprisingly complicated one—one partly unpacked in Hugo's sometimes heartbreaking novel. But Les Misérables gives us another vision of freedom: Valjean's walk from physical and emotional bondage to spiritual salvation. The story—whether you absorb it through the book or in a theater or on a movie on your television—is worth savoring, perhaps even celebrating.