From rosary beads to scapulars, these holy tokens are set apart by the Church for our spiritual help.
What can God do in your life with one Bible verse a day?
Subscribe to Aleteia's new service and bring Scripture into your morning:
Just one verse each day.
Click to bring God's word to your inbox
Holy water. Brown scapulars. St. Benedict medals. Blessed salt. Rosary beads. Are these and all the rest just talismans of Catholic superstition, even if they do bear the pious-sounding name "sacramental"?
While the Church knows and teaches that sacramentals are anything but tools of superstition, the fact is that some Catholics do not use sacramentals properly and fall into seeing them as a type of good luck charm.
How then is a Catholic to use these sacred items without falling prey to a superstitious mindset?
First of all, a brief primer on these religious items. Sacramentals are anything set apart or blessed by the Church for the purpose of sanctifying our lives and leading us to the sacraments. They are sacred signs and provide for us grace (spiritual help) through the intercession of the Church.
Another way to describe sacramentals is that they are extensions of the sacraments. They are not sacraments in themselves, but are related to the seven sacraments and flow from them, ultimately leading us back to them.


Read more:
3 Things you might not know about sacramentals


With this connection in mind, just as those preparing to receive the sacraments need to be properly disposed, those desiring to use sacramentals need to be prepared to do so rightly.
For example, the Catechism explains that the proper celebration of Confession requires the penitent to "be contrite of heart, confess with the lips, and practice complete humility and fruitful satisfaction" (CCC 1450). Similarly, as the Baltimore Catechism summarizes, for the proper reception of the Holy Eucharist one must "know what the Holy Eucharist is; be in a state of grace, and — except in special cases of sickness — to be fasting [as the Church prescribes]."
For sacramentals the requirements aren't as cut and dried, but we can find some guidance, oddly enough, from the Rite of Exorcism, which is itself like one of the many sacramentals of the Church.
The Rite explains how the priest who is to be the exorcist "must be properly distinguished for his piety, prudence, and integrity of life." He must be humble and "utterly immune" to any striving for "human aggrandizement." He can't rely on his own power but on God's, and if possible he should, before performing an exorcism, go to confession and offer Mass, imploring "God's help in other fervent prayers."
While these rules are directed towards a priest going to battle demons, the instructions are a good reference point for those desiring to use any sacramental. If we persist in a life of sin, but nevertheless like wearing a rosary around our necks because our mother told us that it brings good luck, the sacramental won't have much effect.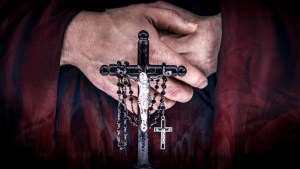 Read more:
Why do exorcists ask demons to reveal their names?
Or similarly, if we wear a brown scapular because we believe that "whosoever dies wearing it shall not suffer eternal fire," all the while continuing a life of crime, then we can't expect to experience a flood of God's graces.
In these cases sacramentals are seen as a "lucky charm" that is used for some selfish benefit, and the graces God wants to give us through them won't find a proper home in us. Sacramentals are not "grace-dispensers," where we put in quarters and out pops a spiritual benefit.
Basically, if our hearts are not open to God, then how can his grace reach us? If we want to fully receive the graces God wants to give us in sacramentals and not use them in a superstitious way, then we should dispose ourselves by frequenting the sacraments of Confession and the Holy Eucharist and strive to live with "prudence … integrity of life … constancy … and humility; relying, not on [our own power] but on the divine power [of God]." With this type of disposition we will be protected from any sacramental superstition and realize that it is not these material objects themselves that save us, but God who is the savior of us all and who through material realities leads us along the path of holiness.
Sacramentals are only instruments that God uses to guide us along the right path. If we use them properly, and under the Church's instruction, they speed us on our journey towards Heaven.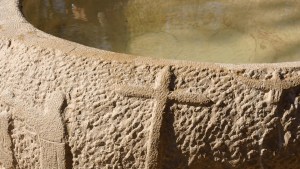 Read more:
3 Powerful sacramentals to have in your home