Girls are less likely to go into STEM fields, but research shows that confidence, not aptitude, is the reason why.
What can God do in your life with one Bible verse a day?
Subscribe to Aleteia's new service and bring Scripture into your morning:
Just one verse each day.
Click to bring God's word to your inbox
Girls as young as 6 think they're less intelligent than boys — such was the discovery of scientists who published their research recently in the journal Science.
We all know, and it has been talked about for many years, that there aren't enough women in science. It is commonly thought that the more "difficult" subjects such as mathematics, physics, technology, even philosophy, are the domain of men. Moreover, more than 95 percent of women had never heard of a female scientist other than Marie Curie.
Women and science
More than a hundred years ago, an eminent Polish physicist named Marian Smoluchowski said, "All the external obstacles and ridiculous superstitions, these outdated beliefs that block women's access to certain scientific institutions, and which make women's education, research work and access to university more difficult, should finally disappear!"
The American authors of the study above do not give the reasons why girls between 5 and 6 years old start thinking that boys are smarter, even though they didn't think so earlier. They only confirmed beyond any doubt that this change is happening.
What are the consequences? Already at that age, girls start avoiding games for the smart kids. And even though there is no evidence that they would have any difficulty with them, the girls themselves cut off their chances of developing those talents. And that stereotype affects their future life opportunities and career.


Read more:
The high price of education


Women and self-confidence
It seems that a hundred years after the correct diagnosis of professor Smoluchowski, not only are women still less likely to become scientists, but that we alone, from early childhood, bar ourselves from progressing.
What causes that? Is that a disease carried in our genes from generation to generation, from grandmothers to mothers, mothers to daughters?
Maybe its root cause is the belief that girls, and women, should primarily be modest, should not brag, and should know our place. Maybe that's where our eternal stepping down, our quiet and hard work behind the scenes of great events comes from.
Yet, a recent OECD study found that gender disparities in academic performance – particularly in mathematics – do not come from innate aptitude differences, but "rather from the students' attitudes towards learning and their behavior in school, from how they choose to spend their leisure time, and from the confidence they have."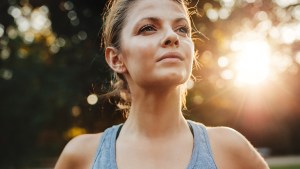 Read more:
Positive self-affirmations don't work, so try these confidence boosters instead
The OECD also blamed parents and teachers for having low expectations of girls. But another significant reason was that girls are less willing to "fail forward," which is a key part of the scientific mentality. "When students are more self-confident, they give themselves the freedom to fail, to engage in the trial-and-error processes that are fundamental to acquiring knowledge in mathematics and science," the same study found.
Mothers know their children best, and they can recognize their abilities and likes very early. Ladies, current and future moms, let's watch our daughters closely. Perhaps that little girl who just won in tic tac toe with you will be a Nobel Prize recipient. Let's boost her confidence and teach her not to be afraid to fail forward.
This article was originally published in the Polish Edition of Aleteia.