The great novelist wasn't a great dad, but there's a lot to be learned from his life and his characters.
You can get Aleteia inspiration and news in your inbox. Our specially curated newsletter is sent each morning. The best part? It's free.
Sign up here
As a father, there are times I simply don't have the energy anymore. When it comes to battling the kids for mastery of the household, one must know when one is defeated and withdraw from the field of battle to fight another day, so I close the door to my bedroom for some peace and quiet and leave them to their own devices.
Not the best parenting technique, I know, and I'm not proud of it, but survival is its own reward. I love my little monsters, but every once in a while I just need some space. I know I'm not perfect as a parent, but I console myself with the fact that at least I'm a better father than Evelyn Waugh.
Waugh, a supremely talented writer, wrote my favorite novel of all time — Brideshead Revisited. His humor is satirical and incisive and he uses it to bring serious issues to light. For instance, his book The Loved One compares the glitter of Hollywood to a corpse that's had lipstick applied by an undertaker.
Read more:
What Job Can Teach us About Fatherhood
As a husband, Waugh's attitude mirrored the dry wit of his characters. His real life marriage proposal to his wife Laura was no different. He wrote this to her:
"I can't advise you in my favour because I think it would be beastly for you, but think how nice it would be for me. I am restless & moody & misanthropic & lazy & have no money . . ."
This is a lousy proposition. Funny, sure, but a good proposal? Hardly. And yet, Laura agreed. Soon enough Evelyn was offering his condolences to her each time she became pregnant.
It may come as no surprise to learn that his relationship with his children was complicated. In fact, his entire family was awash with fathers and sons bickering, imposing and rebelling in turn, and wishing that their fathers would disappear. Waugh himself came from a long line of bad fathers. He understood his flaws clearly, though, and in his novels doesn't shy away from discussing the complexities of fatherhood. Here are a few examples from the real life and the fiction of Evelyn Waugh…
Gervase is perhaps the most sympathetic of fictional fathers in Waugh's entire catalog. When we first meet Gervase, he's already elderly. He's lost the family fortune and retired to a quiet apartment where he walks his dog and studies his family tree. He never speaks a bitter word about his past or about the fact that his own son, Guy, has been unable to provide him with a grandson to carry on the family name. Gervase is a gentle soul who never complains and is soft spoken. He still spends time with his adult son and keeps up a correspondence with him in which he offers advice, but never domineers. He's everything that the real life Evelyn Waugh might have hoped for in a real father.
After a rare argument with his son, Gervase writes him a letter. It begins, "I haven't been happy about our conversation on your last evening. I said too much or too little." What follows is a touching meditation on humility and generosity of spirit. He writes particularly about how a Christian, "accepts suffering and injustice … ready to forgive at the first hint of compunction."
As a father, Gervase sets an example of strength through gentleness, not only continuing to engage his son after a disagreement, but also helping to set him on a similar path through his advice. Fathers may not always express themselves the way they wish or may say things to their children they later regret, but through patient dialogue and setting a good example, they have enormous influence on their children for good.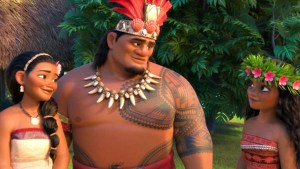 Read more:
The 2 parenting lessons I've learned from 'Moana' as a father
Lord Marchmain is the head of a noble family situated at Brideshead, a vast estate with a gorgeous manorial house that functions as the heart of the family's domestic unity. The various members of the family spend time in London, traveling abroad, or attending school, but they all inevitably regroup at Brideshead where they spend long periods of time together. Everyone, that is, but their father. He's permanently absent, living with his mistress in Italy. Marchmain is the very definition of an absent father and his neglect hinders the spiritual and social growth of his children. But in the end, knowing that he's dying, he returns home to make amends and dies surrounded by family.
To some degree or another, I'm sure all fathers feel guilty about missing time with their children, whether it's simply missing a dance recital because of work or a more serious, long-term absence from the home. Brideshead is an encouragement to all of us to focus on what's truly important and spend time with our children before it's too late.
Evelyn Waugh's father, Arthur
Arthur Waugh was the first in a long line of writers. Not only did his son Evelyn become a famous novelist, but his great-grandson Alexander later wrote a family history titled Fathers and Sons. In it, he isn't kind to the memory of his ancestor, writing that Arthur was "soft, frail and fat" and"cripplingly sentimental."
His overwrought feelings centered on the game of cricket and his eldest son Alec. Evelyn, five years younger than his brother, was not included in his father's affections and complained to friends that he was "an unwanted child." Arthur was a good father only to Alec, upon whom he lavished time and attention, reading him his favorite poetry, drawing pictures with him, and generally considering everything he did amazing. Years later, Alexander Waugh wrote about the relationship between his great-grandfather and great-uncle,"To Arthur, everything that Alec did or said was a glory and a holy miracle." He was the polar opposite with Evelyn, whom he ignored. Evelyn later complained, "I am lacking in love," and wrote of his feelings of abandonment and resentment, much of which also comes through in his fictional characters.
As a father, Arthur is an example of what not to do. His emotional distance and willingness to play favorites scarred the life of his son, who then had trouble being the father he may have wished he could be. A father doesn't need to be perfect, but all a child wants is for him to be there and to give unconditional love.
Do that, and you'll be a hero. But choose to ignore your child and he may one day satirize you mercilessly in his novels.