Use these step-by-step instructions from hair experts to create glamorous looking messy ponytails. Wear them to a wedding, work, or out on the town.
What can God do in your life with one Bible verse a day?
Subscribe to Aleteia's new service and bring Scripture into your morning:
Just one verse each day.
Click to bring God's word to your inbox
The ponytail is a classic summer hairstyle. It's so easy to do, you can quickly create one sitting in your car at a red light. Simply gather up your hair in the back, use an elastic or hair tie and you're done! It's useful for working out, and getting your hair out of the way. But it's also kind of boring, a last resort when we're too tired to do anything else, and sometimes just not a flattering look.
So here's the question women ask every summer: can you combine the ease of a ponytail with a chic hairstyle? The answer is yes. Sophisticated yet slightly undone ponytails have been paired with wedding gowns (see the Alyne by Rita Vinieris runway show), and made appearances on the red carpet and even at work. Just a few extra steps and your pony goes from yawn-inducing to wow. Best of all, all the below hairstyles are as easy to create as the classic one we all grew up with.
The Date Night Pony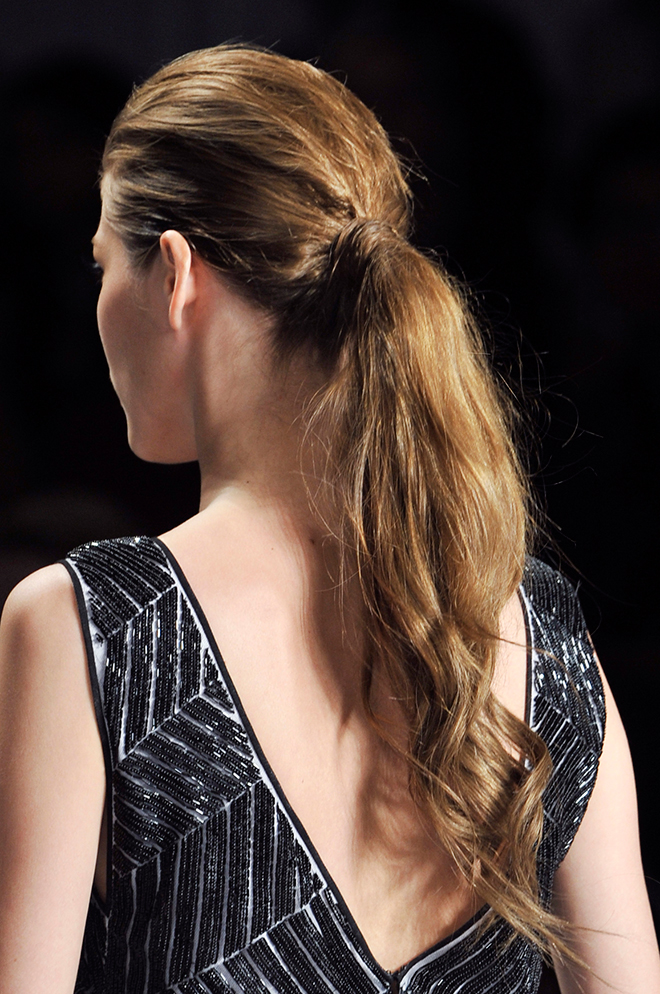 Brian O'Connor, celebrity colorist and goodDYEyoung Artistic Director created the perfect date night hairstyle—a romantic yet relaxed look—that's incredibly easy to do. The beauty of this 'do is that you'll look great for your date, but it won't look as if you've spent the day primping for it. (Great for a first date!) But don't shower day-of for this particular pony. "I find second day hair works best for this look," O'Connor says.
1. Start by prepping the hair with either a dry shampoo or a texture spray.
2. Then, place your ponytail just above your occipital bone and secure with an elastic band.
3. Take a small section of hair and wrap and pin to hide the band. Pull strands from the base of your hair and loosen some areas giving it an undone approach.
4. Then use a gentle-hold hairspray for a final touch.
This pony pairs well with a casual outfit or a cute dress, so now you're ready to go practically anywhere on your date!
Half Ponytail for work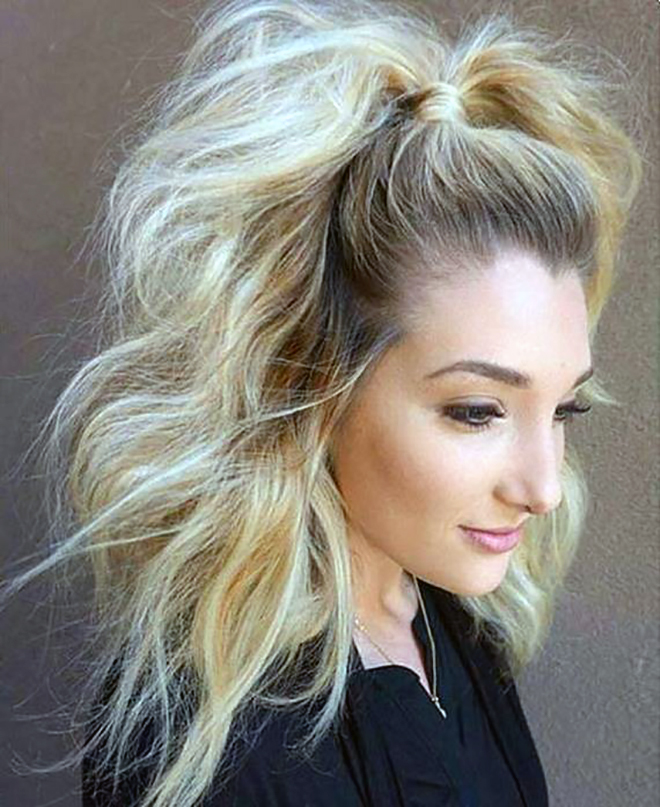 This is a fun, retro-chic and easy hairstyle to wear; slightly messy, yet elegant at the same time. Think of it as a cross between Brigitte Bardot and Ariana Grande. And it's perfect for work on a hot summer's day: out of the way, but not fussy. Ariba Pervaiz, a Toronto-based hairstylist and contributor to Latest Hairstyles, provides the step-by-step directions.
1. Section your hair from the middle of the ear, then pull that section up to the top of your head where you want the ponytail to sit, and back down to the middle of your ear on the opposite side to create a V shaped section. Now take the top section of your hair and tie this into a secure ponytail using one of your hair elastics; use two if you have super thick hair.
2. Place the ponytail forward and take a small section from the back of the ponytail. Tease the section several times. Continue teasing small sections of hair until the entire ponytail is teased.
3. Take a small section from the ponytail and spray it generously with hairspray until it resembles a piece of ribbon. Wrap it around the elastic to conceal it.
Undone Ponytail for summer weddings and parties
This ponytail was featured in the Alyne by Rita Vinieris/Rita Vinieris 2016 Bridal Fashion Show. The polished yet messy pony is perfect for a summer's wedding; after all it's special enough to be worn with wedding gowns, so why not with formal wedding guest attire? Created by hairstylist Adrian Flimmer for Rita Vinieris, here is how to do this at home.
1. Use a detangling spray on damp hair. Flammier used René Furterer Fioravanti shine enhancing shampoo and conditioner ($28–$32, Rene Furterer) on the models. Then, concentrate on the roots, and saturate the hair with a volumizer; do it section by section. Flammier used René Furterer Volumea volumizing conditioning spray ($28, Rene Furterer), with no rinse.
2. Then using your fingers as a comb, create an imperfect, messy right side part, dividing the hair into three sections: one on each side of the head and one on the crown. Then blow-dry the hair straight.
3. While blow drying the hair with your fingers, create a bit of of texture, focusing on the top of the head and near the right side part.
4. Use a thermal protecting smoothing spray, Flammier used René Furterer Lissea thermal protecting smoothing spray ($32, Barneys New York) on the frizzy pieces of hair to make sure to get the exact texture and look for your hair.
5. Once the hair is dry and straight, spray the top of the head with a texturizing spray, like René Furterer Vegetal Texture Spray ($17, Barneys New York) to create messy volume.
6. Then make a low ponytail. For the bridal show, Flammier wrapped a silver cord and a small section of the hair to make it appear messy and a bit different. To dress up your pony, you could use either a silver or gold cord.
7. Use your hands to gently push some hair forward out of the base of the ponytail and a few pieces of hair from each side of the head. This helps to form wisps and make the style seem less structured or controlled.
8. For the finishing touch, spray your texturizing spray again, all over the hair to give the look a bit more body and hold.
The Bouncy Pony for church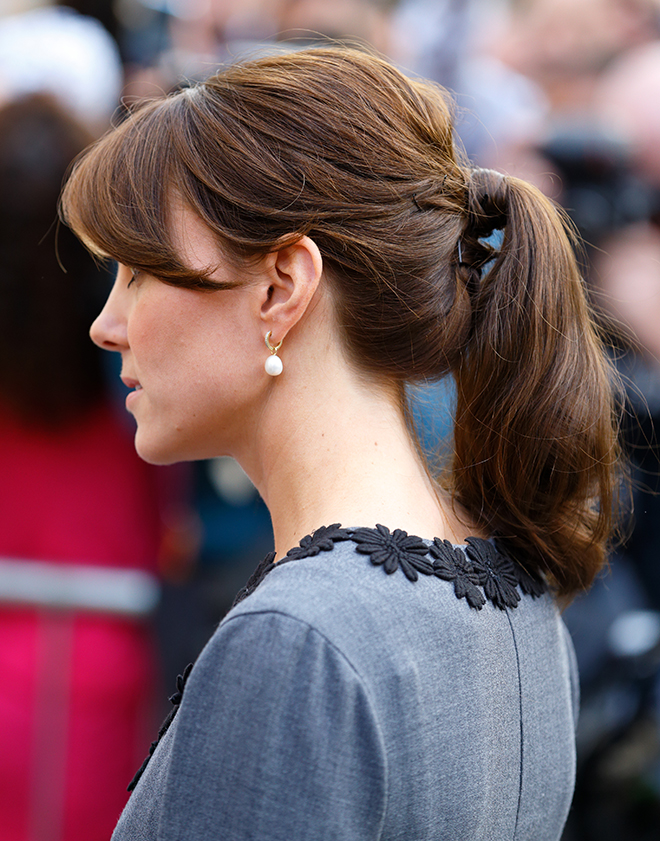 Celebrity hairstylist Mark Townsend created this sleek but fun ponytail for Dakota Johnson at the LACMA party in Hollywood, but it's a favorite of many other celebrities, including Julianne Hough and Duchess Kate. Plus, it's polished enough to wear on a Sunday morning to church.
1. Start by applying a dollop of Dove Style+Care Nourishing Curls Whipped Cream Mousse ($5, Drugstore) to damp hair and blow dry with a round brush to get the hair smooth and shiny with lots of body and movement.
2. Then, gather hair into a ponytail and secure with two tight elastics to keep the ponytail nice and tight.
3. Next, use a 1″ curling iron like Harry Josh Pro Tools Curling Iron ($175, C.O. Bigelow) to add waves to the hair inside the ponytail.
4. Wrap a 1″ piece of velvet around the base of the ponytail (you can also wrap a small section of hair around the pony-tail and secure with a bobby pin).
5. To finish, spray dry shampoo like Dove Refresh+Care Dry Shampoo ($4, Walmart) on the ponytail for texture and hold. If you have a fringe like Dakota, dry shampoo will keep hair in place without making it stiff!
The Fishtail Pony for brunch, errands and weekend fun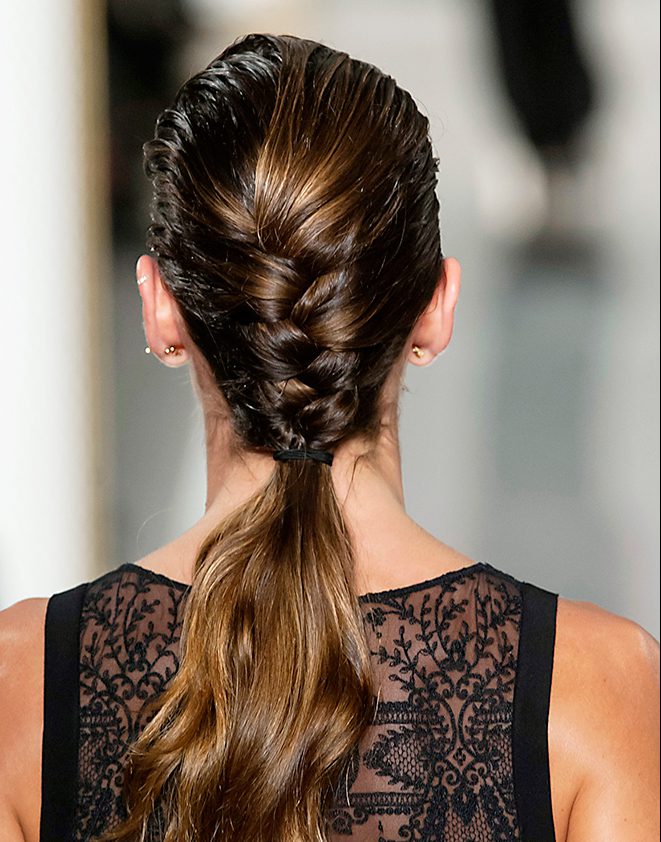 Need a cute look for a weekend brunch, errands or time by the pool? This pony is also a fishtail braid. The loose strands and flyaways give it a soft, romantic feel, while still making sure your hair is out of the way, a little sporty, and snarl-free. This style looks equally great when paired with a tee and shorts as it does with a sundress.
Once again, Ariba Pervaiz, a Toronto-based hairstylist and contributor to Latest Hairstyles shares her styling expertise. "This look combines a French fishtail with a more traditional braid, making it super versatile and easy to play around with, depending on your style," she says. "For a more polished look, I smooth out the sides, which creates a sleeker, refined finish to the strands. But sometimes I go with a more laid-back, messy look, by working with my flyaways instead of concealing them!" Both styles can be just as fun.
1. Take a small section of hair from your hairline and split it into two equal halves. Cross the right section of hair over the left.
2. Take a new piece of hair from the left and cross it over to the right. Continue incorporating new pieces of hair and crossing them over in alternating sections until you reach the back of the crown.
3. Secure the braid with a bobby pin.
4. Gather the remaining hair in a ponytail and tie it off with an elastic band.
5. Take a small piece of hair from the ponytail and wrap it around the band to hide the elastic. Secure it with bobby pins.
You can leave your hair like that, or you can continue on to create a fishtail braid down your back. To do that, follow the below steps.
6. Split the ponytail into two equal sections to start the fishtail braid.
7. Take a small strand from the left section and cross it over to the right section.
8. Now take a small strand from the right section and cross it over to the left. Continue this pattern until you reach the end of the ponytail.
9. Tie it off with elastic band. Gently pull each stitch and spread it to create fullness. Spray a firm hold hairspray to finish off the look.