The first priest to be ordained in the Rouen diocese since Father Jacques Hamel's death will most likely be Julien Hamel, who was ordained a deacon on, July 2. 
What can God do in your life with one Bible verse a day?
Subscribe to Aleteia's new service and bring Scripture into your morning:
Just one verse each day.
Click to bring God's word to your inbox
His last name, identical to that of elderly priest murdered at his altar last summer, echoes like a beautiful symbol.
There is no family relationship between 25 year-old Julien Hamel and Father Jacques Hamel, the elderly priest martyred on July 26, 2016, at age 86.  Hamel is a common name in Normandy, but Julien was of course deeply affected by the news of the death of the diocesan priest — by the shocking disproportion between the violence of the aggressors and the frailty of an elderly man, and the absurdity in massacring in the name of the "holy war" an unarmed "enemy," who was saying mass for four defenseless people.
There is no question, however, of changing a priest's life: "We will continue to say masses on weekdays; anyway the risk is everywhere," consents Julien Hamel.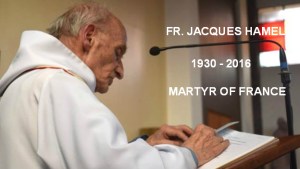 Read more:
Cause for beatification of Fr. Jacques Hamel, priest and martyr, is officially opened
He does not see himself as an aspiring martyr — "you don't go out looking for martyrdom" — but he intends to follow through with his vocation. As a seminarian in Issy-les-Moulineaux, he is beginning his last year of studies, at the end of which he will be ordained, "if everything goes well," he specifies. He will be a diocesan priest in Rouen and go wherever he is needed: "I am not building castles in the air, but I want to put myself at the service of our parishioners. I will go where my bishop tells me to go," he explains simply.
This desire to give up his life entirely came from a "fertile family breeding ground," assures Julien Hamel, but in order for the seed of the vocation to plant its roots, his experience of serving of mass was decisive. Through his closeness to the altar, he took an active part in the Mass, and entered the mystery of the Eucharist. The decision to become a priest fell into place while he was in 8th grade. He told no one, except for two priests who gave him spiritual guidance when he was in high school. It was only when he was of college age that he confided his decision to his family. "It seemed important to me not to commit myself too early, to keep my freedom to the end," he recalls.
The seminary did not seem long, he declares, "I didn't see the six years go by!" But during this time of formation and discernment, his vocation was refined. "There are many stages in a vocation. More often than not, one first identifies with a priest one wants to be like, then one detaches oneself gradually. This is how you become a man devoted to the Church, completely offered," he concludes.
Julien Hamel was ordained as deacon in preparation for the priesthood on Sunday July 2, 2017, in the church of Saint Pierre de Roncherolles-en-Bray by Archbishop Dominique Lebrun of Rouen, who preached at the funeral of Father Jacques Hamel.
Read more:
Eyewitness report: Father Jacques Hamel's last moments
Translated from the French edition of Aleteia