The hero of the Mediterranean diet, which has long been known to prevent heart disease, also protects against dementia, researchers find.
Move over, trendy coconut oil. Olive oil is back in town, and it's armed with studies to prove that it's good for your brain as well as your heart.
A Mediterranean diet rich in extra-virgin olive oil has long been known to prevent heart disease. Researchers at Temple University have just released a study concluding that it also protects the brain against Alzheimer's disease.
The study found that consuming extra-virgin olive oil (EVOO) reduces the formation of amyloid-beta plaques and neurofibrillary tangles in the brain, which are classic markers of Alzheimer's disease.
Researchers from the Lewis Katz School of Medicine at Temple University found that consuming EVOO activates a process known as autophagy, in which "cells break down and clear out intracelluar debris and toxins, such as amyloid plauges and tau tangles."
"Brain cells from mice fed diets enriched with extra-virgin olive oil had higher levels of autophagy and reduced levels of amyloid plaques and phosphorylated tau," Dr. Domenico Praticò, a professor of pharmacology and microbiology said.
"This is an exciting finding for us," explained Dr. Praticò. "Thanks to the autophagy activation, memory and synaptic integrity were preserved, and the pathological effects in animals otherwise destined to develop Alzheimer's disease were significantly reduced. This is a very important discovery, since we suspect that a reduction in autophagy marks the beginning of Alzheimer's disease."
Researchers at Temple plan to now investigate whether olive oil can stop or reverse the disease once it has already been established.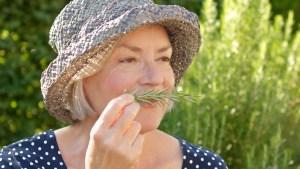 Read more:
Sniffing rosemary improves your memory, researchers find