How the creativity of a mother and daughter led to the creation of the fidget spinner -- but neither has ever received a dime for it.
What can God do in your life with one Bible verse a day?
Subscribe to Aleteia's new service and bring Scripture into your morning:
Just one verse each day.
Click to bring God's word to your inbox
The worldwide hit that's kept millions of kids' fingers busy for months was invented here in the US by a devoted mom named Catherine Hettinger. Although she hasn't received a penny from the toy, we can at least give her some much-deserved recognition for helping so many kids who have issues with concentration.
What is a fidget spinner?
If you haven't come across one yet — although it's pretty hard to avoid them if you have school-age kids! — the fidget spinner, or hand spinner, is a spinning top with three paddles that you can spin using your fingers, foreheads, noses, or just about any surface possible thanks to its ball bearings. Blissfully for parents, they don't make any noise.
As its name suggests, the spinner is designed for adults and children who may fidget a lot due to ADHD or autism. Dr. Steven Shapiro, chairman of pediatrics at Abington Hospital Jefferson Health says that "occupational therapists have long used these distractors to help people concentrate on what they're doing." In fact the initial aim of the spinner was to help people with autism or hyperactivity better concentrate and feel calmer.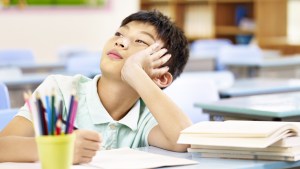 Read more:
What exactly is ADHD and how can we detect it?
Who created the fidget spinner and why?
The fidget spinner was born out of the devotion of a chronically ill mother who just wanted to be able to play with her daughter. In 1997, Hettinger, who suffered from myasthenia (a chronic neuromuscular illness which causes the weakening of the skeletal muscles) was finding it difficult to pick things up. Despite her challenges, Hettinger wanted to be able to continue playing with her young autistic daughter. She told The Guardian how she "started throwing things together with newspaper and tape and then other stuff … she'd [her daughter] start playing with it in a different way and I'd repurpose it." Between the mom and daughter team, they came up with an initial non-mechanical version. "We kind of co-invented it – she could spin it and I could spin it, and that's how it was designed." From there, the shape of the hand spinner developed over time to become the toy it is today.
The enormous success of the fidget spinner
In the US, as well as in Europe, the fidget spinner has grown in popularity, with shops not always able to meet the demand. The gadget has cropped up on playgrounds, in classrooms, on bus rides home, and even in the hands of grown ups who can't resist a spin. In fact the tactile toy has become so much of a problem that some schools have had to ban them: kids are reportedly focusing on the toy more than their lessons. Unfortunately, this has had a detrimental effect on those kids who really could benefit from the spinner in school, such as those with ADHD.
Read more:
How Training the Brain Helps Heal Dyslexia, Autism, and ADHD
Although the spinner is banned from certain schools, it's still proving a huge hit on the internet with certain Youtubers, like Alfie Deyes (pointlessblog), who develop their own customized spinners and selling them on to their fans. And what's more, the original spinner is now making way for more stylized spinners that light up, are shaped like the Bat symbol, or even the new fidget roller. We have to wonder what's next!
A huge hit … but not a dime for Hettinger
You might think the creators of something like the fidget spinner might be sitting in a hammock on a beautiful Caribbean island by now. Sadly, this is not the case. Although Hettinger registered a patent for her fidget spinner back in 1997, and had some initial interest from Hasbro, the toy company decided to drop their production plans and the spinner was abandoned.
In 2005, due to a lack of money, Hettinger could not renew her patent when it lapsed. (The cost of a patent renewal was $400 in the US.) So the fidget spinner's patent returned to the public domain, and now 12 years later, it's become a global success. Hasbro is now selling the spinner and Hettinger had received nothing for her invention, nor does she have any rights over the patent.
Read more:
Why middle age is prime time for creativity
Despite Hettinger having to downsize from her small house to a cheaper condo and wondering how she can afford a car that "really works," the inventor is not bitter about the spinner's success. "Several people have asked me, 'Aren't you really mad?' But I'm just pleased that something I designed is something that people understand and really works for them," she generously says.
Here's hoping the self-confessed "techie" comes up with another craze that will benefit people in need and help make her life a little easier, too.
Adapted from an article originally published in the French Edition of Aleteia.