You never know how your small action of kindness might literally be a "lifesaver."
What can God do in your life with one Bible verse a day?
Subscribe to Aleteia's new service and bring Scripture into your morning:
Just one verse each day.
Click to bring God's word to your inbox
Five years ago, my entire world had collapsed. My mother was dying of cancer, I was unemployed and battling drug addiction, and my first long-term girlfriend, the light of my life, had left me. I was an atheist, and it felt like everything that made my life meaningful had been stripped away. I had nothing left to live for.
One evening, after having been awake on "ice" for about five days, I was emotionally at the lowest I have ever been. I thought, "I'm done. What's the point of it all? It would just be simpler and I would be less of a burden on everyone if I just wasn't here."
That night, I was out to dinner with my parents. When I returned to the table, my mother was speaking to a lady, and introduced us. I briefly said hello, not engaging in a proper conversation on account of feeling like an empty shell. Then I left to go home by myself.
I got into the car and just sat there with the car door open, unable to move in my utter despair. I kept going over everything in my head: how I had lost my girlfriend, how I was slowly losing my mother to cancer, and considering the waste I had made of my life since becoming an adult. It was all too much. So, very calmly, I considered driving down the highway at an extreme speed and turning the wheel sharply with enough force to roll the car into either oncoming traffic or a safety rail.
After about 20 minutes, my mother's friend emerged from the pub and approached my car. At least, that was what it looked like, until I realized that she was heading to her car, which was parked next to mine. She noticed me and bid me good night. With what I imagine was a very sad and empty look on my face, I returned her salutation. She perceived that I was in pain and decided to sit down with me. I expressed to her how I was feeling, that everything was just pointless and how I felt like I was a waste of oxygen.
This conversation was just enough to bring my mind back into a realistic space of reason. And I am of the firm belief that this conversation enabled me to get home safely that evening without resorting to reckless and selfish actions that would have brought such destruction and pain to the lives of others. Now as a Catholic Christian, I say that it was God who held me there in my seat for 20 minutes, knowing that I didn't really want to do something stupid but needed a point of reference that I was unable to provide for myself at that moment. He inspired this lady to come out at the precise moment she did to provide that point of reference.
This past Easter, I was received into the Catholic Church. A relapse had led me to take up residence in a men's shelter beside a humble little church near the Brisbane River, with a personal vow to give up drugs forever. Living among other addicts, I recognized that our Heavenly Father had brought me to this place as a means to be able to face my demons head on, to practice saying no to drugs when offered. I recognized that if God had brought me here to honor my vow in an environment surrounded by illicit substance use, then I should trust that He wouldn't just leave me to battle on my own. I believed He was there and if I was willing to work with Him to overcome this poisonous struggle, I would be able to access an invaluable source of strength to be able to say no the moment drugs were offered, before it even became a temptation. This strength came from no-one other than Christ Jesus: "I can do all things through He who strengthens me." (Philippians 4:13) As I stayed clean, I was able to see how those around me were affected by substance abuse. Is that how I was when I was under the influence? I never want to go back there!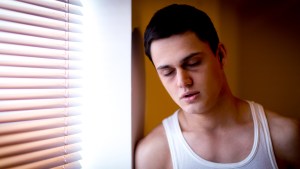 Read more:
Bonded to Christ: Dramatic confession of an ex-drug addict
The parish community welcomed me, and the priests were patient with me and my views and rambling interpretations of scripture. I developed a close bond with one of the priests and  really resonated with how he explained aspects of Sacred Tradition to me. To top it off, God had a splendid surprise in store!
During a weekly prayer meeting, I began chatting with an Anglican lady, who was also in the process of being received into the Catholic Church. When I told her my name, it rang a bell. She said that she believed that she knew my parents. She then mentioned our old local hotel and a wave of realization swept over me. This was the woman who had had a chat with me one night in a parking lot, five and a half years ago when I was at my lowest and didn't believe in God. It is truly amazing how God works in our lives, showing us that when we open ourselves to a real relationship with Him, we make room for Him to move and guide us in the most marvelous ways.
All these years later, thanks to that woman's kind words, I have survived the dark times of my life, and have had the privilege of entering into the joy of the Catholic faith, beginning a new relationship, and seeking gainful employment, having been freed of the shackles of my past.
Today, as I go about my business, I make it a point to speak words of encouragement and good cheer to people in the shops and the streets. You never know whose life you might save with a mere smile, whose hope you might reignite today with consolation, whose soul you might draw to God by being Christ to them.
I like to tell people: "Each and every day as you go about your business, along the way, seek out and find others to deliberately engage with them with the sole intention of sharing your smile, because your smile is a gift God has given us to inspire the world. So go and inspire those around you. You just don't know whose life you might save."
Read more:
A cup of coffee and a conversation can save a life