I'm learning we don't need control to be joyful.
We lost a child to miscarriage in January, and again in April, and I'm pregnant now for the third time this year. It's early. I'm not at all out of the danger zone when the risk of miscarriage plummets, but I still want the world to know about this tiny new member of the human race.
My miscarriages made some things very clear to me, and it seems that now more than ever, I shouldn't wait to celebrate my pregnancy with my friends and family. It's not because I'm confident this time, or that my faith is stronger, because it isn't. I'm scared out of my mind, and every day I wake up wondering if this is the day I'll start bleeding, and if I will ever recover, if it happens.
But I want to talk about this pregnancy even now, because joy is bigger than fear. It has to be. Otherwise there's no reason to live. Waiting, till everything seems safer, till the miscarriage statistics drop sharply, means letting fear win over joy, in my own heart, at least.
With this third pregnancy, it took weeks for me to let myself be joyful about this child. I wanted to, but I didn't want to add to the possible hurt down the road either, if something unspeakable went wrong. But of course, if you try to protect yourself from disappointment by walling yourself off from happiness, you are only cheated out of happiness now, and nothing could really make the grief of a lost baby better anyway.
So what do you do when you're joyful? You shout it out to the world. I'm pregnant! Somebody new is leaping and hopping inside of me! And this little person may die soon, may die as a child, or an adult, or in old age, but that's not up to me.
I can't stop thinking about control. There's nothing that I can eat, no supplement I can take, no lifestyle habit I can adopt, that will guarantee that I will get to meet this child. (My doctors have told me nothing is wrong with me; it's just been bad luck.) There's no prayer I can pray to force God to let me be in charge. There's no amount of faith I can have that secures this child's future.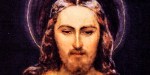 Read more:
Praying this litany will give you peace about the past and future


But I am beginning to wonder if, when you really understand that you have no control, that is where fear loses its power. Life and death are a mystery to me, and I am not the master of them, and in that knowledge I can be glad that this new life exists, whatever may come tomorrow. I can, and do, hope and pray–and try to wring promises out of God, and try in vain to look for signs–but I also know that happiness does not depend on security, or nobody could ever be happy.
St. Paul warns us that "When people say, 'There is peace and security,' then sudden destruction will come upon them." (Thessalonials 5:3) He was referring to Rome's boast of its pax et securitas which was inscribed on its coins at the time. At the time, who could have believed it? But Rome fell, as everything does. Peace and security are wonderful, but they are never truly secure.
When I announced that first pregnancy, I had already lost the baby; I just didn't know it yet. I proudly posted pictures of my little bump, and my family celebrated with me. Later, we grieved together, and I was grateful for the support. The next time, I didn't even have the time to announce my pregnancy. That baby died days after he or she burrowed into the wall of my womb. That child came and went quietly, and nobody knew of the loss.
It felt funny to keep that secret. It's not that it was wrong. Our family has the right to grieve as we wish, and new life is a very private thing. But still, I felt like that baby ought to have been mourned like the first was, or more importantly, that the baby's life, short as it was, ought to have been celebrated, not just by the parents, but by the whole human community, which the baby was already a part of.


Read more:
Prayer for my children to Our Lady of Perpetual Help


I don't like to frame my experience in terms of "what did I learn?" as tempting as that is. It makes it sound like God orchestrated these tragedies just to teach me something, which I don't think is how God works. But this year has underlined for me just how much of an illusion the concept of control really is. I don't have any more guarantees of my toddler son's life, or my own life, than I have that this unborn baby will live.
I am sure that really internalizing this hard truth will take me my whole life, but for now, it's brought me a measure of peace, because if we can't have control, at least we don't need control to be joyful.