These saints couldn't help but share their sanctity with family members.
You can get Aleteia inspiration and news in your inbox. Our specially curated newsletter is sent each morning. The best part? It's free.
Sign up here
Families tend to share everything — and this can have both positive and negative effects. When one of the kids gets the flu, for example, sure enough, everyone in the family is soon down with it.
This same principle can sometimes be found in the spiritual life of a family, and in a positive sense. If one person displays extraordinary sanctity, there is a higher chance that a sibling (or even a parent) will "catch" the "holiness bug."
Throughout history the Church has recognized numerous family members who followed in their relative's footsteps on that path of sanctity. This includes both siblings as well as married couples, such as Blessed Charles and his wife Zita or Saints Louis and Zelie Martin.
Of course four of the 12 Apostles are sibling pairs: Peter and Andrew are brothers, and James and John are brothers. So there's precedent from the very start of the Church.
Here are five examples of siblings who learned from each other how to be holy.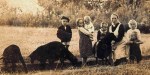 Read more:
On the road to sainthood: Family of 9 murdered for hiding Jews in Poland


Sts. Martha, Mary, and Lazarus

We read in the Gospel of Luke how Jesus "entered a village where a woman whose name was Martha welcomed him. She had a sister named Mary [who] sat beside the Lord at his feet listening to him speak" (Luke 10:38-39). The two, along with their brother Lazarus, were good friends with Jesus and have been regarded as saints since the early Church.
Sts. Benedict and Scholastica
The twins Benedict and Scholastica were attracted to the religious life at an early age and would go on to found the male and female branches of the Benedictine order. The two, while living separately in religious life, would visit with each other once a year, delighting in their talk of spiritual matters.
Sts. Macrina, Basil, Gregory, Peter and Naucratius

Macrina (the Younger) was born in the 4th century and was devoted to an ascetic life, becoming a nun after turning down a betrothal. Her brothers, Basil of Caesarea and Gregory of Nyssa, were influenced by her sanctity and pursued the religious life as well. Two other brothers, Peter of Sebaste and Naucratius, also sought to devote themselves to the Lord and were known for their holiness.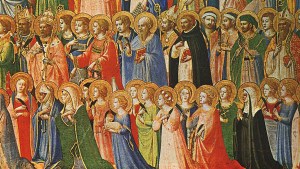 Read more:
Meet the family and their friends that gave the Church at least a dozen saints
Sts. Bernard and Humbeline
During the 12th century Bernard of Clairvaux helped lead a new monastic order called the Cistercians, and devoted the rest of his life to work and contemplation. His sister, known as Blessed Humbeline, led a rich and frivolous life before renouncing her ways and becoming a Benedictine nun.
Sts. Cosmas and Damian
Little is known about the lives of Cosmas and Damian, twin brothers. However, they are known as skilled doctors who were martyred under the persecution of Emperor Diocletian. It is also held that their younger brothers, Anthimus, Leontius and Euprepius, shared in the same martyrdom.
Read more:
Pope Francis canonizes Fatima visionaries, Francisco and Jacinta Marto
Sts. Jacinta and Francisco
The youngest non-martyr saints canonized by the Church are the siblings who with their cousin, Lucia, saw Our Lady during her apparitions at Fatima.
Sts. Nunilo and Alodia
These 9th-century Spanish twin sisters were brought up as Christians by their mother after their father, who was Muslim, died when they were young. When their mother also died, relatives denounced them as Christians. They were ordered to renounce their faith, and when they refused, were beheaded.