It just goes to show how a little humanity can go a long way.
What can God do in your life with one Bible verse a day?
Subscribe to Aleteia's new service and bring Scripture into your morning:
Just one verse each day.
Click to bring God's word to your inbox
Anyone who's ever worked in retail, or at a call center, or done customer service, knows that there are two kinds of customers: the (rare) people who are willing to chat with you a little bit and treat you like a person, and the people who clearly wish they were dealing with a machine instead and interact with you only because you're a means to an end.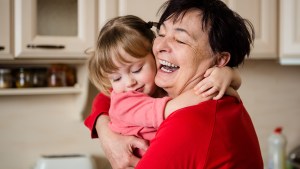 Read more:
Kids need to spend time with their grandparents … for humanity's sake
I worked as a bank teller, and now as a cashier and salesperson, so I know perfectly well how a good encounter can make all the difference in your day, and a bad one can leave you feeling invisible and ignored. But still, I have trouble remembering to treat these workers, who come in and out of my life so quickly, very well. It's not that I'm mean; I'm just not warm. I'm usually distracted, and forget that the person in front of me has their own unique life, experiences, values, and feelings.
The world can be such an anonymous place, and if we are ever going to change that, it's going to be one person at a time. So here are a handful of changes that I want to make in my interactions with the workers that I encounter.
Use their name
When I was a bank teller, we were trained to use a customer's name at least three times in our short interaction with them. That's a lot! It felt really artificial at first, but I was surprised by how well people reacted to it. People's brains respond to hearing their own names differently than any other word or name. If they don't have a name tag, it's okay to ask. You're not being intrusive, you're trying to acknowledge that no matter how unskilled their job might be, they are a unique person.
Make eye contact
I'm shy, and unless I'm pumped up on caffeine, I have a lot of trouble with eye contact, but it matters. Looking somebody in the eye creates a connection that nothing else can, and most importantly, establishes the two of you as equals. It's a little thing, but it has a big effect.
Smile
I always have a smile on my face at my kid's playgroup, because I want to look pleasant, and I want the other moms to like me. It's a bit self serving, but it's a normal thing to do. But when I'm dealing with a stranger, who I don't need to like me, and who I never see again, I rarely put in the effort to be friendly. But when there's nothing in it for me, smiling at a stranger is that much more meaningful.
Read more:
The Kindness of Strangers: A London Experiment (Video)
Say please and thank you
Yes, your cashier is getting paid to stand there and scan items all day, but that doesn't mean they haven't made the choice to do it. They aren't working there for altruistic reasons, for the pure love of helping you, but they still chose to work there, and that benefits you. So it's completely justified to thank them, and it can make a big difference in their day.
Bring up just one thing that doesn't relate to their job
You don't have to start a long conversation or anything, but something like "How's your day been?" or "It's crazy hot today, isn't it?" is a way of showing them that you think of them as more than just a machine who's dispensing groceries or what-have-you.
I have to confess, I had just finished writing this when I did run into a cashier, and I almost chickened out of everything I just listed. She kind of intimidated me, because she was my age but about six times as stylish. But I knew I was going to feel like the world's biggest hypocrite if I didn't follow my own rules, so I made some awkward small talk, and she lit up. I was genuinely surprised at how much she appreciated it. So it just goes to show how a little humanity can go a long way.