This 3-course picnic menu is light but generous with fresh flavor.
What can God do in your life with one Bible verse a day?
Subscribe to Aleteia's new service and bring Scripture into your morning:
Just one verse each day.
Click to bring God's word to your inbox
As long as you're enjoying a summer's day outside with family and friends, it just makes sense to cover that blanket in fresh summer edibles: prosciutto wrapped asparagus bundles, anyone? How about a freshly baked tomato-zucchini quiche with a light potato salad side? And don't forget dessert: little lime cheesecakes in adorable easy-to-pack jars. Then wash it all down with a refreshing Elderflower cucumber lemonade that will leave you feeling, cool, calm and ready to kick back on that same blanket for a happy post-picnic nap.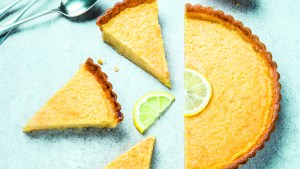 Read more:
The perfect low-fat lemon pie recipe
Asparagus bundles with chive and goat's cheese dip
Preparation time: 10 minutes

Cooking time: 5 minutes
Difficulty: easy
Ingredients:
18 asparagus spears, woody ends removed
drizzle of olive oil
6 slices of prosciutto
handful of rocket (arugula) leaves
12 semi-dried tomatoes
For the dip
7 oz of soft creamy goat's cheese
fresh herbs (oregano, basil, parsley and other favorites) finely chopped
Method:

1. Warm up a griddle pan. Drizzle a small amount of olive oil over the asparagus, season and cook for 3–4 minutes, gently roll around the pan until just tender. Allow to cool.
2. Using a chopping board lay a slice of prosciutto and place 3 asparagus spears on top (tips poking out the end). Add a few rocket leaves and 2 semi-dried tomatoes then roll the prosciutto up tightly to keep the filling in place. Repeat until all the ingredients are used. Pop the bundles in an leakproof airtight container so they're ready for your trip out.
3. Mix the creamy goat's cheese with milk thoroughly and add the chopped herbs. Season with salt and pepper. Place in a jar ready to go with your asparagus bundles.
Inspired by BBC Good Food
Tomato and zucchini quiche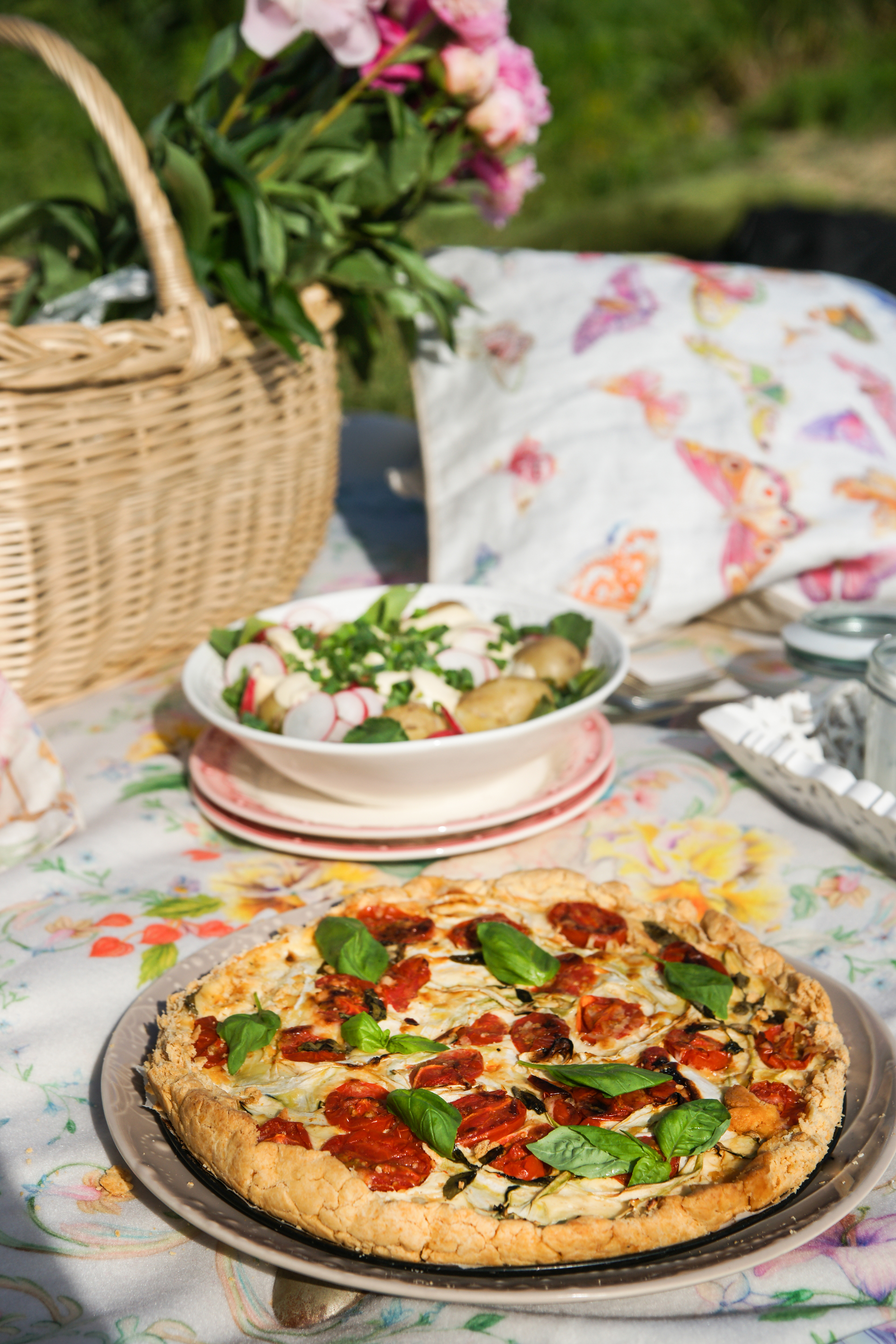 Preparation time: 15 minutes
Cooking time: 50 minutes
Difficulty: easy
Ingredients:
10 oz of cherry tomatoes
drizzle of olive oil
2 oz of Parmesan
2 eggs
1 cup of double (heavy) cream
handful of basil leaves, shredded, plus a few small ones left whole for scattering
small zucchini cut in very thin slices
For the pastry
10 oz plain flour, plus extra for dusting
5 oz of cold butter cut into pieces
Method:

1. First make the pastry. Place the flour and butter into a bowl, using your fingertips to rub the ingredients together until they are well-mixed and crumbly. Pour in 8 tbsp of cold water, then using your hands to mold everything together until just combined. Roll the pastry into a ball. It's now ready for use! (Pastry can be chilled for up to 2 days or frozen for up to a month.)
2. Lightly dust a surface with flour. Roll the ball of pastry out into a circle about 2″ larger than a 10″ pastry tin. Then with your rolling pin lift up the circle and carefully place over the tin leaving an overhang of pastry on the sides. Ease the pastry into the corners of the tin by using small balls of pastry made from leftovers. With a fork gently prick the base of the tart. Place in fridge for the time it takes to heat the oven to 390°F.
3. Once the oven is ready, bake the pastry base for about 30 minutes, until it is golden brown.
4. Place the tomatoes in a small roasting tin and drizzle with olive oil, and season with salt and pepper. Place the tin on the bottom shelf of the oven.
5. While the tart and tomatoes are cooking, beat the eggs together in a large bowl. Stir in the cream slowly, then add in the basil and season.
6. Once the pastry base has finished baking remove from the oven, along with the tomatoes.
7. Sprinkle half the Parmesan over the base, then layer with the tomatoes and the zucchini slices. Carefully pour the creamy mix on top, lightly covering the slices, and finish off with a further sprinkling of cheese.
8. Place back in the oven for a further 20 minutes until set and golden brown. Once cooled down, trim the edges of the pastry and remove from the tin. Add the remaining basil and cut in slices.
Inspired by BBC Good Food
New potato salad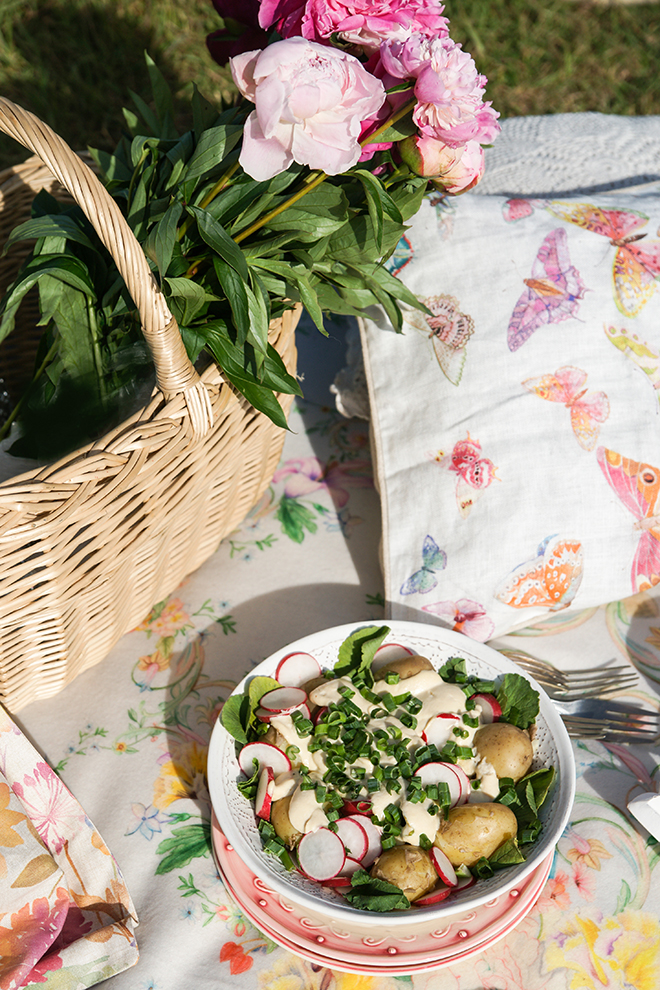 Serves: 4 as a side dish
Preparation time: 10 minutes
Cooking time: 15 minutes
Difficulty: easy
Ingredients:
1.7 lbs of new potatoes
5 tbsp of buttermilk
2 tbsp of light mayonnaise
1 tbsp of Dijon mustard
1 tsp of lemon juice
½ tsp of olive oil
6 sliced radishes and with greens
2 tbsp of chopped chives
Method:
1. Place the potatoes in a pan of salted water. Once brought to the boil, leave to simmer until cooked through, this takes about 12 minutes. Drain off and let cool.
2. Whisk together the buttermilk, light mayonnaise, mustard, lemon juice and olive oil with salt and pepper. Toss the cooled potatoes with the buttermilk dressing, radishes and a few nice radish greens. Sprinkle over chives to serve.
Inspired by BBC Good Food

No bake lime cheesecakes in jars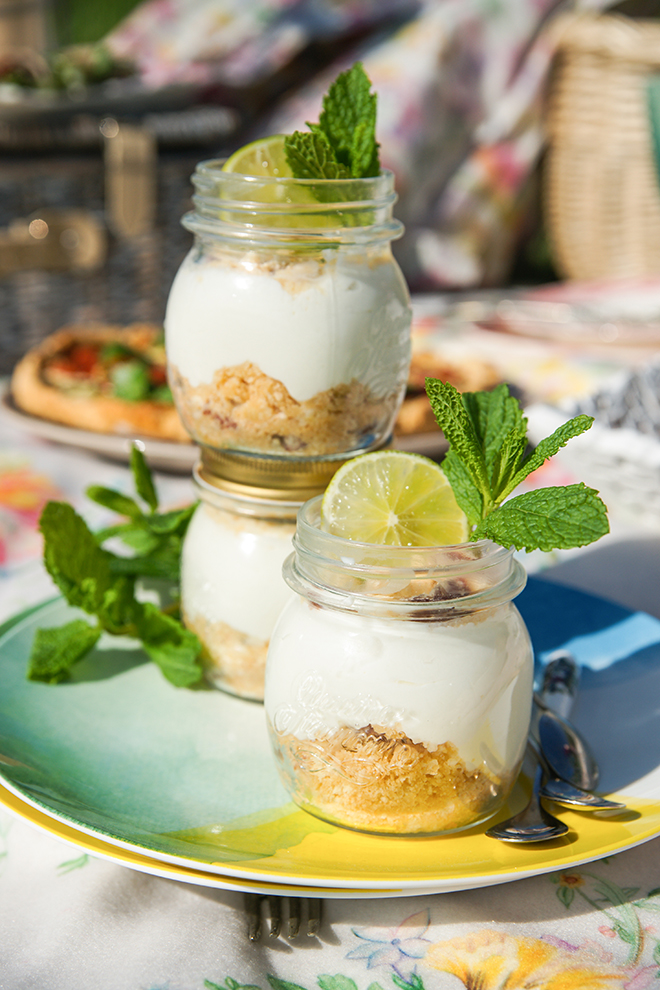 Serves: 4
Preparation time: 10 minutes
Difficulty: easy
Ingredients:
1 packet of graham crackers (7oz)
2 tbsp of butter
8 oz of cream cheese (softened)
½ can of condensed milk (around 7oz)
½ cup of plain or vanilla Greek yogurt
key lime juice to taste (1–2 limes)
limes to garnish
4 small glass jars
fresh mint to garnish
Method:

1. Crush up the graham crackers and mix them with 2 tbsp of butter, then set aside. Make up the pie filling by combining your cream cheese, condensed milk, Greek yogurt and key lime juice in a stand mixer. Blend on a medium speed until you have a smooth, velvety texture, about 5 minutes. Then place in fridge while you prepare the cheesecake base.
2. Gently pack down ⅓ cup of the crushed graham crackers at the bottom of the jars—not too hard, just enough to keep it in place. Reserve some of the crumbs for topping.
3. Remove filling mixture from fridge and add about ⅔ cup into the jars and sprinkle on a few more graham crackers crumbs. To finish off place a slice of lime and a small sprig of mint on top. Then twist the lids to close the jars and pack ready for your picnic.
Inspired by A Million Moments
Elderflower and cucumber lemonade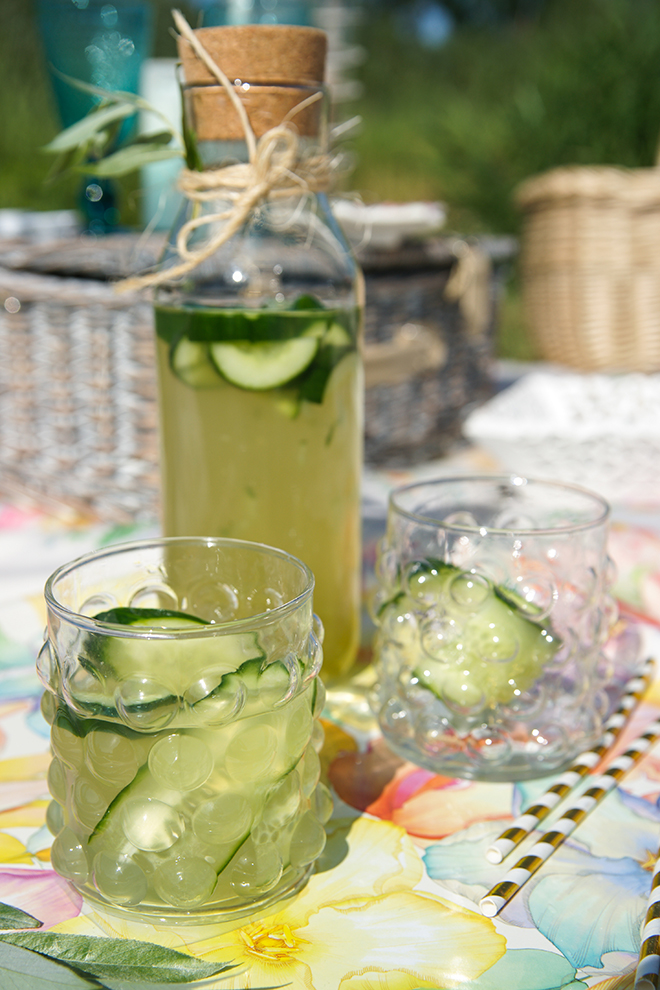 Serves: 4
Preparation time: 5 minutes
Difficulty: easy
Ingredients:
1 cucumber
cup of elderflower cordial
3 cups of water
Method:

1. Take your cucumber and peel off 2 long strips. Pop in a small sealed container ready for the picnic.
2. Grate the rest of the cucumber into a sieve placed over a bowl and with the back of a spoon press down to extract as much juice as possible. Place the cucumber juice in a bottle and stir in the elderflower cordial and water.
3. Once arrived at your picnic, twist the strips of cucumber around the inside 2 glasses, then pour the cucumber mixture and you're ready to sit back and sip the delicate flavors.
Inspired by BBC Good Food