A look back at a most dramatic and troubling summer's day, and ahead to a future sainthood.
What can God do in your life with one Bible verse a day?
Subscribe to Aleteia's new service and bring Scripture into your morning:
Just one verse each day.
Click to bring God's word to your inbox
Exactly one year ago, the Pope was mourning the Mass-time murder of an elderly French priest, and social media had a new and mournful hashtag: #JeSuisJacquesHamel.
At a barely-attended daily Mass in a quiet little Normandy village, Father Jacques Hamel, the vicar of Saint-Etienne-du-Rouvray church, was just finishing. Communion had ended, when suddenly intruders — young men known to the community — came into the church, shouting "Allahu Akbar!" Eyewitnesses describe the horrors that followed:
… the jihadis forced him to videotape their actions, which he found enormously difficult. "[They] grabbed me by the collar and put a camera in my hands and said, 'Granddaddy, you take the movie.' They even checked the quality of the picture and made sure that I was not shaking too much." What followed was an unimaginable nightmare for him: "I had to film the assassination of my friend Father Jacques! I can't get over it…" The attackers intended for their video to be fed to social media networks, Coponet said. After the slaying of Fr. Hamel, Coponet warned them that they were on the wrong side of heaven, and that their parents would die of grief from their actions. At that point, one of the men lashed out. "He stabbed me and dragged me to the bottom of the altar steps. The floor was all red, but I didn't realize that it was my blood flowing. I didn't feel any pain at the time. I tightened my hand around my throat because blood was spurting out."
A great many stories quickly followed the murder of Father Hamel. We learned that his killers were local, one of them — Adel Kermiche who talked about religion with his hostages and politely invited the elderly woman he believed he had just widowed to be seated — was the somewhat troubled son of a peaceful Muslim family:
Sister Danielle, who knows the Kermiche family from her clinical work with many Muslim neighbors, says the killer's family are "at a loss. The parents do not understand how one of their children could have committed such a barbarous act." Adel Kermiche, she reveals, was undergoing psychiatric treatment. "This is one of those complex cases where psychological instability, religious and cultural ignorance, and an existential vacuum are all mixed together… It's a Molotov cocktail ready to explode: a crazy imam preaching on the internet can be the match that lights the fuse…"
St.-Étienne-du-Rouvray is a working-class suburb of the cathedral city of Rouen. It is a place where Christians and Muslims have lived in peace. Barely two weeks after Hamel's murder, a Muslim man named Moubine presented a gift to the Cathedral in Rouen, his painting of the priest, as a tribute: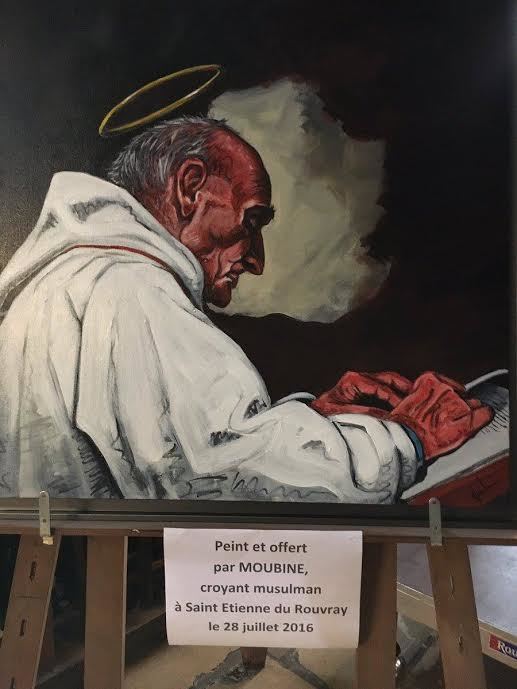 The posture and clothing are the same, as is the book. What is different is the halo around the head of the slain priest. Absent is the modern microphone and church setting; now, he is timeless; he could be a saint in a cave, or a saint at prayer, with heaven open to him.
In fact, in October of 2016, Pope Francis waived the five-year rule for inquiry into possible sainthood, clearly calling the priest a martyr, and in April, on Holy Thursday, the date the Church celebrates the Institution of the Eucharist and honors the priesthood, Hamel's cause was officially opened:
Pope Francis asked the priests on Thursday morning, during the Chrism Mass in St. Peter's Basilica in the Vatican, to incarnate "evangelical joy" and to be like the "pierced Heart" of the gentle and humble Christ. There is no doubt in his mind that Father Hamel has given the most beautiful testimony to the "pierced Heart of Jesus, to the gentle, humble and poor integrity that attracts everyone to Him." The Archbishop of Rouen quickly related that the Pope had asked for the picture of Father Jacques Hamel to be placed on the altar where he was preparing to celebrate Mass in September: "I was looking for the picture in my bag, And immediately the Pope said to his secretary: "Put it on the altar!" "Father Hamel is a martyr!" The Holy Father hammered out during his homily, and his martyrdom, he insisted, "he accepted it as Christ at the altar, giving his life not to deny Jesus."
In the year since Father Hamel's death, not much can be said to have changed in France. Some noticed that after his martyrdom, Europe, which had been plagued with terror attacks almost weekly, enjoyed a period of relative peace and silence, but that seemed a tenuous connection to be made. In the Diocese of Rouen, another young man named Hamel, 25 year-old Julian Hamel (no relation) is preparing to be ordained as a priest in 2018, if all goes well.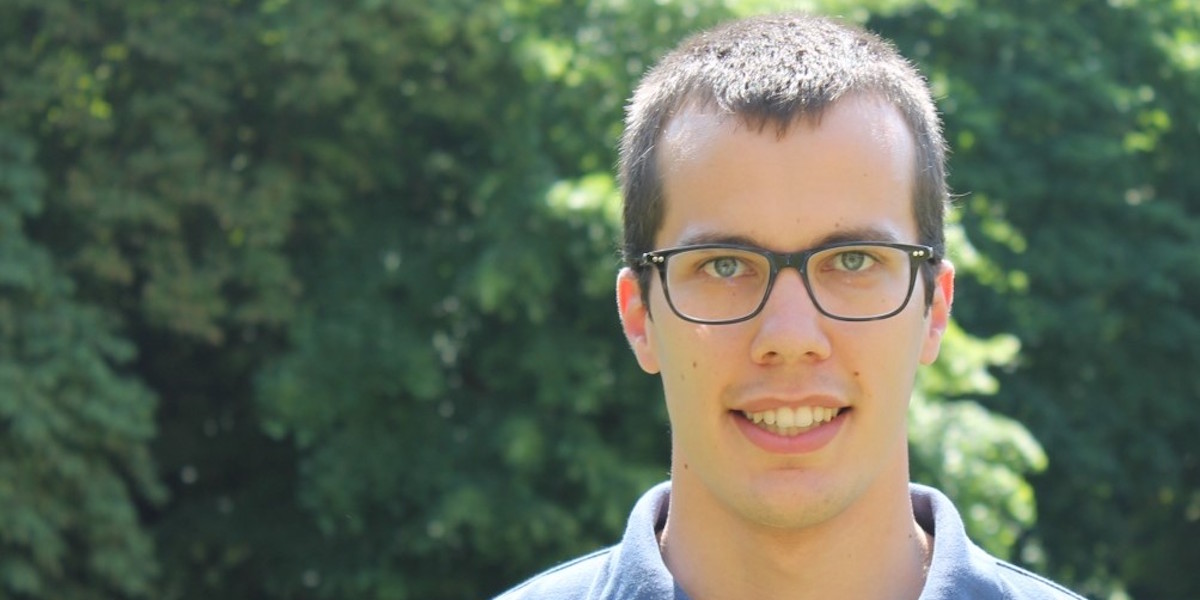 This is happy news, of course, even as we read sad reports of unused, deconsecrated churches being demolished in France.
After Jacques Hamel was murdered, Rouen Archbishop Dominique LeBrun delivered a beautiful homily and made a great suggestion: "invite a friend to Mass this weekend, or on Monday" he said.
Indeed. Why not try that again this weekend? The best answer to the death of Jacques Hamel is more and more people coming back to Mass.