Catholics believe in things "visible and invisible."
What can God do in your life with one Bible verse a day?
Subscribe to Aleteia's new service and bring Scripture into your morning:
Just one verse each day.
Click to bring God's word to your inbox
Katrina,
Do Catholics believe in ghosts? Can a non-Catholic have a priest come to bless their house? I'm curious because we've just moved into an older home and began to notice some really strange disturbances that make us uncomfortable and we'd like to have a priest come and bless the house but we aren't Catholic. What's the best way to go about it?
Thanks!
Who Ya Gonna Call
—————————————-
Dear Who Ya Gonna Call,
Yes, a non-Catholic can certainly call a priest and request a house blessing. The best and easiest thing to do is to simply call up the parish in closest proximity to where you live. Explain to the priest that your family isn't Catholic but would like to have your home blessed for peace of mind. Because it is not at all an unusual request, no one will think that's strange. The priest can give you details about the process so you'll know what to expect.
A house blessing is a pretty common event that typically happens around Epiphany but Catholics also will have a house blessing if they move to new home (one never knows what previous residents may have foolishly invited in) or simply because they feel a need for it in the midst of personal or family difficulties.
Let me also mention that it's good form to give an offering to the priest for his time and travel — I've given a bottle of wine, a Thank You card with a gift card inside, and another time I just offered dinner and a cold beer. Whatever you can manage will be appreciated. It's the gesture that counts.
As for believing in ghosts; obviously Catholics believe in things "visible and invisible" — the invisible meaning that which exists in the supernatural world, like the human soul, the communion of saints in heaven, angels, and demonic entities. Peter Kreeft, a philosophy professor at Boston College, has written, "The dead often do appear to the living and that there is enormous evidence of 'ghosts' in all cultures." He goes on to say that there is "no contradiction" between ghosts and Catholic theology. "Ghosts confirm, rather than refute or disturb, Catholic theology of the afterlife," says Kreeft. "Especially the very existence of a life after death, which is the main point skeptics dispute."
Please let me stress this very important point — if you think you have strange occurrences in your home DO NOT take it upon yourself to try and communicate with it or get rid of it yourself. Your inclination to seek the help of a priest was spot-on. Priests have an authority to bless and exorcise that other denominations simply do not. That is why people instinctively seek out Catholic priests for these matters. I'm glad you followed your instincts and sought the Church and I hope everything works out for you and your family.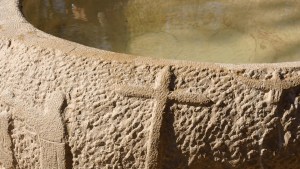 Read more:
3 Powerful sacramentals to have in your home
Submit all questions to @askkatrina@aleteia.org