What do our personal battles against evil look like? They are rarely pretty or uncomplicated, in any age.
On the 500th anniversary of the Protestant Reformation, this series of articles looks at how the Church responded to this turbulent age by finding an artistic voice to proclaim Truth through Beauty. Each column visits a Roman monument and looks at how the work of art was designed to confront a challenged raised by the Reformation with the soothing and persuasive voice of art. You can find more in this series, here.
There was one important area of convergence between 16th-century reformers and Catholics: neither one ever denied the existence of sin. Sin was omnipresent, and humanity was swept along in a deluge of temptations and faults that constantly threatened to separate it from God. The bone of contention lay in how to swim against the tides of evil. Protestants clung to salvation by faith alone, exalting Christ's redemptive sacrifice as the source of all salvation while holding faith to be the believer's sole means of accessing unmerited grace. The Catholic Church, meanwhile, always affirming the centrality of Christ's redemption, also preached human cooperation with divine grace and the necessity to combat sin every day. This disagreement was so bitter, it threatened to submerge everyone caught in its undertow.
St. Ignatius of Loyola plunged into the idea of spiritual combat with his spiritual exercises, teaching thousands how to face the reality of sin and to combat its effect in their lives. Ignatius' spirituality would help shape a century of dramatic imagery that vividly confronted the faithful about how virtue conquers vice and inciting Catholics to wage war on sin.
Leading the charge are the angels, explored in a previous article, who possess a superhuman capacity to combat sin without ever getting a hair out of place. As debonair as Ian Fleming's 007, Michael the Archangel, especially in Guido Reni's oft-imitated 1635 painting, treads on Satan without a spot of sweat, a wrinkle in his cool blue armor, or a furrow in his porcelain brow.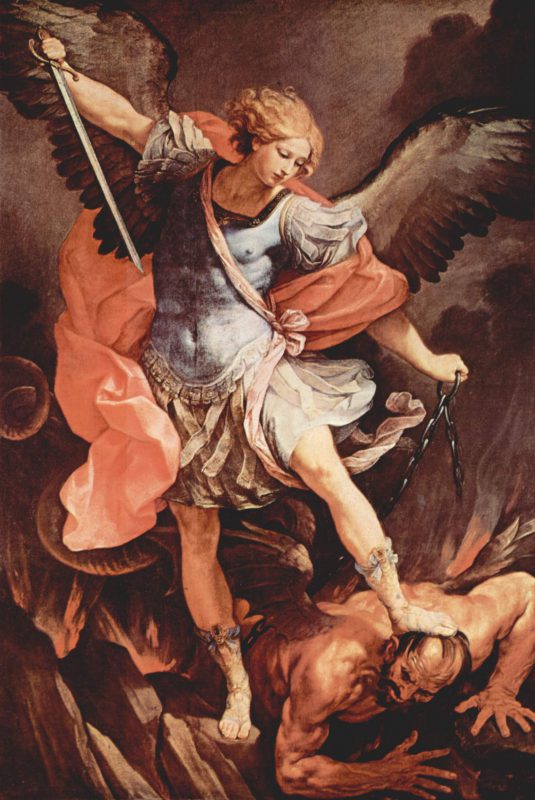 But what about mere mortals – what does battling evil in daily life look like? Rarely pretty. St. Ignatius invited the world to an examination of conscience – holding up a mirror to the soul to examine the sag here and the blemish there – or as Ignatius more brutally put it, to "look upon all the corruption and foulness of my body."
Contrast the elegant ease of Reni's Michael with Niccolò Tornioli's Cain and Abel — what a change sin wrought in man! In this close-up depiction of history's first murder, Cain, engulfed in shadow, dominates the canvas as he deals the fatal blow to his brother. Abel, luminous and helpless, lies curled in fetal position. The composition follows the trajectory of Cain's strike, leading the eye to the tumble of chestnut curls and the pool of blood trickling towards the viewer. Abel remains beautiful in form and light, but Cain is transformed. His body grows brutish and his wickedness distorts his face. He becomes as feral as the pelt looped around his body. In an age where Christian brothers fought each other often to death, art held up a mirror to the ugliness of hate, envy and violence.
Sin, however has many guises, of which murderous violence is but one. Pleasure, too, has its place. Legend has it that the only book in St. Ignatius' chamber at the time of his death was Thomas à Kempis' Imitation of Christ, a guidebook for strengthening the spirit by turning away from vanities, whether riches or bodily desires. At this time, scenes of failed seduction began to proliferate in art, allowing the enticing nature of painting to expose the challenges of resisting disordered desires. Whether Annibale Carracci's lust-driven old men tormenting the chaste Susanna or even the pagan Lucrezia painted by by Carlo Maratta, shown in disquieting proximity to the viewer while trying to recover lost honor through death, the artistic preoccupation with virtuous temperance adorned everything from altars to boudoirs.
The Bolognese artist Carlo Cignani, student of the prestigious Counter-Reformation academy of the Carracci, developed a fascination with the subject of Joseph and Potiphar's wife – returning to it over and over. Drawing from his teachers, he chose to show the intimacy of the struggle between virtuous Joseph and the seductive woman who remains unnamed in the Bible. She envelops Joseph in her voluptuous flesh with her red robe waving like a banner as passions flare. Joseph holds up his hand in rejection of sin while looking to heaven for help to resist temptation. Cignani underscored need for prayer and divine assistance, especially when sin appears more like a warm embrace than a slap in Lord's face.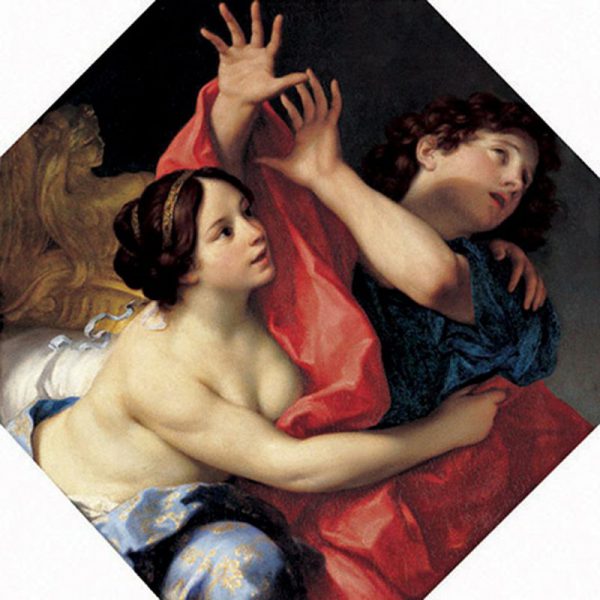 While God gives aid to those who ask it, this does not mean that human struggles against sin are easy, and art was recruited to illustrate the messiness of moral combat. After all, good exercise works up a sweat.
Few knew this better than Michelangelo Merisi, aka Caravaggio, and Artemisia Gentileschi, two public sinners and painters who engaged in plenty of spiritual (and sometimes physical) wrestling, but their struggles produced works of art that would guide many others through the trenches.
Both artists worked on the most popular biblical story of virtue conquering vice: that of Judith and Holofernes — a story not found in the Protestant biblical canon. Caravaggio, painting in 1598, presented a startlingly immediate vision of the honorable widow conquering the decadent soldier. A red curtain rises on the left, a signal for the viewer to pay attention to the scene.
Judith's heavy sword is almost through the neck of the shocked general, who clutches the bedsheets in a final paroxysm of death. Behind her, the eager maid gazes hungrily at the scene, two-dimensional and without complexity or nuance. Beautiful Judith arches her body away from the bloody mess, her brow furrowed in distaste. There is no enjoyment in this victory, no personal pleasure for her, just the fulfillment of a dangerous duty. The determination seen in her locked arms counteracts the broad sweep of her pristine dress away from the spectacle. This was hard work, unpleasant work, but the work of the Lord nonetheless.
Artemisia Gentileschi, whose personal life was put on display from her rape trial at age 17 to her later infidelity with a Florentine nobleman, understood the difficulty of battling sinful desire. She would return to the subject of Judith and Holofernes seven times during her life, but most intensely in 1612 (the year of her trial) and again in 1620, the year she would resettle in Rome after her affair with Francesco Maria Maringhi had become public knowledge. Artemisia's Judith is no shy sylph pulling away from her deed. She wrestles, blood-spattered, with the figure on the bed. Keeping the same determined straight arms of Caravaggio, Artemisia adds the body weight of both women to keep their enemy down. One of Artemisia's hands grasp blood-soaked hair, but the other wields the sword vertically to recall the cross. Fighting sin within and without often involves grime, dirt and blood; it is a life and death struggle for the immortal soul and should never be downplayed as a casual task that one can accomplish alone.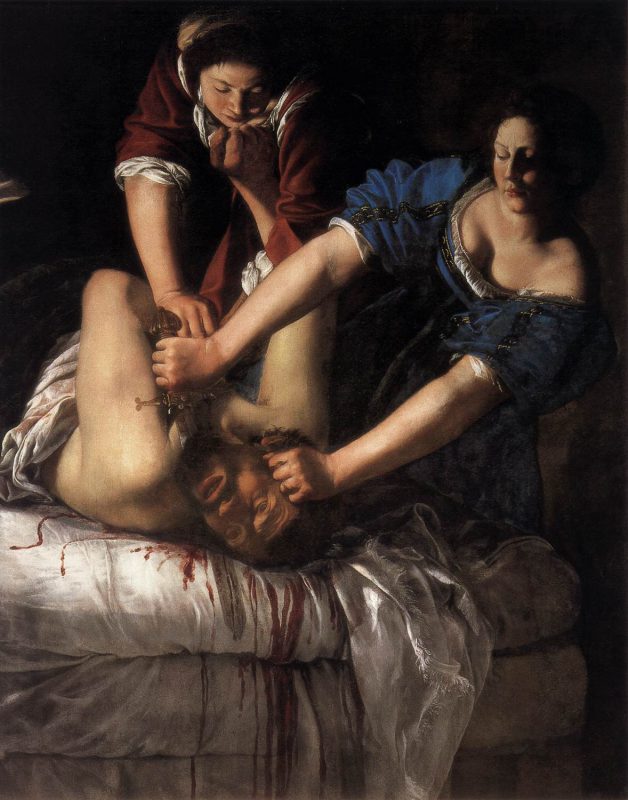 Artists of the 17th century invited people to see themselves as warriors, ready, in the words of St Paul, to "take up the whole armor of God, that you may be able to withstand in the evil day, and having done all, to stand" (Eph. 6:14-16).
As interpreters of passions, students of humanity and lovers of beauty, artists were uniquely qualified to illustrate the path to holiness, even if they were not always able to live it. Despite their personal failures, their singular vision continues to awaken hearts and souls centuries later.