Here are some helpful tips for choosing and preparing this edible tuber to get its full boost of nutrition.
Send us the names of your loved ones who are sick or suffering. The Aleteia prayer network of 550 monasteries will take them to prayer for the World Day of the Sick.
Click here to share your intentions
Potatoes are the third most important crop worldwide after wheat and rice. They are also one of the foods that the United Nations (UN) and the World Health Organization (WHO) promote in the war on hunger, due to potatoes' great nutritional value and because they are so space-efficient and easy to cultivate in large amounts.
Although the potato originated in the Andes in South America, it was later introduced into Europe and is now grown around the world.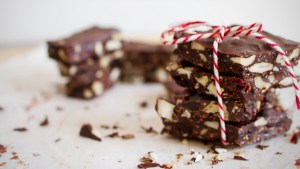 Read more:
How to make sure you're buying the healthiest kind of chocolate
All potatoes belong to just one botanical species called Solanum tuberosum, but there are thousands of varieties with different sizes, shapes, colors, textures, qualities, and flavors.
The word potato comes from the Spanish word for this plant, patata. This herbaceous plant, which produces stem tubers, belongs to the same family as tomatoes, bell peppers, and eggplant.
Potatoes have a wide variety of uses, the most well-known being human consumption in dishes such as purees, stews, and roasts, among others. This kind of culinary use has lost some popularity compared to fast-food and industrial forms of preparing potatoes, such as French fries and potato chips. This change in dietary habits of the general population has tended to favor a higher incidence of various illnesses such as obesity, hypertension, heart disease, and diabetes.
Nutrients that potatoes offer
When freshly harvested, potatoes contain 80 percent water and 20 percent solids (mostly starch). They contain minimal amounts of fat, sodium, and sugar; this, together with their fiber and antioxidant content, makes them a healthy food.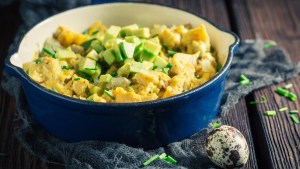 Read more:
Here's the daily meal plan of a busy nutritionist mom
Potatoes contain carbohydrates: mainly starch, which is easy to digest. Consequently, they are one of the first foods recommended for starting to feed babies after they are six months old.
They have high caloric content; an average potato contains 130 kcal, twice that of an equivalent amount of grains. Their protein content is good compared to other roots and tubers.
Regarding micronutrients, potatoes contain vitamins B1 (thiamin), B2 (riboflavin), B6 (pyridoxine), and vitamin C; among the minerals found in potatoes are potassium, phosphorus, and magnesium.
How can I choose the right potato?
There is a wide variety of potatoes, and thus also of criteria for choosing them, but when selecting a potato you can be guided by the color of the skin; red potatoes are better for boiling, and white are better for baking and frying.
In general, you know you are buying a good potato when it is firm, and its skin is healthy and thin, without green areas or sprouts.
Once purchased, potatoes should be stored in a dark, cool place.
The way you cook potatoes changes the way they affect your body
Potatoes cannot be eaten raw, because our stomachs cannot digest the uncooked starch; therefore, they should be eaten cooked, with or without the skin.
Since potatoes are a popular food all around the world, there are many and very different ways of cooking and serving them.
Each cooking method affects potatoes' composition differently, reducing the fiber and protein content. When boiled, potatoes lose vitamin C (especially when skinned); if fried, as French fries or potato chips, they absorb a lot of oil, and lose minerals. Baked, they lose more vitamin C because of the higher temperature, but the minerals and other vitamins are conserved better.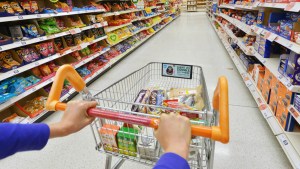 Read more:
How to avoid the dangers of processed food
For this reason, the best way to preserve both the nutrients and flavor is to steam the potatoes without peeling them (but washing them first), since the skin is where most of the fiber is found.
Some truths and myths about potatoes
One of the most popular myths is that potatoes are fattening, which is false. Potatoes, as such, aren't fattening. What makes them fattening is the way they are prepared: for example, fried or sautéed, or served with greasy foods that increase the caloric content of the meal.
One thing that's certainly true is that French fries and potato chips are calorie bombs. French fries contain 284 kcal per 100g, and potato chips, 538 kcal, because they absorb cooking oils.
Another belief is that you cannot eat potatoes if you are on a weight-loss diet. This is also false. You can eat them on certain diets, because they help to make you feel full, and therefore can help you maintain your weight if you eat them in moderation and in low-calorie recipes.
Potatoes, then, can be an important staple food in a balanced diet, and should preferably be accompanied by greens and/or whole grains.
This article was originally published in the Spanish Edition of Aleteia.