Yes, new dads suffer too. How to recognize the signs.
What can God do in your life with one Bible verse a day?
Subscribe to Aleteia's new service and bring Scripture into your morning:
Just one verse each day.
Click to bring God's word to your inbox
Looking at photos of  Adam Busby surrounded by his adorable 6-year-old daughter and his five 2-year-olds — yes, that's right, five toddlers and all girls! — he looks happy, if not a little tired. However, behind his smile the star of  TLC's reality show Outdaughtered has recently revealed his struggles with postpartum depression (PPD).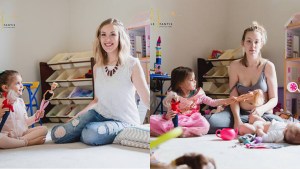 Read more:
Mom's viral photos show postpartum depression's split personality (PHOTOS)
While many of us might think this type of depression is strictly reserved for the moms out there, some studies show that up to one in ten dads are suffering from some form of depression related to the birth of a new infant, whereas others put this figure as high as one in four. Yet, as with a lot of illnesses related to mental well-being, it's not often talked about in the media, so a lot of stigma still surrounds PPD for both women and men alike.
Read the statistics… 1 in 10 men struggle with it. No-one wants to talk about it though… #OutDAUGHTEREDhttps://t.co/KGqPvTenEe

— Adam Busby (@AdamBuzz) July 19, 2017
This is the case for Adam Busby. On revealing his fight with depression with his Twitter followers, some responded by saying he was "not strong." Busby soon reminded them that depression is not exactly a choice and: "Exposing my flaws for the sake that it might help others on a worldwide stage? No, that's not strong at all." And he's right, who on earth would willingly reveal their battles with depression, especially at a time when you're meant to be excited and busy providing and taking care of your new family?
Family is obviously key for the Busbys, with Adam's wife, Danielle, jumping in to offer her own support: "I am 100 percent in support of my husband; he is my other half!" She adds, "It's just shocking to hear what he's been going through."
Thankfully Busby was able to recognize his problems, as Postpartum Men recognizes: "Depression isn't something a guy can simply 'get over.' It's a health condition that needs to be treated – just like a bad heart or injured knee." Importantly the website dedicated to men displaying signs of Paternal Postnatal Depression (PPND) points out: "admitting you're depressed isn't admitting defeat. It's admitting there's hope. And it's taking charge of your life."
So how does PPND manifest itself? It can be confusing following the birth of a baby when parents are already lacking sleep. However, common signs may include:
Failing sense of humor
Feelings of anxiety and panic
Trouble sleeping
Trying to isolate yourself from others
Higher levels of irritability
Drinking more regularly
More frequent fights with your wife
Going to work exhausted and feeling more stressed at work
None of this is the baby bliss you might have been expecting after waiting those long 9 months for the birth of your little one. The good news is there is help out there to deal with this, the hard bit is recognizing you need this help. Hopefully with Busby's Twitter admission he can encourage other dads to confide in their wives and seek medical help. As one Twitter user said: "You openly talking about your stresses and pressures helped me have more patience and understanding with my husband. Thank you."