Yes, new dads suffer too. How to recognize the signs.
Looking at photos of  Adam Busby surrounded by his adorable 6-year-old daughter and his five 2-year-olds — yes, that's right, five toddlers and all girls! — he looks happy, if not a little tired. However, behind his smile the star of  TLC's reality show Outdaughtered has recently revealed his struggles with postpartum depression (PPD).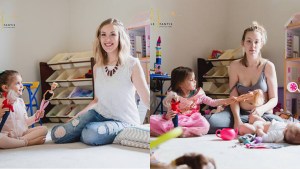 Read more:
Mom's viral photos show postpartum depression's split personality (PHOTOS)
While many of us might think this type of depression is strictly reserved for the moms out there, some studies show that up to one in ten dads are suffering from some form of depression related to the birth of a new infant, whereas others put this figure as high as one in four. Yet, as with a lot of illnesses related to mental well-being, it's not often talked about in the media, so a lot of stigma still surrounds PPD for both women and men alike.