Talking through our problems can be the key to getting free of them.
Need an idea for Lenten almsgiving?
Help us spread faith on the internet. Would you consider donating just $10, so we can continue creating free, uplifting content?
Make a Lenten donation here
Therapy. Not now, it's not the right time … I have too many responsibilities … too much is going on right now. But there is never an ideal time; you can never say you're 100 percent ready. Fear and uncertainty are always with us. In life, we can't count on "peace of mind," and as soon as we set our priorities, we never have enough time.
A good change
When we are sick, we go to a doctor because we want to get better. We can go to several specialists and spend large sums of money to be diagnosed correctly. If our mental and emotional life is not fully operational, if we know we carry a load we can barely manage, why do we not fight for ourselves?
Read more:
7 Things kids tell psychologists – but are too afraid to tell their parents
There seems to be a belief that only people who have a problem with themselves go to therapy. But who doesn't have problems? Why do we think it's better to lay low and deal with problems alone? Why do we care what others think? It's a shame that more of us don't view therapy as an opportunity to work out different situations in our lives to become a freer and happier people.
I can relate. I used to be ashamed of my problems. In the world of widespread pressure to succeed, to be perfectly organized and be unblemished by mistakes, how was I supposed to show that I'm weak, messed up, and in need of support? No one wants to show their weaknesses publicly. After all, it seems like failure.
But when I finally decided to go to therapy, I felt satisfied that I had taken a step forward, that I was not just stuck, standing in place. I decided I wanted a better life and that I didn't want my future to be determined by what had happened to me in the past.
We are all weak
I didn't know how it would be — would talking about my experiences cost me a lot? Would I trust the therapist? Would I cry at every session? As it was, sometimes I cried, and sometimes I didn't want to go because it was difficult. I had to face my anger, grief, and sense of loss because I didn't have the life I had dreamed of.
When your world is organized a certain way, you don't want to have it all fall apart. But at therapy, you find out that the world is not quite so organized after all. Thanks to therapy, I'm bringing a different order to my world again, from a different perspective, with new ideas and the hope that I can handle it. I have never regretted my decision.
Read more:
5 Things that therapists wished their patients knew before coming to therapy
Each of us is broken somewhere in the middle. We all have problems. Those who don't say it out loud are not free from them. We don't have to come from a dysfunctional family to experience it. So many people hide their grief, loneliness, and pain under cover of fake smiles, luxury, and photos on Facebook.
Bu we shouldn't pretend that nothing has happened, that it's normal, it's just the way it is, and that there is no reason to reopen old wounds. We need to talk about the fact that not everything is okay. We need to break the belief that we are indestructible and perfect.
We are not.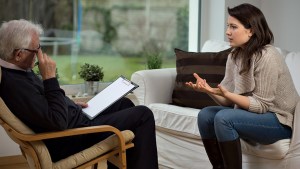 Read more:
Have a problem? Try going to a philosophical counselor
Best investment
Therapy will not change everyone around you. It will not change your environment and it will not change the past. But it will change you. It will change your approach so you can live your life, so fear doesn't have the last word. It's the best thing you can do for yourself — and for your spouse, your children, your friends.
Therapy is an investment, not another problem and unnecessary expense. A psychologist is not going to fix you. He or she will help you follow a path that will be perhaps less tortuous than the one you've taken so far.
This article was originally published in the Polish Edition of Aleteia. It has been translated and adapted here for an English audience.