Something as simple as two hours of silence per day could have effects of profound healing.
You can get Aleteia inspiration and news in your inbox. Our specially curated newsletter is sent each morning. The best part? It's free.
Sign up here
Since I became a mom, I seem to have lost my ability to remember anything. I used to have a great memory — I could recall the details of conversations and lectures in exact detail, even down to where everyone was sitting and what they were wearing. Now, I can barely remember the questions my kids ask me long enough to answer them.
Read more:
How to build more silence into your busy daily life
I've occasionally wondered about this for .5 seconds — before being distracted by someone dropping a Lego in the toilet, again — and have come up with a number of theories, from sleep deprivation to my brain protecting itself from filling up too fast and short-circuiting. But there might actually be a scientific explanation for mommy Memento syndrome: too much noise.
The Science of Us reports that numerous studies, which set about to examine the neuroscience of sound, have accidentally discovered that silence, not sound, is essential to our neurological health.
One mouse study led by Imke Kirste, a biologist at Duke University, found that "even though all the sounds had short-term neurological effects, not one of them had a lasting impact," Gross writes. "Yet to her great surprise, Kirste found that two hours of silence per day prompted cell development in the hippocampus, the brain region related to the formation of memory involving the senses."
This is great news for patients with dementia and depression, which are both associated reduced cell growth in the hippocampus. That something as simple as two hours of silence per day could have profound healing and restorative benefits is amazing. It's also pretty easy to believe, given that after 12 years of motherhood I'm fairly certain my hippocampus has abdicated.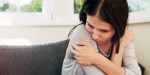 Read more:
Don't be afraid to be alone! It's a natural state of being


Unfortunately for me, I have many years to go before I can count on daily exposure to sweet, blessed silence, so this discovery is kind of a bummer for moms of littles — but hey, at least now we know that our memory loss is legit. And the next time someone wants to know where their shoes are, we can say, "I won't be able to remember where your shoes are unless you are absolutely silent for two hours."
That'll work, right?