Whether you're stuck on Long Island, in LA, or anywhere in between, a few seconds in the morning can make all the difference.
What can God do in your life with one Bible verse a day?
Subscribe to Aleteia's new service and bring Scripture into your morning:
Just one verse each day.
Click to bring God's word to your inbox
Among the 1.5 million Catholics in the Diocese of Rockville Centre on Long Island are thousands who commute every day by train into Manhattan.  As in other metropolitan areas of the country, some commute up to two hours each way, and any hassles only add to the long day.
This summer has been especially stressful, with more than the usual delays on both ends of rush hour … which in NYC can be several hours.  Add to this an occasional fire or police incident, and the commute can be pretty exasperating. Then of course there's the air conditioning that tends to go out on the 90+ days when you're "packed in like sardines" in business attire.
It's a feeling of complete powerlessness that requires the patience of a saint.
New Bishop John Barres, who took over leadership of the archdiocese just this year, says in a video series on the archdiocesan web site that this feeling of powerless over commuter delays can "rattle us and can bring out primal emotions."
The Bishop points to the need for inspiration in situations like this, and cites the far worse conditions of Father Walter Cisziek, missionary to Russia.
In Fr. Cisziek's book, He Leadeth Me, the priest, whose cause of canonization was begun in 2006, urged everyone to begin each day with a morning offering.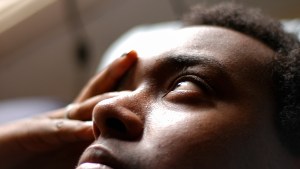 Read more:
Hoping for a great day? Say this prayer as soon as you wake up
The short prayer said at the beginning of each day gives each and every moment of the day to God in advance … the good moments and the bad ones.
Bishop Barres points out that feeling out of control, when we so much feel a need to be in complete control, calls us to "intense trust, even at those moments" of complete frustration and helplessness.
It's good to remember that, for whatever unknown reason, this situation, this moment, is what God is allowing in our lives. That can help bring a feeling of peace. Knowing that the morning offering has already made any inconveniences or hassles of the day a sacrifice can also help make it seem less of a waste of time, and bring a sense of purpose to it, especially when offered for a specific intention.
Some of Fr. Cisziek's reflections seem written for traffic snarls, train delays, and other commuter hassles:
The grace of surrender has to take effect like medicine. You'll know it has when you're not thinking about it.
Have more reliance on God; it's a constant daily effort. Fear and worry should always be put in the context of prayer.
Faith is like a dark tunnel: God gives us the Light to take one step at a time. The Light is not given to see the end of the tunnel.
Continue to be faithful in a simple and relaxed way to your prayer life and daily duties; the rest, the Lord will take care of.
The bishop pointed out saints known and unknown who have walked through Manhattan's Penn Station, suggesting commuters identify with other Catholics who have endured hardships in their daily striving for holiness:
"Dorothy Day, she certainly walked through, Thomas Merton, Fulton Sheen … and so many wonderful family people, all the fathers, mothers sacrificing for their family, becoming very holy. Let's remember, in Penn Station and on the Long Island Railroad platforms, the crosses we carry are the crosses the saints carried … let's walk in the steps of our saints."
Read more:
15 ways to make a morning offering