Don't be afraid to show your commitment to friends and loved ones by using this three-letter word more often.
Send us the names of your loved ones who are sick or suffering. The Aleteia prayer network of 550 monasteries will take them to prayer for the World Day of the Sick.
Click here to share your intentions
When I'm invited to an event on Facebook, I have a couple of RSVP options. I can say "going," "can't go," or "interested." So when I'm trying to plan out a month's worth of events, it can be easy to default with a "maybe" instead of "yes" — after all, it's more convenient to keep our options open.
But when I avoid making a commitment, I'm buying into today's culture of non-commitment.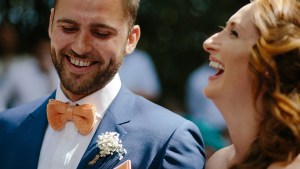 Read more:
Want a better relationship? You need to laugh more!
Besides just making it hard for guests to say "yes," the culture of non-commitment makes it incredibly difficult for hosts to plan an event. How do you cook for an event where 10 people may or may not show up? When I invite people for a dinner out at our favorite restaurant, how many people do I tell the hostess will be sitting with me? The four friends who said "yes" or the six who said "maybe"?
But at an even deeper level, a fear of commitment also encourages a lack of intentionality in our face-to-face relationships.Because we've become accustomed to being non-committal, our "maybe" attitude can affect the way we respond to requests of friends and loved ones both online and in our everyday life, too.
So how do we turn the tide against non-commitment and start pursuing intentional relationships with friends and family? Dr. Clifford Lazarus, a clinical psychologist at the Lazarus Institute, has found that one simple word can make a huge difference in the level of intimacy in your relationship.
Read more:
How to Embrace the Real You
"One of the best ways to promote closeness and positive feelings in intimate relationships is by using one simple word as much as possible, namely yes," writes Dr. Lazarus. "It's amazing to me how many people do not have their default setting on 'yes' when asked to do something for their loved ones. Instead, they often hedge by saying 'maybe,' 'we'll see,' 'I'm not sure,' or some other noncommittal response."
Here are three tips from Dr. Clifford about how to incorporate a "yes" in your relationships:
1. Unless there's a good reason not to, respond with a definitive "yes"
Responding to a request with "maybe" or "we'll see" places a value on the request of your loved one. It says that their request isn't important enough to intentionally schedule or put time aside for. If someone is important to you, put time in your calendar for their requests — tell them "yes."
"When a loved one asks you to grant a favor or agree to a simple request, unless you have a very good reason to say 'no,' the only sensible response is to say 'yes,' 'sure,' 'no problem,' or some other affirmative," Dr. Clifford says.
When you respond to a request with "maybe," what you're implying that if something better comes up, you won't be there.
2. Not interested? Offer an alternative
A couple of weeks ago, a local theater was putting on a production of Hamlet in the park. I love Shakespeare, but the event wasn't how my husband wanted to spend an evening. Instead of a flat out "no," he offered an alternative to go set up our hammock at a lake nearby.
Dr. Lazarus says this kind of response is more affirming of a relationship. "If your loved one suggests an activity that you're not keen to do, rather than merely saying 'no,' suggest an alternative that the two of you might both enjoy."
So if your friend invites you to a movie you're not interested in seeing, instead of declining the date and not spending time with each other, suggest another film that you both would enjoy.
3. Not a good time? Set up a time to bring up the issue again later
There have been plenty of times in my marriage where something I want to discuss with Joseph will come up in conversation right before we're ready to turn off the lights and call it a night. Even though I'd love to have a heart-to-heart about the subject, I know bedtime is not a good time to have lengthy discussions. But instead of ignoring the conversation, I ask if we can "put a bookmark in it" and come back to the conversation later when we both have more time (and aren't yawning).
"If your loved one asks to talk with you, or that you do something when it might not be the best time for you, rather than  simply saying 'We can discuss it later,' or 'I'll do it some other time,' specify exactly when you'll be available to talk or intend to do the requested task," suggests Dr. Clifford.
The same goes for an unpleasant request from a loved one. If you're in the middle of something and your spouse asks you to fold the laundry, saying 'no' probably isn't going to go over well. But responding with "as soon as I'm done with this I'll get right on it" tells them that you're going to say 'yes' as soon as you're available.
Saying "yes" and being intentional in our responses with our loved ones is a simple but great way to encourage intimacy and good communication. Let's all make a commitment to be more responsible and intentional with our relationships.