There's a big difference between respecting people and respecting their ideas and actions.
Need an idea for Lenten almsgiving?
Help us spread faith on the internet. Would you consider donating just $10, so we can continue creating free, uplifting content?
Make a Lenten donation here
Human beings experience a silly need to impose our will and our way of thinking on others. I'm not just talking about matters of morals or serious issues; we also do it with trivial things, like whether or not we like a movie, a band, or a sports team. We may go so far as to say that, if others don't think the way we do, there's something wrong with them. When it comes to money, politics, or religion — which are more serious, but still are not necessarily matters of life or death, especially when dealing with more superficial aspects — things get even worse.
We might be so radical in our opinion as to insult someone who disagrees with us, and stop talking with them. But we need to learn to disagree with people without losing respect for them. How many friendships have ended because of differences of opinion that people haven't known how to accept, respect, and understand?
Morality and truth are not relative
We must respect every person, but not necessarily everything someone believes or does. Many differences are truly matters of opinion, and there are also matters of fact where the truth is not so clear. However, there are other cases where we have to stand up for the truth, while still showing respect for the person who doesn't believe it.
In matters of morality, for example, we should not have our "own" truth and our "own" moral code. There can only be one truth, and only one true morality. The principles do not change, although their application may not be simple. We should make the effort to know them and live them as best we can, and do our best to help others do the same.That means that, at times, we must stand up to defend the truth actively, but not violently, and always with love and respect for other people, knowing that the truth doesn't belong to us; we're called to submit to the truth, and we don't always get it right either.
Read more:
No, we don't have to respect your opinion, and you don't have to respect ours
Respect and tolerance are over-used words today, and are all too often confused. Every person deserves respect, and when someone holds a different opinion in good will, that good will also deserves respect. Often, we can and should tolerate differences of opinion and the actions that arise from those opinions.
Nonetheless, there are some things that are not worthy of respect or toleration, above all when they go directly against that very dignity that we must respect in each person. It's important that we learn how to defend the values of life, marriage, and the family, and that we help other people who disagree with us to understand that we're not being irrational when we oppose certain actions and behaviors.We have good reasons, and those reasons can — and should — be explained. If we don't support certain ideas or activities, it's only because they are destructive, and, above all, because they place the souls of their perpetrators at risk.
I remember talking with a colleague about the case of a person suffering from alcoholism, who had abused, in every sense of the word, the woman he was married to at the time. That couple eventually ended their baby's life while it was still in the womb — an abortion by mutual consent. I said to my colleague:, "That man had no respect for the life of the baby that his wife carried in her womb." My colleague's answer shocked me: "For them, abortion is a good option, and we can't say they are wrong; we have to respect their decision."
I was stupefied, chilled to the bone when I heard those words. Then I thought, "Don't ask me to respect something that doesn't deserve an iota of respect. Life is an inalienable right."
This is what I mean when I say that we have to respect every person, but not necessarily their actions or ideas.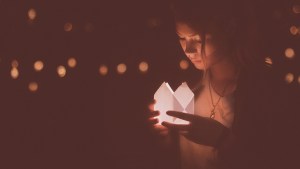 Read more:
If you want peace, work for justice. If you want justice, defend life. If you want life, embrace truth.
Seeking common ground is key
Before trying to convince anyone to change their opinion, though, we should help them to see that we care about them as people. If we make this clear, they will be better disposed to listen to us. If they feel like we're judging them or attacking what they consider to be their rights — and, above all, if they do not see that we love them — it's very unlikely that they'll listen to us. We must start by really, truly listening to others and finding all the common ground we can, so that we can then share our own reasons and help someone understand our perspective.
Generally, when we touch on themes that are related to feelings or to intangible concepts such as forgiveness, justice, life, etc., we can fall into the error of supposing we are talking about the same thing, but that might not actually be the case. We might even think that there are certain values — love, goodness, justice, etc. — that are definitely universally valued and respected, but that's not always the case. That's why, whenever we engage someone on a topic where we disagree, we must start by trying to understand that person's principles and their cultural and social context.
What seems like "common sense" for us may not be evident at all to someone else. Is a person less valuable because he or she doesn't have a clear or correct concept regarding the value of life? No. And precisely because I recognize the dignity and value of each person, it can be worthwhile for me to lovingly and tactfully — and especially, opportunely, at a prudent time and place — try to help someone to see that the way he or she thinks isn't in agreement with the marvelous dignity he or she possesses. It's similar to the concept of loving "fraternal correction." We must equally be open to recognizing our own mistakes, learning from others, and being "fraternally corrected."
Everyone has the right to have and express an opinion, to be heard, and to have their ideas recognized — even those who disagree with us. The fact that I might think differently from you doesn't make me a better or worse person than you. On the contrary, when we support each other, seek the truth together, and correct each other with love and prudence when necessary, we give each other the profound respect that each human being is due.
This article was originally published on the Spanish edition of Aleteia, and has been translated and adapted for English readers.