King is not a Christian writer, but his works, especially those that star supernatural boogiemen, often feel strangely spiritual.
What can God do in your life with one Bible verse a day?
Subscribe to Aleteia's new service and bring Scripture into your morning:
Just one verse each day.
Click to bring God's word to your inbox
I first met Randall Flagg in high school, when a friend of mine lent me a copy of Stephen King's apocalyptic opus The Stand. There he was, a leering, laughing master of darkness — a demon in a denim jacket, rallying unrepentant sinners to a ruined Las Vegas for a climactic showdown of good and evil.
Read more:
Exclusive interview: Good and evil battle it out in the new "Exorcist" series
I met Flagg again in college in King's fantasy novel The Eyes of the Dragon. He was a dark sorcerer in that book — a whispering Mephistopheles, a toxic presence poisoning mind and body.
This weekend, the rest of the world will be introduced to Flagg again in The Dark Tower — a.k.a. Walter o' Dim, a.k.a. the Man in Black embodied by the tanned, Texan charisma of Oscar-winner Matthew McConaughey.
Flagg has appeared in at least nine King novels, and he may be disguised in others. In The Stand, one character calls him Legion. Another dubs him Nyarlathotep, a dark, demonic entity from H.P. Lovecraft's works of horror. You may even see shades of him in Pennywise the Clown in It and the mysterious shopkeeper Leland Gaunt from Needful Things.
But I, and maybe Stephen King himself, might call him something else: The devil.
"He's sort of the way that I sum up all the things that I think about evil: somebody who's very charismatic, laughs a lot, tremendously attractive to men and women both, and somebody who just appeals to the worst in all of us," King said in an interview by Trudy Wyss. "His face changes, of course. He may look like Tony Curtis to me and he might look like Justin Timberlake to some little teeny-bopper and he might look like somebody else to you, but whatever it is, he's saying the same thing: 'I know all the things that you want and I can give them to you and all you have to do is give me your soul, which really isn't worth that much anyway.'"
King is no Christian writer. Some believe he's actually anti-Christian, given the parade of fallen believers who appear in his work. Even when we set those issues aside, King's books can be problematic.
But that said, King's work, especially those that star supernatural boogiemen, often feel strangely spiritual — monumental struggles that pit values like love, camaraderie and plain, ordinary goodness against what seem like overwhelming (and suspiciously infernal) powers of darkness.
"In some important ways," writes Daniel Kempton for The Catholic World Report, "King provides the last bastion of biblical morality in popular fiction — the final stronghold against a secular society that has dismissed Satan and his evil minions."
Read more:
The Devil vs. St. Jean Vianney
If King was the sort of guy who'd tape a favorite Bible verse on his computer while writing, his might well be Ephesians 6:12: "For we do not wrestle against flesh and blood, but against the rulers, against the authorities, against the cosmic powers over this present darkness, against the spiritual forces of evil in the heavenly places."
The Stand is considered by many King fans to be his best, most sweeping single novel. It's also arguably one of his most explicitly religious works — a showdown between the servants of a good (if sometimes frustratingly distant) God and Flagg and his forces of evil. It's a book that emphasizes that the world is indeed a fallen realm under evil's dominion. But God is still there, and even when it doesn't feel like it, he's still in control.
"It's an effort to say, let's give God his due here," King told Salon in 2008. "Too often, in novels that are speculative, God is a kind of kryptonite, and that's about all that it is, and it goes back to Dracula, where someone dumps a crucifix in Count Dracula's face, and he pulls away and runs back into his house. That's not religion. That's some kind of juju, like a talisman. I wanted to do more than that. I wanted to explore what that means to be able to rise above adversity by faith, because it's something most of us do every day."
The Dark Tower is, without question, King's most ambitious work. It's actually a series of eight books that King wrote over more than 20 years. (The Dark Tower movie, out today, reportedly combines elements of several of the books.) King co-opted two resonant archetypes — an Old West gunslinger and a medieval paladin — to create his hero, Roland (played by Idris Elba in the movie). Along the way, he's joined by a motley band of fellow travelers — unremarkable in their own right, but selected, somehow, to go on this quasi-sacred, super-dangerous quest against Flagg and Flagg's own overlord, the ominously named Crimson King.
While the series is all King (with all the resultant strengths and weaknesses that entails), it's vaguely reminiscent of another fantasy epic, and one with even stronger Christian undertones: The Lord of the Rings, written by the Catholic J.R.R. Tolkien.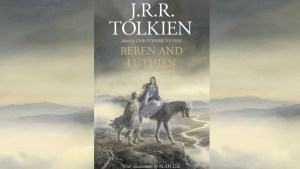 Read more:
Tolkien's greatest mythological work now available in a single volume
But King's strange sense of the spiritual filters into some of his less supernatural works, as well. The Girl Who Loved Tom Gordon is a simple story, focused on 9-year-old Trisha who gets lost in the woods. During her struggle to survive out there — fighting off boogiemen from her own imagination — she seeks inspiration and solace from her hero, the baseball reliever Tom Gordon, who famously pointed toward the sky after closing out an inning. When Trisha finally finds safety and is recuperating in the hospital, she, too, mirrors Gordon's gesture — pointing in thanksgiving to the sky.
King, unlike Trisha's vision of Tom Gordon, is no saint. But throughout his 40-plus-year career, he's shown a great deal of interest in not just good and evil, but God and the devil. He doesn't preach, but he does point — to a present darkness that we may try to explain away but never really shake. And at times he even gestures to the power that can, in turn, make that evil shake, too.