With a little imagination, you can end up with a guest book as unforgettable as your wedding.
You can get Aleteia inspiration and news in your inbox. Our specially curated newsletter is sent each morning. The best part? It's free.
Sign up here
The wedding guest book is a unique opportunity for guests to leave a note for the newlyweds and show them their love. Sometimes guests are distracted or lacking inspiration, so they may struggle to find the right words. But with a little imagination, the bride and groom can prepare an original book for preserving bits of their special day and end up with a guest book as unforgettable as their wedding.
Read more:
13 beautiful ideas for your rustic wedding reception
 1.  Postcards
If you like receiving postcards throughout the year, offer your guests a box or a retro card holder with pre-stamped, pre-addressed cards. All of the guests can write a note to the bride and groom and send it when they want. It's an alternative to the traditional guest book and can be a fun way to extend the festivities.
 2.   A block of wood
In the context of a nature-based wedding, wood can make an unforgettable guest book. Opt for a rather large stump on which you can have your first names and the date of the wedding engraved. Guests only have to write on it with an ink pen adapted to the color of the wood. After the wedding, this piece of wood of great sentimental value is carefully preserved at home.


Read more:
6 Wedding dresses that won't break the bank


 3.   A fingerprint tree
This trendy guest book in the form of a tree is quite symbolic. It is a nice nod to genealogical trees and to the family. On a large sheet or white canvas, draw a trunk and the branches of a tree, and then underneath, write your first names and the date of the wedding. On your wedding day, set out ink or paint in different colors so that guests can create the leaves of the tree with their fingerprints. Also leave out a small rag and water to rinse their fingers, and a pen to note the name corresponding to each fingerprint.
 4.   Polaroids
Along with writing a few words, invite guests to take pictures with a Polaroid camera. The snapshot comes out instantly to accompany the text. Your guests will get into the fun, and it's a playful alternative for everyone. Next to the guest book, leave some masking tape to stick on the photos and one or two pens.
 5.   The time machine
Instead of a classic guest book, a notebook with the question "Where do you see yourself in 25 years?" invites guests to project themselves in time and share their vision of themselves with the newlyweds. It's worth keeping over the years and rereading from time to time!
 6.   A treasured message
On parchment, a few words are addressed to the couple for their first wedding anniversary and arranged in a glass candy box. Provide rectangular cards with a ribbon or string at the end to roll them up and tie them easily.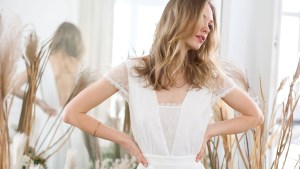 Read more:
6 Wedding dresses that won't break the bank
 7.  Sweet words
For a romantic wedding, think of a guest book with small envelopes glued inside in different patterns and colors. The guests have only to take a card and write their best wishes to the newlyweds. Each message is private; you are the only ones to read what the guests wrote …
 8.   A guest book in pictures
If you had the chance to do a photo shoot when you were engaged, print these photos and hang them on a wooden frame with small clips. Guests choose their favorite photo and write a note below it.
 9.   Little hearts
Like a painting, each guest's little wooden hearts are placed in a frame. Arrange the wooden hearts (purchased in a creative or personalized boutique), one or two pens, and a suitable frame with a little depth and a slot to insert the hearts. There are many tutorials for this on the web.
 10.  The bucket list
Instead of the classic guest book, invite your guests to create a "bucket list": a list of things to see, what to eat, moments to share together in a lifetime. It is an original option to challenge the newlyweds and give them lots of ideas for the coming years …
 11. Message on a pebble
In a natural wedding, the guest book of pebbles fits with the theme. On a table, each guest picks a pebble and writes a few words on it with white or colored felt pens. They are short messages to keep or to use as you wish at home.
 12.   Retro ribbons
For the more romantic, opt for a typewriter for a retro guest book. On a table, the guests have fun by writing their message on an antique typewriter. Set out ribbon or strings so guests can roll up and tie their page for a little discretion.
This article was originally published in the French Edition of Aleteia and adapted for an English audience.