God does most of the work in our relationship with him. But are we opening the door?
What can God do in your life with one Bible verse a day?
Subscribe to Aleteia's new service and bring Scripture into your morning:
Just one verse each day.
Click to bring God's word to your inbox
Six years ago, I read an article about a legless African girl named Olivia, who crawled 2.5 miles to Mass every Sunday, sometimes with the sun-beaten road burning her hands. She wasn't even a baptized Catholic.
Herdetermination to get to the Holy Sacrifice has stayed with me all these years. I am spoiled – my homeland is Singapore, where there is usually a Catholic church within a few minutes' drive or a short bus-ride away, depending on where you live in our small city-state.
Masses are offered every day at dawn, noon and sunset, and we have several perpetual adoration chapels, as well as various well-attended novenas. At the Australian Catholic liberal arts college I am currently attending, we have Mass on campus twice a day every weekday (but not on Sundays, in order to encourage us to go out and participate in the wider community).
Excuses, excuses
Yet – especially as an introvert – I have often been tempted to just vegetate at home (in Singapore) or sometimes in my college room and not make the little sacrifice to go out and meet Our Lord in Mass each day.
Sometimes I think of the silliest excuses: Today I had a giant pimple on my chin, and I thought of how it would disgust the priest as he laid the Blessed Sacrament upon my tongue. Thanks be to God, my guardian angel gave me a good mental poke and I saw how stupid an excuse that was!
The Holy Sacrifice of the Mass is an unsurpassable way to start your mornings with your focus on Christ, or to give you strength and sanctifying grace in the middle of your work, or to end off a long, weary day and offer it all up to God.
Just think about it – it is where God our Creator comes down from Heaven just to meet us and give Himself to us as nourishment so that we may enter eternal life with Him! Don't make your King wait – go, receive Him today in the Word and in the Eucharist!
Sure, some people have the misconception that Mass is boring. But every Mass is a taste of Heaven, meant to be different from everyday life. We cannot go to Mass expecting to be entertained. The liturgy is where we encounter and worship our Heavenly Creator – God is the center, not us. We are present at the foot of Calvary in every Mass!
We may not be physically legless like Olivia, but we are all crippled in some way. We need God the Divine Physician to heal our infirmities and give us the strength to help one another.
Falling in love
Moreover, if we want to go to paradise and spend eternity with God, we have to start working on our relationship with Him today. And where else is better than the Mass to encounter Him? He will teach you how to love the people who come into your life.
God does most of the work in your relationship with Him – you just have to trust Him, open the door to Him, listen to Him and allow Him to enter and transform your life.
Olivia knew that, and she crawled to Mass. Let us imitate her exquisite example of pure love.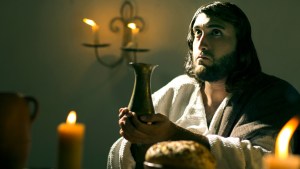 Read more:
What was Mass like for the early Christians?