We crowd-sourced lots of ideas for starting your morning off on the right foot, in order to have a more successful day.
Whether we're early birds getting our worms or night owls hooting it up until the wee hours, starting our day off right — no matter when we get up — is not only key to a successful day, but to a successful life.
Read more:
How to get your daily exercise in while "momming"
Of course, the idea of a "right start" (and a "successful life, for that matter) is subjective. Although experts will tell us that everything from meditation to stretching to drinking plenty of water helps, we wanted to hear what ordinary folks had to say about their best morning routines.
Though some of these are tried-and-true, others are a bit more surprising. Either way, here are lots of great ideas for those of us who need a better boost to our day.
Prepare
Want a good morning? Then plan for one the night before — starting with coffee.
"I set up the coffee pot timer the night before so I wake up to fresh coffee," says Martie B., a mom of three. "I always hated having to clean the pot and brew coffee in the morning, but I don't mind setting it up at night. The timer starts brewing at 6:00 a.m., and I smell it when I step outside the bedroom."
Coffee isn't the only thing that's good to get percolating early. Rachel K., a mom of two teenagers, says, it's essential to have a plan for the day well before you wake up.
Read more:
2 Short prayers for a long summer vacation
"Since I don't like mornings," she says, "I try to prep thing the night before: make mental or paper lists of what I have to do, plan my day in my head, think about dinner plans. If I'm really ambitious I set out my clothes for the next day."
And for Michelle D. a little work in the kitchen the night before goes a long way. "I really dislike the feeling of walking into the kitchen to start breakfast and lunch preparation knowing that I still have to empty that dishwasher!" Michelle says. "Although it doesn't always happen, I try and make sure that the dishwasher is emptied the night before if needed."
Resist
We've all heard the advice to stay away from our phones in the morning. But how many of us heed that? Well, at least two! And they swear by this wise advice.
"My best mornings are when I drive my daughter to school, and have not checked email," John L., a father of two, says. "So I do not check email until I get to work, and I listen to music instead of news."
Read more:
I quit social media for Advent—here's what happened
Karri G. stays focused on the tasks at hand by watching what she reads first thing in the morning. "I have to quit checking the news or social media when I first wake up. It eats too much emotional energy," she says.
Meditate
Lots of us ascribe to the power of starting the day off right spiritually, which is always a good plan.
In fact, Harold V., says, "My life was totally changed for the better as I began to begin each day in the word and prayer."
"I sit with my coffee in my chair and read my Bible, devotional, and write out my prayers every morning," Bethany G. says. "I used to do this at night but would too often be so exhausted as mama to six that it was shortened or skipped all together. I switched to mornings a couple years ago and it is now an essential part of each day. While it is transformative to my soul, my day, and my life, I also feel like it's a powerful witness to my children."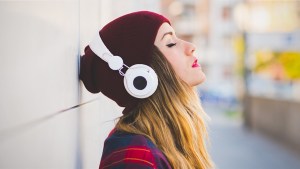 Read more:
This "miracle song" reduces anxiety in 65 percent of patients
And being a night owl is no excuse, according to Anna W., who says, "I have forever been a night owl and hated the morning. I felt guilty for not getting up early and doing a devotional, exercising, whatever, before the kids get up. This year, I read a book called Miracle Mornings during the first week of January and it inspired me to give it a try. Since then, I have been getting up at 5:45 am (during the week), having coffee, praying and doing a devotional, (sometimes I add reading a self-help book and/or journaling) and then exercising."
Deanna M's approach is simpler, but no less significant. She recently read a book that told readers to "picture a big red, childlike heart as soon as you wake up. Remember God's love. You are his child and are covered in unconditional love."
Be the first one up
Especially for the introverts among us, catching that ever-elusive alone time in the morning is the key to a great day.
"Years back my hubby suggested I get up before my kids on school days to have quiet time," Tracey T. says. "Not being a morning person I struggled. But now I get up by 5:15 a.m. to have my daily quiet time with coffee, prayer journaling and devo before I get my kids up at 6:15. I don't want to miss a morning. Getting up first has has helped me get though some really tough days, especially with three teens in the house!"
Though Kasey A's children are grown, she still swears by alone time in the morning. "For me, getting up before anyone else to just enjoy my first cup of coffee in the early morning quiet is the best way to start my day. It gives me time to reflect before facing the challenges of the day."
Get a move on 
But a slow lonely start isn't for everyone. Plenty of us like to get a jump on our day — by moving. Lisa M takes that literally. Her best days start, she says, with "10 jumping jacks."
Kelly H. says it's all about 6 a.m. stretches. "I never considered myself a morning person until I began rising at 4:50 am on weekdays. I love seeing the sunrise."
Laura P. adds a faith element to her morning stretches by practicing Doxa Soma–or a practice of praising God and praying while stretching and strengthening. Doxa soma has been described as "fitness for the mind, body, and spirit."
"When I do it regularly, I actually look forward to getting up and stretching," Laura says. "When I don't do it regularly (like now) I hit the snooze and sleep until the last possible minute. Doxa soma is better."
For some, like Laura B., the best way to get moving happens right in the bedroom. Though not in the way some of us might think. Laura says she makes her bed "as soon as I get out of it."
Watch what you eat
For decades, breakfast-food companies have been telling us that eating healthfully is the right way to start the day. And though we may not agree that the sugary products these companies try to sell us are the way to go, paying attention to what we eat in the morning makes a big difference for many of us.
To that end, Leah G. goes straight for the energy-producing protein in the morning, albeit in an unconventional way. Leah's breakfast food of champions? "A hamburger patty!" she says.
Jessica W. says she "swapped the morning latte for coffee or tea and added collagen." According to Jessica, it's got "fewer calories, it squashed sugar cravings, and the protein fills me up to get things done!"
Be realistic
Not all of us are made to see sunrises and hear the first bird song of the day. For those who just cannot come to the morning light, a great start to the day probably does include setting some reasonable exceptions.
Heather A. says she decided to stop getting up earlier than everyone else in the house.
"It was stressful for me because I was constantly anticipating the next person to wake up," she says. "I am the person in our house who needs the most sleep, and we all know this.  Now I get up with my alarm and give hugs and quietly putz through my routine as everyone else does their own thing. My kids have been getting themselves ready to head to school since they were about five, so they aren't needing anything from me. But they know that if they do need anything, they can ask … gently and quietly."
"As a non-morning person, I've learned that if I'm too ambitious, I'll just feel guilty for not doing all the morning things I set out to do," Kate M. says. "So I keep it attainable: A full glass of water and 250 steps around the house within 10 minutes of getting up."