There's something France seems to understand that other countries like the US could stand to consider.
What can God do in your life with one Bible verse a day?
Subscribe to Aleteia's new service and bring Scripture into your morning:
Just one verse each day.
Click to bring God's word to your inbox
Everyone loves to hate American moms. Our kids are lazy, spoiled, ill-mannered, fat … and it's all because  we're terrible, terrible parents.
Over the past decade, a few foreign moms have done their best to school us on how we should be doing parenting. Tiger Mom Amy Chua came first, but she was a little too extreme for us to take seriously. As I told my mother-in-law, Carnegie Hall isn't a great trade-off for a childhood of emotional abuse.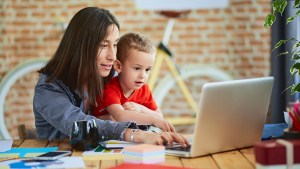 Read more:
When maternity leave ends too soon, "co-working" is a genius solution
Pamela Druckerman had better luck getting American moms to see the wisdom of the French way of Bringing Up Bebe. It helped that she's American, and that she learned the French way of child-rearing in France, while actually rearing her first child. We felt a kinship with her, and sighed enviously at descriptions of well-mannered toddlers patiently partaking of multiple-course meals. She made it sound so easy, too … like anyone could do it. Like we could raise our kids the French way too, if we just learned to say no and set expectations.
What Druckerman forgot to mention is that raising children in France is fundamentally different than raising children in U.S., because the French government has invested in child-friendly policies for nearly a century. According to The Cut, a beef with Prussia led French politicians of all parties to adopt an official "pronatal" policy. So no matter who was in power, French politicians wanted babies, and supported policies that allowed parents to make more of them.
Quartz recently detailed the advantages that French mothers have over their U.S. counterparts, and the list is extensive. A 4-month minimum paid maternity leave is just the tip of the iceberg — French moms also get government allowances, supplements if they choose to work part-time or hire a nanny, and free school (with extended hours) starting at age 3. Most incredibly, French moms have access to high-quality, state-sponsored day care with a well-paid staff and renowned baby chefs, who serve infants and toddlers food that is scientifically proven to make them less picky.
In case we've forgotten, Quartz reminds us that:
Meanwhile in the US, families struggle to choose between unaffordable nannies, suboptimal daycares, and the charitable child-minding of close relatives and friends. Women who work long hours are left to choose between squeezing in a home-cooked meal or going to the gym. Parents trade off time with their kids for high-pressure jobs that offer employee-based healthcare, higher earnings to save for college, and little to no vacation time.
It's mystifying that in America we still use the phrase "it takes a village." It does, indeed, take a village to raise children. Children must be cared for, their parents must be supported, and their society as a whole must collectively invest in their upbringing. France seems to get this, which is why France is the only country with a sustainable birthrate.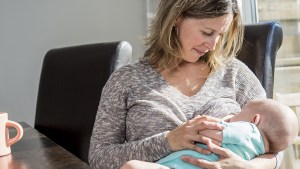 Read more:
Why American moms find breastfeeding harder than other women
America has forgotten what "it takes a village" means — if we ever knew it in the first place. When a society abdicates its duty toward children and their families, forgoing the future in favor of the now, parents are left to fend for themselves as best they can. So yeah, American kids develop a taste for fast food and frozen dinners — not because parents are lazy and kids are spoiled, but because American parents are socially and economically punished for having kids.
In America, if you let your 3-year-old make cupcakes alone and they burn themselves, someone is going to call CPS. If you ignore your child and they wander outside, someone is going to report you to the police. Good luck taking your child to a restaurant so they learn to behave in public — on the off chance that the restaurant even allows children, your fellow patrons will glare at you no matter how well your child behaves. And if you have a traumatic childbirth and need more than six weeks (unpaid) maternity leave, you can choose between sucking it up or losing your job.
I wish I could bring my kids up like French women, and after reading Bringing up Bebe, I really did try. But the difference between being a mom in France and being a mom in America is as stark as it is simple: French moms seem to be better respected and supported. American moms are disdained and disregarded. And children aren't brought up in a void — if our country wants to raise a better generation of Americans, we have to start by treating American families better.