Focus on the positive and build each other up
What can God do in your life with one Bible verse a day?
Subscribe to Aleteia's new service and bring Scripture into your morning:
Just one verse each day.
Click to bring God's word to your inbox
I remember an old scene from Gray's Anatomy with a married couple at the Seattle Grace Hospital (the hospital where the TV series is set) and the waiter who had served them for more than 30 years at their favorite restaurant. The restaurant's rooftop had collapsed on Valentine's Day, injuring them and several others. During the husband's operation, if I recall correctly, the waiter got up his courage and declared his love (kept secret for years) to the woman. He also confided to her his displeasure with her boring husband, who always ordered her dinner for her without consulting her, and then observed that they had often dined in silence, eating without saying a word. Maybe it was because they had nothing to say to each other anymore? In the episode, the doctors overhear the waiter's confession and make a bet that the woman will leave her husband for the waiter.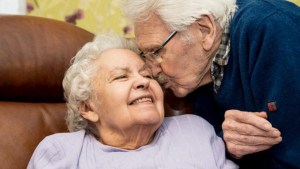 Read more:
Auschwitz survivor and her rescuer celebrate 70 years of marriage
At the end of the episode, the woman tells Meredith, one of the main characters, "I made a choice many years ago, a promise. I married my husband, the man I love. I'm glad he orders for me because he knows my tastes, he knows what I like, and sometimes he's silent at the table without having to talk, and it's so relaxing."
A lot of times, what seems boring in a marriage is actually quite intimate, reassuring, and full of beauty and profound knowledge. Don't you think?
Too often we wives are world class complainers in two directions: we scold our husband for the picture that he didn't hang on the wall and for the clothes he left out on the bed, or because "there was once a candle lit up to create a romantic atmosphere," and "because of you, we always stay home" or "this place isn't bad, but the air conditioning is too strong and you should know that I have a headache," and a thousand other gripes. Let's change things up a bit!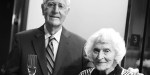 Read more:
Long marriage, beautiful life


Today, instead of complaining about our husband who is not always flawless and perfect, let's think of things we can keep in mind to make our relationship even more "wow." And if the Lord himself has given us a bridegroom, don't you think there is a reason for it? It is our way to become holy, and vice versa.
Check out the 10 suggestions below on how to improve your life as a couple. (And afterward, check out this a prayer for families that Pope John Paul II composed at the 1980 Bishops' Synod on the Christian Family.)
Compliment him
Consider this scenario: your husband comes home a little late. He closes the door and says while smiling, "I've finally found the right color to paint the railing. I went to three stores! Do you want to see it?" And instead of rewarding his commitment and initiative by running to give him a kiss and checking out the new color, what do you do? Criticize his lateness. From now on: down with criticism, long live compliments! A compliment a day makes the fighting go away.
Acknowledge his good points
If your husband does something good — such as booking your vacation on time, watering the garden, volunteering to load the dishwasher, taking out the trash, reorganizing the bills drawer, and not wearing his grubby lumberjack clothes to dinner — say thank you! And recognize his good points, his unique and very special talents, the ones the Father gave him, and that make your husband a prodigy. And to think that God entrusted him to you!
Pray together
Sometimes we are so worried about our perfect Christian family idol that we make family prayer or Sunday Mass an obligation, something on the checklist, rather than a personal encounter with Christ. And so we get upset, argue, and want to examine everything: "Why do I always have to ask you to pray with me?" "Do you think I enjoy going to church on Sunday?" And when he does say a prayer, we are always quick to correct it like a catechism teacher, and we suddenly become deep theologians. News flash: We can and should sometimes stay silent and respect the times and ways our husband chooses to pray! We can and must pray for him, alone and in the silence of our heart, or even while we do the housework or prepare dinner. Second point: Let's stop believing that we are the good Christians. Our husbands often show more faith than us in their deeds.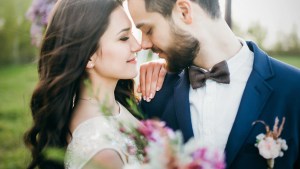 Read more:
3 Myths about marriage worth challenging
Accept that things aren't going to be perfect
You've prepared a special dinner and sent your children to their grandparents' house. You wait and when you hear the sound of the keys in the door, your heart beats like it did on your first date. But instead he comes home tired and angry. He had a bad day, and isn't in the mood for your intimate dinner. Don't pepper him with endless questions like "What did you do?" and "What happened?" Just stay calm. Don't try to force him to pay attention to your plan and don't air your disappointment at the situation. Just stay close to him, in silence, and begin serving dinner … It may not go perfectly according to your plans, but it will be the two of you.
Listen to him
Maybe you are right in this particular discussion, but if you don't let him speak, you'll become the witch, the nightmare roommate, the wife who only repeats #imright #youdontunderstandanything. So breathe, say a small prayer, and listen to him. The discussion will change immediately. Courage!
Ask for forgiveness
If you did something wrong, if you acted unpleasant or worse … apologize. It's okay to write it on a post-it and leave it on the kitchen fridge, and it's okay to send it in a text. But it's a very different thing to say it, looking him in the eyes: "Forgive me, I was unbearable." If we don't do it ourselves, then how can we expect them to do the same with us?
Put the phones away
You can't listen to him telling you about his day if your cell is constantly vibrating or ringing. "I'm sorry, it's the Facebook notifications," "I'm sorry, it's work emails," "Wait a sec, my book club wants to meet next week." No. Enough. Put the phones away. If you don't want to turn them off, at least leave them in the other room. Disconnecting is good for your marriage and also for you.
Kiss each other more
Rediscover the beauty of the kiss! In the morning when you wake up, at night when you both get home from work, while watching TV together. Don't worry if you miss some parts of the movie (that's why rewind was invented). When you were dating, you paid good money just to kiss each other in the back of the theater. Kiss him to remain his lover even now that you are his wife.
Read more:
Pope Francis Offers Advice to Engaged Couples
Complain less
Often my husband tells me that I don't seem happy. I respond with something like, "Why would you think that?" But I know why and I know he's right. It's because I complain. A sign recently appeared for a few days on the door of the pope's room at his Vatican residence. And this is what it said:
Complaining Prohibited. Whoever breaks the rule will be subject to the syndrome of forever feeling like a victim, and the resulting negative mood and incapability of solving problems. The penalty will be doubled if the infraction occurs in the presence of children. To get the most out of yourself you must focus on your potential, not on your limitations. Stop complaining and begin taking action to improve your life.
Got it?
Be grateful for the present moment
This is what we have today, and it's good. Let's enjoy it! But we sometimes get so caught up in the "ifs" … if we had more time, more money, if we could go on vacation like our friends. …  At times like those, the phrase "Who cares?" is just what we need. Let's rediscover our sense of gratitude, and that everything we have is immense, undeserved, beautiful! Let's give thanks for our husband who works hard, for our children playing in the living room, for the mother-in-law who sent us a home-cooked dinner right when the fridge was empty, and for the friend who came to visit us but in the meantime folded our clothes. Let's stop worrying about the future. Let's stop being envious for what we think we do not have. If we want to possess things, we will always feel poor, but if we want to love and welcome, we will always feel rich.
This article was originally published in the Italian edition of Aleteia and has been translated and  adapted here for English speaking readers.