An allergy to your spouse would put any marriage to the test, but Johanna and Scott won't give up.
What can God do in your life with one Bible verse a day?
Subscribe to Aleteia's new service and bring Scripture into your morning:
Just one verse each day.
Click to bring God's word to your inbox
Last November, Johanna Watkins, a young married woman, made the headlines for her baffling medical condition: she's allergic to her husband. The 29-year-old from Minnesota has been married to Scott, a second-grade teacher, since 2013. Johanna, who is severely allergic to a myriad of things — including foods, soap and cooking smells, and most people — had suffered some allergic reactions while dating her future husband. However, it's only in the last year that her symptoms significantly worsened and Johanna was diagnosed with Mast Cell Activation Syndrome, a disorder of the immune system whereby certain triggers (for example, temperature changes, alcohol, food, and in Johanna's case, her husband) result in life-threatening anaphylactic symptoms.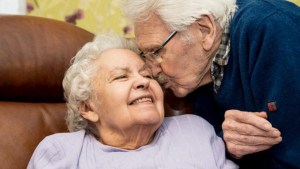 Read more:
Auschwitz survivor and her rescuer celebrate 70 years of marriage
This week a BBC interview gave remarkable insight into the lives of this extraordinary couple. Over the past year this crippling condition has led Johanna to live a solitary existence in a sealed attic room of a friend's home — while she and her husband make significant changes to their marital home to accommodate Johanna's needs — with Scott living three floors down. Absolutely no physical contact between the two is possible, but the young couple has found a way to communicate through messaging. Their idea of a date night has become the two of them tuning into the same TV show, then chatting to each other about it through texting. Not quite the married life their beautiful wedding pictures seemed to promise.
youtube https://www.youtube.com/watch?v=QCajkNXycVY
Despite their unusual circumstance, however, there is still a certain beauty to their relationship … and a few life lessons to this story that can't go unnoticed…
Be thankful for the solemnity of wedding vows
In most cases, whether it's a type of food or a pet, when we're allergic to something we give it up and try to avoid it. But when you're allergic to your husband? Those solutions are no longer adequate ones for solving the problem. It gets much, much more complicated.
I imagine that some people might throw in the towel and end the relationship. It would be understandably tempting to give in to the thinking that if there was ever a sign not to be with someone, well, a life-threatening allergy to your loved one might be it. But not for Johanna and Scott; they both take their wedding vows very seriously. And because of that, they're determined to bring each other great comfort at a time of pain, frustration and uncertainty.
Read more:
You can catch a meat allergy — from a tick
"On our wedding day we made vows to each other that till death do us part. No matter what life brought." Johanna explains, "I can tell you that even if I have this until I'm 90 years old, I would be committed to my husband with that vow and still love him." And Scott is equally devoted to his wife. Johanna can only eat 15 foods, and her meals must be prepared specially, so Scott, a teacher, cooks for Johanna after work. He says, "It's one of the ways that I can care for her."
Good friends and loving family should be cherished
The Watkinses live with their good friends, the Olsons, while they've been raising money for the life-saving alterations they need to make to their own home because of Johanna's condition (the grateful couple have now raised over their target goal on a gofundme page set up to help them). But these are not your normal house guests. With the severity of Johanna's allergies (food odors from a pizzeria a block away can set her off if the wind blows in the wrong direction, even though she is in her room), the Olsons have given up all scented products and they no longer cook their meals in their home at all — as their preferred foods could set off an attack. And other friends have helped out, too, with Scott adding that "every other day for the past year I've had one of my dear friends come and they help [me] cook for Johanna." Hats off to friends who really are there in times of need.
Sadly, Johanna is also allergic to her parents; however, she can tolerate visits from her masked siblings who must undergo a certain protocol before they can enter her attic including undressing, washing, and not eating strong foods among other things. They are the only people she has direct contact with, and luckily her siblings are more than happy to go through the rigmarole of cautionary steps in order to pay their sister a visit. They have also ensured she gets to know her young nieces through regular video-calls
Find gratitude in the darkest of times
Johanna and her husband are unusual people; there's no doubt about it, and their faith in God has probably a lot to do with it. Considering she hasn't left her attic room in over a year, apart from for hospital visits, Johanna was asked how she spends her day. She explains that when she wakes up she listens to a playlist of upbeat tunes to put her in the right frame of mind each day, remembering "I have many gifts in my life, many blessings that I have to be thankful for," adding "And that reminds me to not become selfish and just make it all about me."
Read more:
"In sickness and in health…" This couple's 5-day marriage "beat cancer."
On her gofundme.com page, Johnana talks about the different places where she and her husband used to hike. Her comments about these special places are very indicative of how God has helped both Johanna and her husband in such harrowing times. On a visit to Northern Meadow, she explains: "Four years ago, in this beautiful, hilltop prairie, a proposal was made, and we gave each other the promise to walk together and love always with God by our side."
And perhaps even more significantly is their trip to Temperance where Johanna notes: "While hiking alongside this rushing river, we discovered a quiet inlet and prayed that we would learn what it means to be still and trust God with our lives." And it is this very trust in God that will hopefully enable Johanna and Scott to continue being strong when so much is unknown. Hopefully doctors will soon find a solution for this devoted husband and wife to to have a date night in each others' arms.
You can listen to the full BBC interview here.