With a little help from the Bible and a Catholic priest, we try to answer your questions.
What can God do in your life with one Bible verse a day?
Subscribe to Aleteia's new service and bring Scripture into your morning:
Just one verse each day.
Click to bring God's word to your inbox
Tattoos seem all the rage, from small subtle images to full-body decorations. The once highly-stigmatized body art is going through a renaissance, and you may be tempted to add a touch of it to your own skin. Before making the decision, you might be asking yourself all sorts of questions: Is it just a fad? Will I get bored with the image? Will it hurt? And perhaps, as a Catholic, you might be asking if your desired tattoo is compatible with the Christian faith and the Church. So, how do you make the decision — and live with it — without any regrets?
Read more:
Getting a medieval tattoo in Jerusalem
Reflect before getting a tattoo
For those who wish to get a tattoo, it can be tricky balancing what's happening in contemporary culture with the weight of social norms and traditions. It's important to take the time to reflect on your tattoo so you can make a good decision — one you won't regret years down the line.
We spoke with one woman, Jessica — who, at the age of 20, got a tattoo of an owl and a cross on her body — to see what advice she might share. Her first tip is to take the time to really consider what you want. "If a person hesitates, it means she doesn't have all the answers to her questions. Getting a tattoo is not something you embark on lightly. At the tattoo parlor, I had a good think, and changed my original idea of where to get tattooed. Initially, I wanted it on the forearm; however, after a little reflection, I wanted it closer to my heart, so that it would have even more meaning," she explains.
"My tattoo [of a cross] symbolizes my faith, which explains why it is on the left side of my body, as faith comes from the heart and not the head. Its meaning is reinforced by the presence of an owl which symbolizes the messenger: like the owl, I carry a message of God on my body."
The meaning of a tattoo should be the subject of some carefully weighed soul-searching: it can be simple and discreet, like a little charm that you always carry on you, or it can turn out to be a real point of reference as you travel through life's uncertainties. A dove on the back of the neck, or a little cross on the wrist or the finger, are both subtle and feminine symbols. On a larger scale, a tattoo can be more visible and stretch over a larger part of the body, such as the forearm or the back, or even the whole body.
What does the Bible say about tattoos?
In Leviticus (19:28) tattooing is forbidden, but as Father Bertrand Monnier says: "This ban appears only once in the Bible; in exegetical jargon, something like this is called a 'hapax,' which has various possible implications. On one hand, this means it's not as important compared to other prohibitions like that of eating pork, which recurs many times, and on the other hand it might actually be an annotation —that is to say, an add-on which wasn't present originally." Anyway, the ban seems pretty minor, inasmuch as Catholics are no longer subject to the law of the Old Testament (Romans 10:4). Therefore, for a person who wishes to get a tattoo, this issue should not be a concern.
As a permanent mark on the body and conspicuous decoration, however, the tattoo can draw attention to you, whereas Sacred Scripture invites discretion: "(…) women [should] dress modestly, with decency and propriety, not adorning themselves with elaborate hairstyles or gold or pearls or expensive clothes…" (1 Timothy 2:9). On this matter, Father Monnier invites us to a nuanced perspective: "It is a good idea to be attentive in our reading of certain Bible verses that remain open to interpretation. […] After several years questioning the issue, I am convinced that a tattoo should not be seen as a piece of jewelry, but as bodily expression. I would gladly compare it to dance or theater: the body expresses something in an artistic dimension."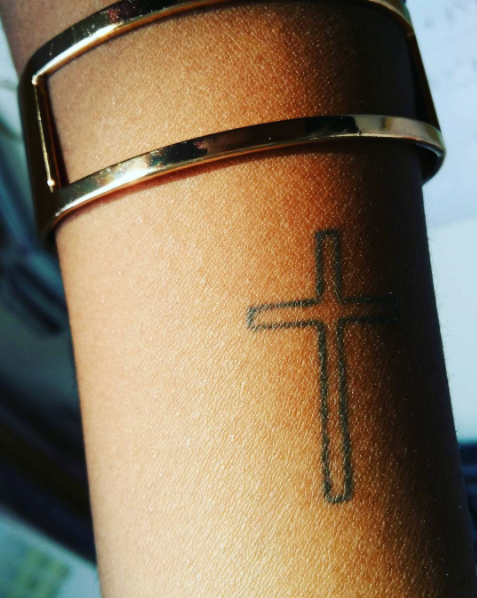 "When we're speaking about tattoos, we're speaking about human beings," Father Monnier says. First, tattoos were tribal, systematic and not chosen; then, they were forbidden for political reasons, until finally today, they are seen as an expression of the fact that a person belongs only to themselves and to God."
Read more:
WATCH: Should a Christian get a tattoo?
Going back to Jessica… While it is true that tattoos were not permitted in the Old Testament, the fact of being tattooed is today by no means saying that you lack faith. "God loves us how we are," Jessica says. "After having experienced drug addiction, He helped me find my way. […] I think He wants our happiness, and if my happiness comes in the form of a tattoo, I don't think that would really bother Him."
Religious tattoos: wearing God on your skin
In many cases, a tattoo can express a religious sentiment, unifying the body with the immaterial. Many people get tattoos of a cross, rosaries, or even Bible verses, to testify to their belonging to God. We spoke with a tattoo artist, Mikael — who has specialized in the faces of saints and in stained-glass windows for 20 years — and asked him to share his experience.
As a history buff, who started drawing statues of illustrious characters such as Socrates, Mikael reminds us that prisoners and rebellious sailors used to get a tattoo of Christ's face on their backs, to avoid being flogged. Nowadays, his clientele, of whom 60 percent are women, come to him to get this type of religious tattoo, but for more positive reasons. "As a reaction to recent terrorist attacks, many people came to get a tattoo of Saint Geneviève, the patron saint of the city of Paris."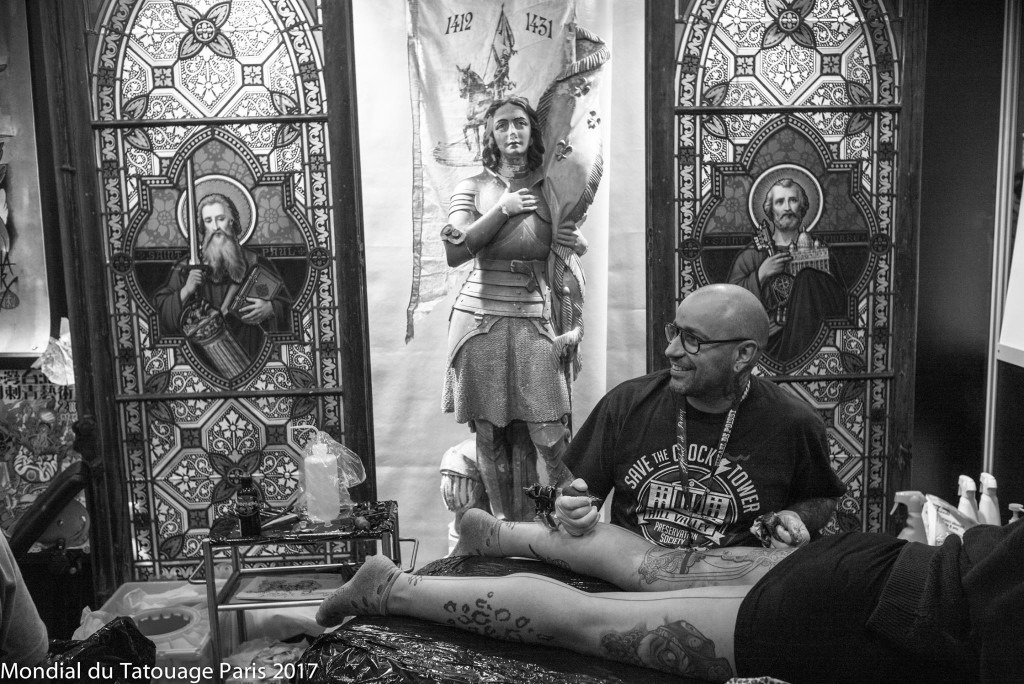 "Among the faces people ask for the most is that of Mary, whose iconography is the most abundant, and who also represents motherhood. The faces of other popular French saints are also frequently requested, such as Joan of Arc and Saint Michael," adds Mikael. When he started out, people with tattoos were still perceived badly and were considered as social misfits; today, that has changed. "I'm regularly in touch with deeply religious people, and frequently even priests themselves are interested in my work."
People often get tattoos because they've lost a loved one, whom they want to keep close and have them with them at all times. "Some people get a tattoo after a tragic event in their lives; others wish to express their gratitude to God, after someone came close to death," Mikael explains. Getting a tattoo can also celebrate meeting someone, a sibling bond, or even the birth of a child. For many, a tattoo simply helps them to feel alive, and allows them to feel better in their carefully inked skin.
This article was originally published in the French edition of Aleteia and has been translated and adapted here for English speaking readers.