He reminded me of the crucial truth that is the only response to suffering and doubt.
What can God do in your life with one Bible verse a day?
Subscribe to Aleteia's new service and bring Scripture into your morning:
Just one verse each day.
Click to bring God's word to your inbox
As is the case for every priest in the world, not a single day passes without people seeking me out to talk and to ask me what to do when faced with various situations:
"Look, Father, my mother-in-law hates me. The way she treats me makes me want to avoid her and stop speaking to her. Do you think I'd be justified in doing that?" "My grandfather left an inheritance to all of the family, but some of them don't deserve it. Should I try to see to it that the money gets distributed as people really deserve?" "Father, my husband insults me and treats me badly. I can't stand it anymore. It makes me want to leave him. Do you think it's a good idea?" "I feel like everything has gone wrong in my life. All my efforts have been in vain, and I'm tired. What should I do?"
Those are the kinds of questions people ask me every day. I always try to listen with my heart and enlighten them with a few words of hope; I invite them to do what is right and to ask God for strength to keep going. I remind them that it's better to suffer an injustice than to commit one.
But what I do most is pray for them, especially during the Eucharist, when I have the Lord in my hands and I tell him, "I entrust such-and-such a person to You, and that other one too. Help them to make the best decisions for Your glory and the good of their families …"
But the other day, a seemingly infinite number of problems were brought to me, and I felt like my advice was very inadequate. When it was time to celebrate Mass, I was full of anxiety, and I kept thinking about how I could give them guidance. Right after the consecration, I stumbled over my words a few times, and I reproached myself: "You're saying the prayers badly."
And at that moment, I heard my beloved Jesus saying, "Yes, you're saying the prayers badly. You won't be able to help those people; tell them to ask Me what I would do in their place, and I'll show them the way."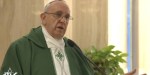 Read more:
Pope Francis: In moments of darkness choose the path of prayer and hope


I had indeed made a mistake—not just in tripping over my words, but in the way I was trying to help. Jesus was right; who better than He to tell us what to do? So, I resolved not to worry so much next time. Instead, I would encourage them to draw closer to God and to ask Him for advice.
That same night, before I left the chapel, a man came up wanting to talk with me. He told me that his father had been cruel to him throughout his life—he had virtually grown up being insulted and beaten. His father had never wanted to support him and his siblings in their efforts to get an education, not to mention the fact that he always shouted orders at his wife, the man's mother. Understandably, as soon as the man could, he distanced himself from his father, whom he had not seen now in more than 30 years. However, a week before he came to speak to me, an aunt had told him that his father was on dialysis and was very weak, and that no one in the family wanted to help him. In the end, he asked me, "Father, thanks be to God, I have a family, and I'm happy. I know that my wife and children would be happy to take in my father, but I don't think it's fair that I have to help him now, after all the things he made me, my mother, and my siblings suffer. I'm not obliged to help him, am I?"
I gave him a hug. "I'm sorry for all that you've suffered, and I understand that it doesn't seem fair to you. Please come with me; I'm going to open the Blessed Sacrament chapel for you, and I want you to ask Our Lord what He would do if He were in your shoes."
Half an hour later, he came back, and told me through his tears, "Father, I'm going to take him in. My father gave me the gift of life; I'll receive him in my house and I'll help him in every way I can …"
I went to sleep very happy, and I felt like I was going to sleep better that night than ever. Once again, God had shown me that He is the one who solves problems, and that I just need to bring people to Him. He also reminded me how easy our life would be if only we all invited Him to be a part of it.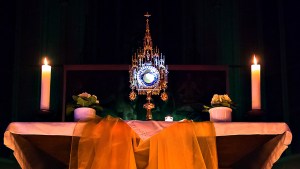 Read more:
Perpetual Adoration, the closest thing to walking with Jesus
Many things turn out badly for us because we don't think to ask Jesus what He would do in our place. How I would like to spend a minute with each person who is going through a tough moment or who needs to make a difficult decision, so I could tell them, "Don't be afraid, and don't wear yourself down so much. God loves you! He is with you and will help you. Just kneel down before Him and ask him, 'My dear Jesus, what would you do in my place?'"
~
Translated and adapted from Aleteia's Spanish edition.