A popular image in the ancient world was adopted early on by Christians.
What can God do in your life with one Bible verse a day?
Subscribe to Aleteia's new service and bring Scripture into your morning:
Just one verse each day.
Click to bring God's word to your inbox
Among the many fantastical creatures of the ancient world is the griffin. With the body of a lion and the head and wings of an eagle, the griffin was an active part of Greco-Roman mythology.
Similar creatures can be found in other cultures and are often seen in connection to the divine. The chariot of the Greek god Apollo was pulled by a griffin. Alternatively Apollo is often seen riding a griffin in Greek art.
The griffin also represented strength and power, which is why it became a frequent image on medieval coats of arms.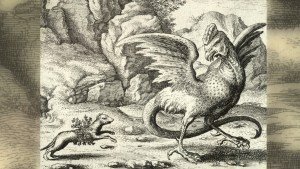 Read more:
The biblical and Christian roots of the basilisk
When the image was taken up by Christians it became a surprising symbol of Christ. According to the Academy of Classical Christian Studies, "The griffin became for [Christians] a rich symbol of the two natures of Christ Himself: the eagle, which is lord of the sky, reminds us of the divine nature, while the lion, which is lord of the earth (the 'king of beasts'), reminds us of the human nature. Together, they remind us that our Lord is the true King of the heavens and the earth."
Saint Isidore even notes how, "Christ is Lion because He reigns and has strength; Eagle, because after the Resurrection He rises into Heaven."
The griffin is also closely connected to the book of Revelation, where it is mentioned: "And round the throne, on each side of the throne, are four living creatures … the first living creature like a lion, the second living creature like an ox, the third living creature with the face of a man, and the fourth living creature like a flying eagle" (Revelation 4:6-7).
For medieval artists the griffin was a popular image to put in manuscripts as well as in churches. Its depth of meaning proved it to be a worthy symbol for Christian art.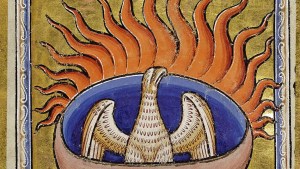 Read more:
This is how the phoenix became a Christian symbol