Do you always assume the worst? Try this to transform your relationship.
What can God do in your life with one Bible verse a day?
Subscribe to Aleteia's new service and bring Scripture into your morning:
Just one verse each day.
Click to bring God's word to your inbox
Over the course of my marriage, I've realized something critical about the majority of our spousal squabbles: They tend to stem from one of us (okay, usually me) assuming the worst of the other. When he leaves something lying out or gets home later than expected, I have a tendency to automatically assume that it's done out of laziness or carelessness, rarely bothering to give him the benefit of the doubt.
Read more:
When the Benefit of the Doubt Is Really an Act of Faith
It's a destructive mentality and definitely not one unique to me. "When you've been with a partner for a long time, it's typical to assume … why they think or do something," according to marriage coach Sara Freed. "But when you start assuming negative intent, it can turn into a huge problem."
The truth is, I rarely have any idea what's going through his head when he does something that grinds my gears. And more often than not, once I voice my aggravation – always gently and with the utmost kindness (total sarcasm) – I end up feeling bad for presuming the worst of his intentions. It's a habit I'm currently learning to break because, in all honesty, my guy is a gem who wants nothing more than to make me happy. I just forget this all too often.
So here are some examples of instances in which I'm tempted to assume the worst, followed by explanations of how I ought to adjust my perspective and give my husband the benefit of the doubt.
Assuming the worst: He leaves dirty clothes on the nightstand, because he's too lazy to bring them to the hamper and assumes I'll take care of them.
Benefit of the doubt: He didn't wear the clothes long enough for them to require a trip through the washer, so he's leaving them out to be worn again in order to make less laundry for me.
Tip: "I want you to embrace this simple idea," Freed says. "Be curious, not furious. When something upsets you, seek to understand the reasons why it happened." Instead of being critical and assuming the worst, I can kindly ask if there's a reason for leaving the clothes there. Since he knows that clutter is a point of stress for me, he likely has a good explanation.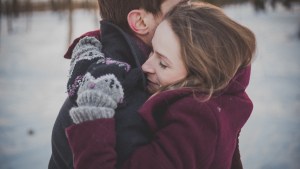 Read more:
Why I'm not afraid to love my husband more than he loves me
Assuming the worst: He's on his laptop, leaving me to clean and manage the kids on my own because he doesn't care enough to pull himself away from email or social media to give me a hand.
Benefit of the doubt: He's doing something productive, like paying bills online, so he'll have more time to devote to me when the kids are asleep.
Tip: According to Amanda Iles, a family ministries coordinator for her church in Louisiana, "Rather than rushing to conclusions, training our emotions to give the benefit of the doubt can curb a multitude of arguments and hurt feelings." The process of training my emotions means assuming the best of my husband's intentions. Even if he was scrolling through Facebook, I can choose to be merciful, trusting that he would never deliberately neglect to give me a hand when I need it. All I have to do is ask.
Assuming the worst: He's working late again because he prioritizes work over family.
Benefit of the doubt: There are pressing projects at work requiring his attention and he's staying late to tend to them because he takes his career seriously since it enables him to provide for our family.
Tip: In her eye-opening book, For Women Only, social researcher Shaunti Feldhahn mentions the common insecurity women have about their husbands working long hours because they don't enjoy or prioritize the family. Feldhahn explains that of the men she surveyed about their extensive work hours, "the vast majority … had what I would characterize as an unselfish motivation, answering that if they didn't work that hard, they would let their families and/or the organizations down." In other words, I need to keep in mind that his ultimate motive for spending extra hours at the office is not his desire to be there, but his objective to adequately provide for us.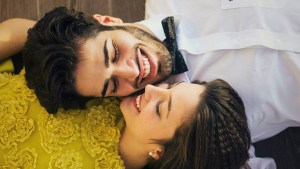 Read more:
10 Ways to show your husband a little more love … and improve your marriage
Assuming the worst: He's in a bad mood because he's being immature, pouting about something insignificant, and consequently dragging my mood down, too.
Benefit of the doubt: There's something stressful going on in his life that he's not yet ready to talk about. The best I can do is be a patient, supportive partner to whom he'll feel comfortable coming when he's ready to open up.
Tip: Dr. Alex Lickerman of Psychology Today notes that another person's bad mood is "an opportunity to exercise your compassion." This is especially true when it's our spouse. It's easy to be annoyed by their sour mood since we tend to depend on them for enjoyment, but Dr. Lickerman advises temporarily viewing them in a different light. He says that what successfully keeps him from being effected by his wife's bad mood is, "establishing just enough emotional distance from her in my mind that I'm able to view her apart from the function she plays in my life and more as a human being in her own right." My husband, though he may be a tremendous asset to my happiness, is human and therefore bound to be unhappy from time to time.
Assuming the worst: He doesn't verbally praise me very often because he doesn't find me attractive or appreciate me.
Benefit of the doubt: His love language is not words of affirmation so it doesn't come naturally for him to express his love, appreciation or attraction verbally. That doesn't mean he doesn't frequently feel all of those, though, and express them in different ways.
Tip: In his revolutionary book, The 5 Love Languages, Gary Chapman's overall message is, "We must be willing to learn our spouse's primary love language if we are to be effective communicators of love." Giving my husband the benefit of the doubt means not only trusting that he does love and appreciate me, but also bearing in mind all the ways besides words of affirmation that he expresses it, such as through physical touch or acts of service.
I can only imagine how many arguments between spouses would be avoided if it came naturally to give one another the benefit of the doubt and respond mercifully when we're disappointed. Unfortunately, like most areas of communication in marriage, it takes work. Is it easy? No. Worth it? Absolutely. Because when we think the best of our partner, we're better able to build our best possible marriage.