A fantastic initiative to keep smartphones away from kids until they're older is underway.
What can God do in your life with one Bible verse a day?
Subscribe to Aleteia's new service and bring Scripture into your morning:
Just one verse each day.
Click to bring God's word to your inbox
When my son started middle school this year, the first thing the principal said to all the slightly anxious parents gathered together was: "Please don't give your children smartphones, I'm begging you." Some parents were defiantly shaking their heads, having already invested in the latest iPhone, whereas others were feeling a wave of relief — myself included, not just for the financial costs but because we know how bad they are for adults, let alone kids!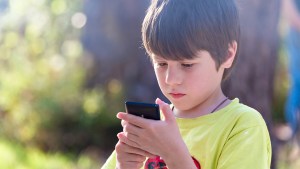 Read more:
Should younger kids have smartphones? Bill Gates doesn't think so
Had the principal heard of the "Wait Until 8th" pledge that one organization has recently developed, he might have implored parents to sign up for that, too. The simple but effective pledge, which can be made online, encourages parents to pledge together to not give their kids a smartphone until at least 8th grade.
Yes I know, 8th grade. Can you really last that long? Can you cope with the endless pleas of your kids until they reach those oft-dreaded teen years?
As Brooke Shannon, a spokesperson for Wait Until 8th, explains, the pledge comes into effect "as long as at least ten other families from your child's grade and school pledge as well." The idea being that parent power is stronger in numbers. The more parents who sign up for the challenge, the more likely it is to work. Parents will be less likely to cave in to those endless pleas of "but I'm the only one in the class without a smartphone" when they know that at least nine other moms and dads are hanging in, too.
You might be asking why the 8th grade? Well, Wait Until 8th had to draw the line somewhere, and leaning on expert opinion, they felt this was a reasonable age, with the goal to keep smartphones out of elementary and the majority of middle school education.
Read more:
Pope Francis to Parents: Take the Smartphones off the Dinner Table
If you've given your child a smartphone before the 8th grade, and you regret that decision, the organization encourages parents to communicate with their children, explaining the pledge and, if necessary, swap the smartphone for a basic cellphone. Parents will inevitably face difficulties with this, but just remember to lean on the community — kids love to belong to something!
The pledge is proving a hit. Shannon says that "more than 1,300 families from 42 states and 400+ schools have signed the pledge already in just the first few months." And teachers certainly agree with one teacher and Wait Until 8th proponent who's said: "Schools need Wait Until 8th! Smartphones are such a distraction in the classroom and have no place in school! Get phones out of kids' hands and let's turn their minds towards learning."
With the new school year already up and running for some families, please feel free to share with other parents and teachers and sign up for the Wait Until 8th pledge, which has both parents' and children's interests at heart.