There's a basic rule to mothering, and even though he's 17, I'm still working on mastering it. Getting closer, though!
What can God do in your life with one Bible verse a day?
Subscribe to Aleteia's new service and bring Scripture into your morning:
Just one verse each day.
Click to bring God's word to your inbox
Choose your battles. Don't sweat the small stuff. It's Mothering 101, but apparently I haven't mastered it yet. My 17-year-old son can still really try my patience. Being on the autism spectrum, he can sometimes be extremely rigid about certain things and simply won't budge, no matter what I say.
For instance, clothes. He has a self-imposed limit of three t-shirts. It's been driving me crazy for a while now. I've shown him every imaginable style, color, decoration, and pattern of shirt. He will not wear a solid. He will not wear stripes. He will only wear the three shirts he's been wearing for about two years now and, not surprisingly, they're getting too small. Not to mention worn out. And did I say they were ugly to start with?
I get embarrassed when we're going to someone's house, or church, or even school and he's seen in the same shirts over and over. Pants and shorts aren't much better.
We've battled over this an endless number of times, and each battle, he's won. I bring home a few new shirts for him to check out. He refuses to even take them out of the bag. I put a stack of his older brother's t-shirts on his bed for him to consider. The stack will be put in a bag and left by the front door with him telling me, "Drop these off in the clothes bin. I'm never gonna wear them."
I've also had an ongoing struggle with him over how he combs his hair. Let's just say it's … different. For some reason he can't explain, he has a certain way he wants his hair combed, and will not consider anything else. His older brother has tried suggesting a change, an aide who spends some time with him also has chatted with him about it, and I've tried pointing out that he's said he wants to be more "typical" and not stand out, yet his hairstyle is drawing attention. I even had the barber shop guy try to suggest a new way to comb his hair. Nothing. His hair is exactly the same.
Then there's the mashed potatoes battle. He can go days without having any, but all of a sudden it's all he'll eat. The packaged mix makes eight servings — which is just enough for a snack for him. But then he'll want it again for dinner, and the next day after school. And when he's in a mashed potato mood, I can't tempt him with anything else. It's his favorite food and if I run out of it, he'll be extremely upset. Too many times I've freaked out over how he needs a balanced diet. My lectures go ignored. Even if I make a very nice dinner I'm sure he'll love, it gets me nowhere except in a grumpy mood.
As I've gotten older and more used to these behavior quirks, I'm finally realizing how silly it is to work myself into a frenzy over truly trivial stuff.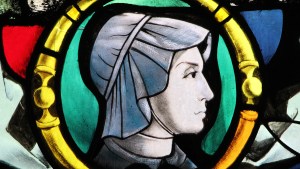 Read more:
The unbreakable St. Elizabeth Ann Seton can help us shift our perspective upwards
I let up on the shirt thing a few months back. Maybe I just didn't have the energy for another t-shirt discussion. But also, a little introspection got me thinking. Why get so upset over something with so little consequence? There are certainly bigger things to worry about.
On the hair, I've gradually been backing off too. Obviously these things are not bothering my son in the slightest … they're only bothering me. And he doesn't benefit in any way from hearing me badger and criticize him all the time.
A friend kept saying to me, "Let it go! Just ignore it. It's just not a big deal." And on the mashed potato front, we seem to be making some progress anyway. The past two times he had a craving, he only had one box, and he didn't ask for more the next time he ate.
While I was reminding myself that I can't change these behaviors anyway, I thought of the Serenity Prayer. The first paragraph is the one most commonly quoted, but the entire prayer is worth taking to heart:
God grant me the serenity to accept the things I cannot change; courage to change the things I can; and wisdom to know the difference.
Living one day at a time;
enjoying one moment at a time;
accepting hardships as the pathway to peace;
taking, as He did, this sinful world
as it is, not as I would have it;
trusting that He will make all things right
if I surrender to His Will;
that I may be reasonably happy in this life
and supremely happy with Him
forever in the next. Amen.